Sports betting rises as Aussie households spend more on the punt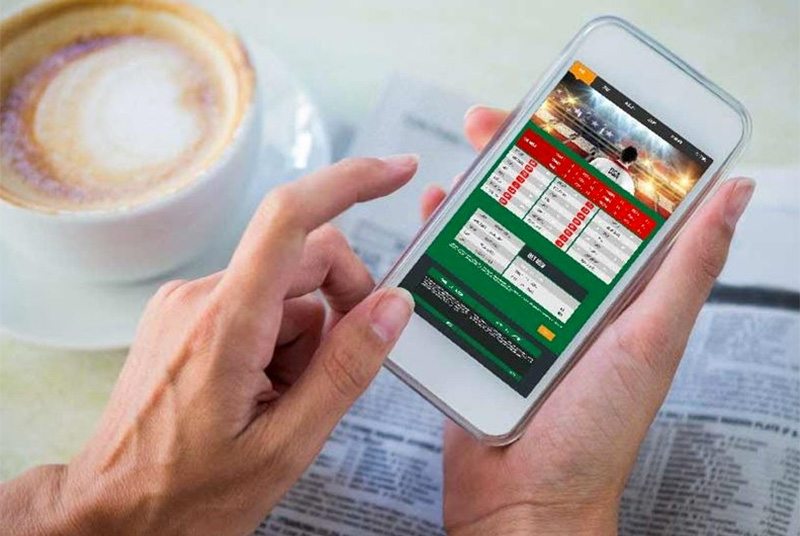 THE average amount spent by Australians on gambling continued its rise in 2015/16.
The 33rd edition of Australian Gambling Statistics, released by the Queensland Government on Wednesday, found that $23,647 billion was spent on the punt throughout the financial year, up by more than $647 million on 2014/15.
On average, Australians gambled $1,272.81 – up by $30 per person on the previous year.
The figure represents 2.09% of the average Australian income, up from 2.07% in 2014/15.
Interestingly, the highest percentage of household income spent on gambling was in 2001/02, when the figure reached 3.14%
The evolving market share of the $1,272.81 gambled and how it's split between gaming, racing and sports provides an interesting picture on where the evolution is taking place within the industry.
The largest portion of the gambling pie is still taken by gaming (pokies machines and casino games) at $1064.87, while racing sits at $158.39 and sports betting continues it's growth at $49.55.
But it's how those portions have changed over time that shows where the future lies: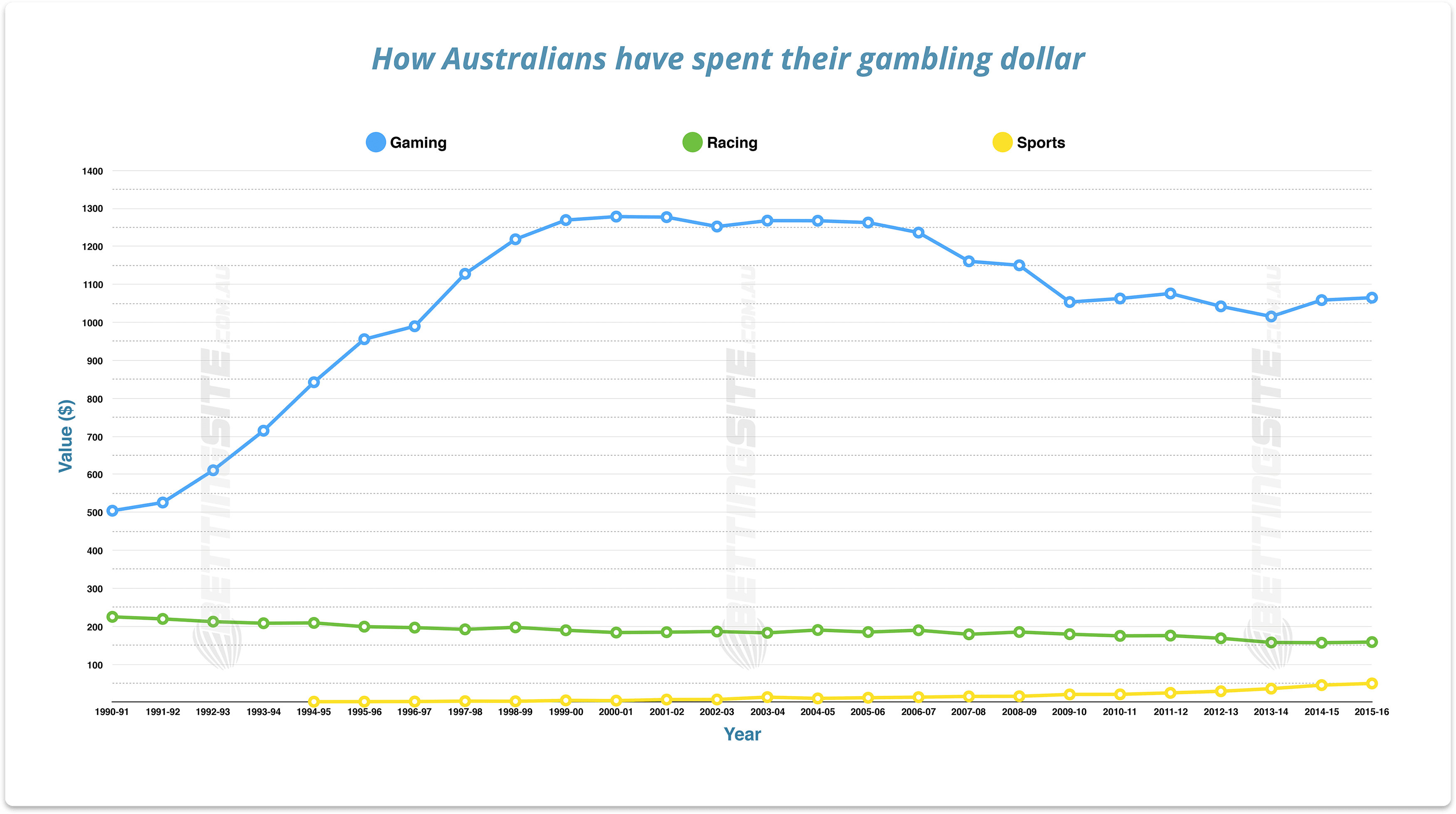 Sports betting accounted for 0.13% (.86c) of the $616.23 each individual gambled in 1994/95. That percentage has risen steadily over the last two decades, speeding up significantly over the last seven years to reach 3.89% of the $1,272.81.
Gaming's hold on the market has held firm. It attracted 80.01% ($493) of the $616.23 gambled in 1994/95 and now holds a 83% share of the $1,272.81.
The loser in this picture is clearly racing.
The 'sport of kings' has been steadily losing its hold over the nation. In 1994/95 it held 19.84% ($122.27) of the $616.23 and has found both sport and gaming eat into its market share, dropping to 12.44%.
Make no mistake, the household gambling expenditure figure, which has surprisingly held quite firm since these records go back to 1990/91, will be the main talking point of the report.
The effect of the Interactive Gambling Act and the new gambling television advertising laws, both introduced after most of these figures were collated, will be a space that BettingSite.com.au keenly watches in 12 months time.
Will Government intervention succeed in lowering gambling expenditure from the public, or, is it a vehicle to maintain and increase Government revenue?
Sports betting continues to rise, but Govt. revenue doesn't match
There's no great mystery behind the growth of sports betting in Australia.
More access to live sport and the rapid rise of the online bookmaker industry, along with a number of other variables attributed to the age of the internet and smartphone, have contributed to significant changes in betting behaviour.
For the longest time, sports has been the sleeping giant of the industry. It still is.
In 2015/16, sports gambling expenditure grew by almost $100 million, reaching $920,677 million. This mark was up from $826,034 million in 2014/15.
Go further back and the stats paint an even clearer picture of the exponential nature of the growth.
In 2001/02 Australians tipped over the $100 million mark for the first time. The year after in 2002/03, it almost doubled to $203 million. For the last 13 years, there has been a $717,535 million rise in sports gambling.
For those playing at home, the average expenditure increase per year is a little over $55 million.
Look at the figures and you'll find that there is no sign of this trend slowing down.
Discounting Northern Territory figures (where online bookmakers hold licences and skew statistics), Victoria beats out every state in terms of money spent chasing sporting glory. $280,945 million was spent on sports gambling in the sporting-obsessed state that provides public holidays for big gambling events like the AFL Grand Final and Melbourne Cup.
New South Wales comes in next at $151 million and Western Australia rounds out the top three at $80 million.
The most interesting sports betting figure in the Government report can help explain the urgency in which Federal Government has acted over the last two years to change the industry.
It's Government revenue from sports betting.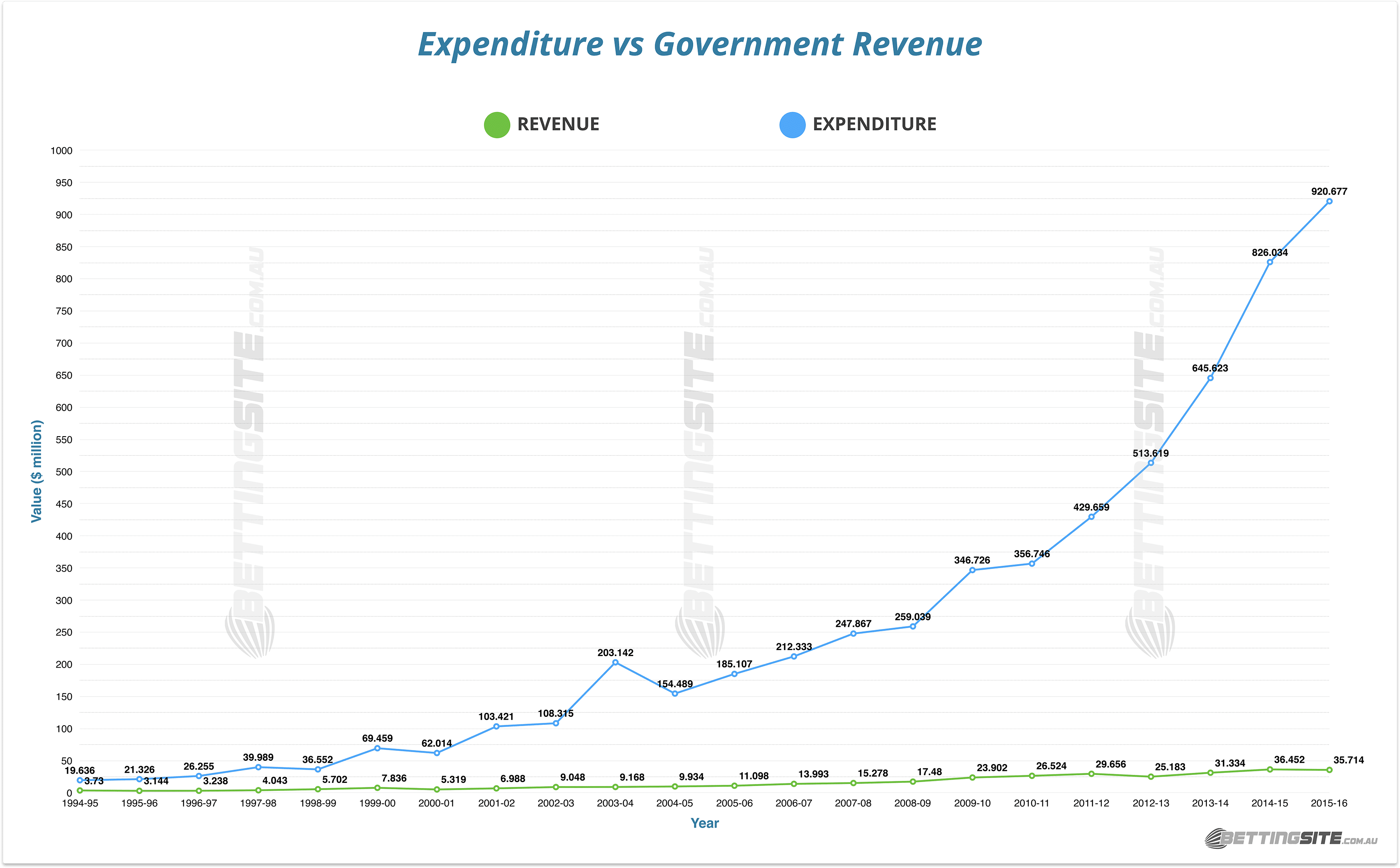 While Australian household expenditure on sports punting rises, Government revenue has not.
In fact, from 2014/15 to 2015/16, Government revenue from sports betting dropped 1.95% to $35,741 million.
Granted, the report is incomplete without the huge hole the missing Northern Territory figures would represent, but even growth in individual states does not represent the meteoric rise in the gambling spend.
Is this the best argument for the point of consumption tax that has been introduced to South Australia and has been mooted for other states?
Time (and hard data) will tell.
Racing revenue slump hits governments hard
While overall gambling activity in Australia has risen by some 588 per cent from $29.7bn per annum to a whopping $204.4bn since 1990, that growth is not reflected in figures for the racing industry.
Turnover on tote wagering has fallen significantly in the past decade, dropping from a peak of $22.3bn in 2008/09 to a little under $18.4bn last year.
That constitutes an overall decrease of 17.65 per cent in total money wagered on horses, greyhounds and trots nationwide in the space of eight years.
Those numbers have levelled out in recent times, even lifting by around two per cent since 2015, while total expenditure has held steady with punters losing between $2.8bn and $3bn every year from 2004 onwards.
However, a closer look shows that most facets of the racing and wagering business have taken a huge hit since the turn of the millennium.
Nowhere is this more evident than in the traditional avenues for having a flutter.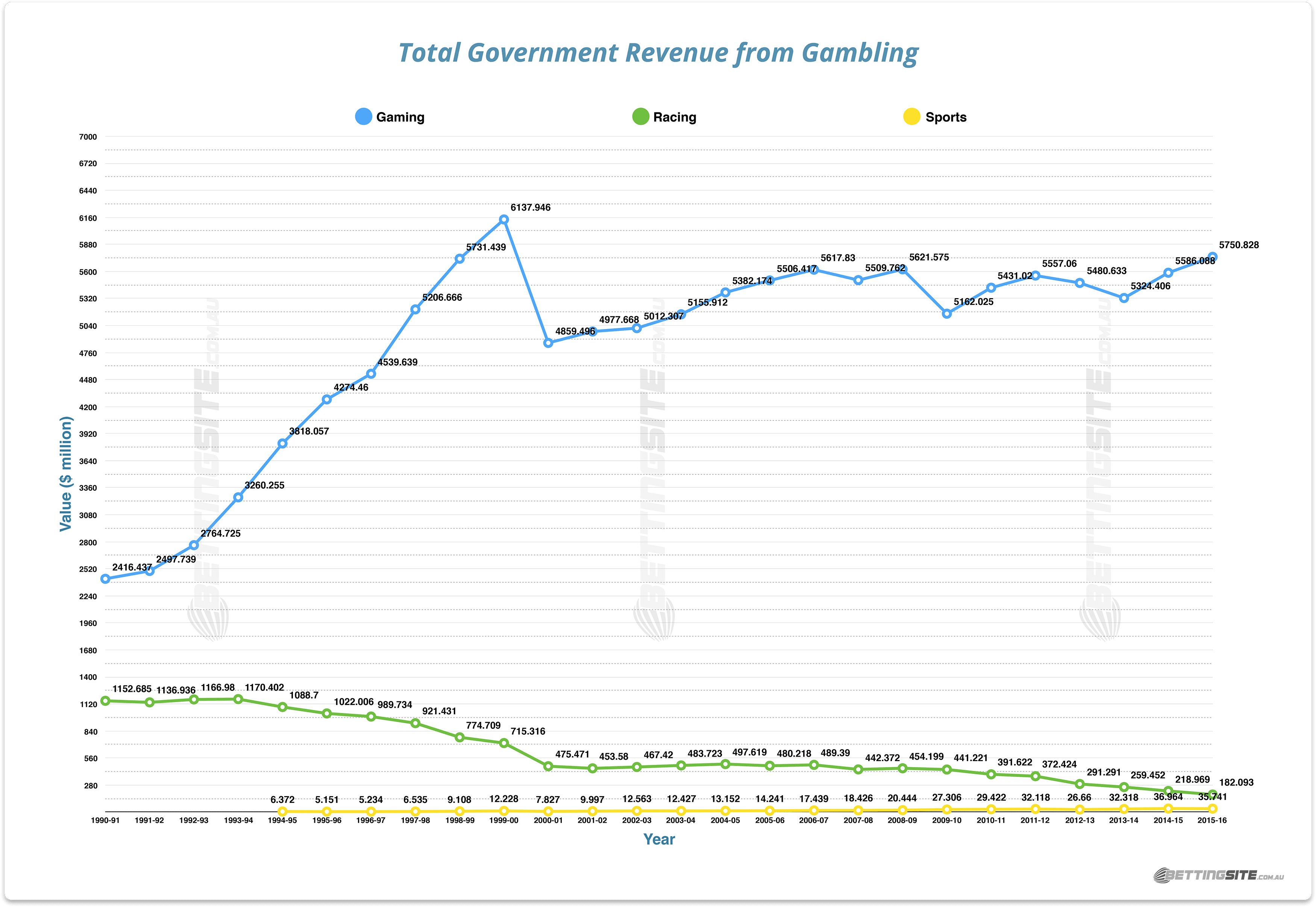 On-course totes have gone out of fashion in a big way, with annual turnover plunging by a massive 69.5 per cent from $938m to $286m since 2008.
Trackside bookmakers have felt the pinch as well.
Although money wagered at on-course bookies has grown year on year to $7.9bn per annum, more than 91 per cent of that sum comes from the Northern Territory.
That is where Sportsbet, CrownBet, Bet365, William Hill and the rest of Australia's major corporate betting firms hold wagering licences.
As local authorities put online bookmakers in the same bracket as turf accountants, excluding all data from the NT paints a much more realistic picture of how on-course betting shops are travelling.
Perhaps most alarming of all is the state of the TAB.
Since 2010, turnover at the tote agency board has fallen from $15.3bn a year to $10.2bn – a reduction of 33.5 per cent.
These figures have obvious implications for the sustainability of the Australian racing industry, but they are also bad news for state and territory governments whose coffers rely heavily on gambling taxes.
While the combined forces of casino gaming, poker machines and sports betting are generating more cash than ever before, the tip-in from racing is at an all-time low.
Total gambling revenue grew to $5.8bn last year, and yet racing's contribution has dwindled from $475.4m to only $182m per annum since 2000.
Again, the link the between these trends and recent changes to the IGA laws is hard to ignore.