GOT the need for speed?
Then there is only one place to be.
Formula One racing has no pinnacle in the world of motorsport. The fastest, lightest, most exciting four-wheeled vehicles on the planet.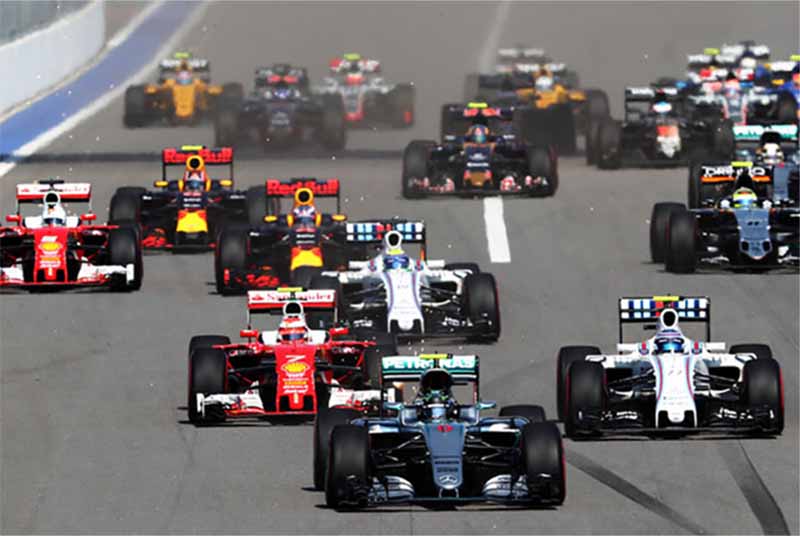 From humble beginnings in 1950 with just seven races on the card, over 67 years, the FIA Formula One World Championship has grown to the massive 20 races across eight months of the year from March to November.
Australia kicks off the championship – as has become a shaky tradition, with plenty of nations trying to steal the season opener – and the last race is in the Middle East, the rich oil nation of Abu Dhabi.
So, if you happen to be a Formula One driver, you have to be the absolute best of the best.
These cars reach speeds of up to 360 kilometres per hour. That is brain busting speed, so you have to be able to think fast. Real fast.
Whenever you have an action packed sporting event, the punters will come and Formula One racing is one of the most popular sports to bet on.
So if you're going to do it, you might as well be informed.
Below is our helpful betting guide to actually getting your bet on and then winning money on Formula One racing.
Best bookies to bet on Formula One with
If you are going to have a bet on the Formula, season or races, then you need an online bookmaker who can keep pace. You want a bookmaker who takes poll position on security, looking after your money and your bets like they were their own. You also need a champion bookie who provides the widest variety of markets, best odds and juiciest promotions on race day. All that is well and good, but who could be bothered scouring the internet and comparing bookmakers to try and figure out which ones are the best? We can, of course. And we did. Here's our list below.

This is my table
Formula One racing bet types
Drivers/constructors champion
All year round, you can bet on who you think will win the drivers and constructors championship. You just have to decide which driver and which team will finish with the most points – hint hint, the constructor with the best driver usually wins the chip.
Race winner
The most basic of bets. Choose the driver you think will win the race. Find his name and odds with your favourite online bookmaker. Add his name to your bet slip. Decide how much you want to place on him to win the race. Click bet and hope for the best.
Place bets
All that has to happen here is for the driver you select to finish in the top three – if they are standing on the podium, soaked in champagne at the end of the race, then your bet is home.
Top six bets
An extension of the place bet, but your driver has to finish in the top six in the race, instead of the top three. You obviously have more chance of winning this, so the odds are lower.
Points finish
Drivers who finish from first to 10th score points in the drivers championship. You can bet on any driver to finish in the top 10.
No points finish
Converse to the above bet, these are for the drivers you are not a fan of. Back them to finish outside the top 10 and miss out on points.
Qualifying bets
Who will take pole position? That's the question you need to answer to win this bet.
Fastest lap
Exactly as it reads. The driver you pick has to run the fastest lap of the race.
Hat trick bets
This is a combination of three bets we've already mentioned:
Pole position
Race winner
Fastest lap
You need to get them all right. Good luck.
Driver head to head
This pits two drivers against each other and you have to choose which one will finish higher in the standings.
Tips for winning money betting on Formula One racing
Bet within your means
The key message before you consider anything else is "can I afford that bet". If the answer to that question is no, then stop right here. Make sure you have met your obligations before you lash out on your favourite driver. The bills need to be paid, the mortgage covered and the kids fed. Once you've made that consideration, make sure it is fun.
Have multiple betting accounts
No, this is not a cash grab. It is simply so that you, the punter, can compare odds and get the best ones, and also take advantage of unique perks at betting sites.
Know how the market works
What's a win market? What's a place market? How about futures? It might sound simple, but many people bet without knowing exactly what is required for their bet to salute. Make sure that's not you. Ring the bookie if you have trouble.
Do your research
Every driver, team and track has different characteristics that contribute to the ability for your bet to win. If you're picking out a driver or team, make sure you know how they go at the track. Does a tighter track put more pressure on your bet because of the increased likelihood of crashes? Has your driver won his past three races, but historically struggled at the particular track? Is there a home town hero that always exceeds his abilities because he is front of his nation's fans. Don't forget the tyre selection. If you don't know how that works, then you probably shouldn't be betting on the race.
Qualifying is key
It's hard to win a race from the back. The boys that do best and start up front are the ones that have the advantage.
What's the weather like
If it's pouring rain, hold your bets, please. There is just no telling what will happen. Suns out, guns out though. All this stuff is easy to research and can have a major impact on your betting strategy.
How are Formula One races conducted and how do drivers score points?
So it is race day.
What exactly happens?
Well, you will find there are 11 teams with two drivers each who line up on the grid for the spoils.
Across three days – usually Friday to Sunday, or Saturday to Monday, depending on what time zone you are in – the drivers have practice, qualifying for grid position and then the main race.
The top 10 finishers win points for both themselves, in the drivers championship and their teams, in the constructors championship.
The team and driver with the most points at the end of the Formula One season wins their respective championship.
First: 25 points
Second: 18 points
Third: 15 points
Fourth: 12 points
Fifth: 10 points
Sixth: Eight points
Seventh: Six points
Eighth: Four points
Ninth: Two points
Tenth: One point
List of F1 champions
The first great Formula One driver was Argentine Juan Manuel Fangio, who claimed five titles in seven years during the 1950s.
And there have been some great drivers, like the late legend Ayrton Senna, Nigel Mansell, Alain Prost and Jackie Stewart and modern star Lewis Hamilton.
The Australian phenom performing well right around the world and currently with a shot to create history for the country is Daniel Ricciardo – he's the current gun of the Red Bull Racing tea,.
But the man everyone is chasing is Michael Schumacher.
The German dominated for Ferrari, winning a record seven world championships in 10 years from 1994 to 2004.
The constructors' championship was introduced in 1958 and claimed by Vanwall.
To show just how tough it is to win, with only 15 constructors claiming the title since its inception.
Scuderia Ferrari is the pinnacle with 16 constructors' titles – including six in a row from 1999 to 2004.
The United Kingdom is the most successful country, 10 different constructors from the continent winning the championship a total of 33 times.
Mercedes has dominated F1 in recent years, winning six consecutive driver-constructor doubles between 2014 and 2019.
Winners list:
| | |
| --- | --- |
| 1950 | Giuseppe Farina (Alfa Romeo) |
| 1951 | Juan Manuel Fangio (Alfa Romeo) |
| 1952 | Alberto Ascari (Ferrari) |
| 1953 | Alberto Ascari (Ferrari) |
| 1954 | Juan Manuel Fangio (Maserati/Mercedes) |
| 1955 | Juan Manuel Fangio (Mercedes) |
| 1956 | Juan Manuel Fangio (Ferrari) |
| 1957 | Juan Manuel Fangio (Maserati) |
| 1958 | Mike Hawthorn (Ferrari) |
| 1959 | Jack Brabham (Cooper) |
| 1960 | Jack Brabham (Cooper) |
| 1961 | Phil Hill (Ferrari) |
| 1962 | Graham Hill (BRM) |
| 1963 | Jim Clark (Lotus) |
| 1964 | John Surtees (Ferrari) |
| 1965 | Jim Clark (Lotus) |
| 1966 | Jack Brabham (Brabham) |
| 1967 | Denny Hulme (Brabham) |
| 1968 | Graham Hill (Lotus) |
| 1969 | Jackie Stewart (Matra) |
| 1970 | Jochen Rindt (Lotus) |
| 1971 | Jackie Stewart (Tyrrell) |
| 1972 | Emmerson Fittipaldi (Lotus) |
| 1973 | Jackie Stewart (Tyrrell) |
| 1974 | Emmerson Fittipaldi (McLaren) |
| 1975 | Niki Lauda (Ferrari) |
| 1976 | James Hunt (McLaren) |
| 1977 | Niki Lauda (Ferrari) |
| 1978 | Mario Andretti (Lotus) |
| 1979 | Jody Scheckter (Ferrari) |
| 1980 | Alan Jones (Williams) |
| 1981 | Nelson Piquet (Brabham) |
| 1982 | Keke Rosberg (Williams) |
| 1983 | Nelson Piquet (Brabham) |
| 1984 | Niki Lauda (McLaren) |
| 1985 | Alain Prost (McLaren) |
| 1986 | Alain Prost (McLaren) |
| 1987 | Nelson Piquet (Williams) |
| 1988 | Ayrton Senna (McLaren) |
| 1989 | Alain Prost (McLaren) |
| 1990 | Ayrton Senna (McLaren) |
| 1991 | Ayrton Senna (McLaren) |
| 1992 | Nigel Mansell (Williams) |
| 1993 | Alain Prost (Williams) |
| 1994 | Michael Schumacher (Benetton) |
| 1995 | Michael Schumacher (Benetton) |
| 1996 | Damon Hill (Williams) |
| 1997 | Jacques Villeneuve (Williams) |
| 1998 | Mika Hakkinen (McLaren) |
| 1999 | Mika Hakkinen (McLaren) |
| 2000 | Michael Schumacher (Ferrari) |
| 2001 | Michael Schumacher (Ferrari) |
| 2002 | Michael Schumacher (Ferrari) |
| 2003 | Michael Schumacher (Ferrari) |
| 2004 | Michael Schumacher (Ferrari) |
| 2005 | Fernando Alonso (Renault) |
| 2006 | Fernando Alonso (Renault) |
| 2007 | Kimi Raikkonen (Ferrari) |
| 2008 | Lewis Hamilton (McLaren) |
| 2009 | Jenson Button (Brawn) |
| 2010 | Sebastian Vettel (Red Bull) |
| 2011 | Sebastian Vettel (Red Bull) |
| 2012 | Sebastian Vettel (Red Bull) |
| 2013 | Sebastian Vettel (Red Bull) |
| 2014 | Lewis Hamilton (Mercedes) |
| 2015 | Lewis Hamilton (Mercedes) |
| 2016 | Nico Rosberg (Mercedes) |
| 2017 | Lewis Hamilton (Mercedes) |
| 2018 | Lewis Hamilton (Mercedes) |
| 2019 | Lewis Hamilton (Mercedes) |