National Women's Football League betting
The AFL smashed the glass ceiling when it announced the launch of a national football league for women in 2017.
Eight teams battled it out in the inaugural campaign, which drew capacity crowds as footy fans turned out en masse to watch history unfold.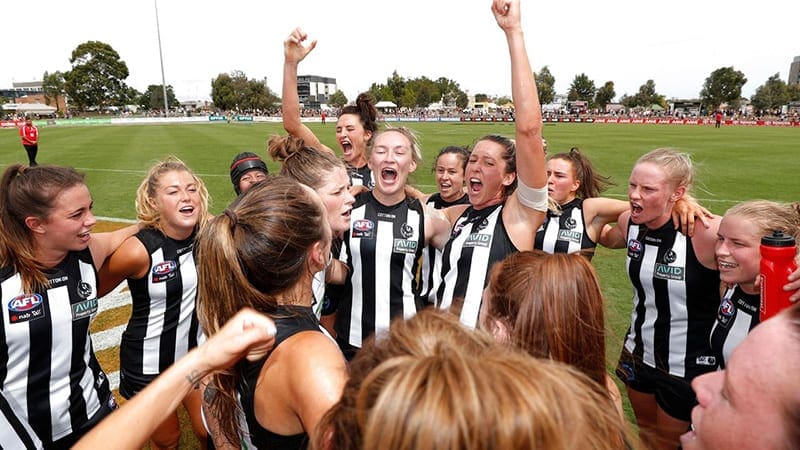 AFL chairman Mike Fitzpatrick said the new women's league would change the face of the AFL.
"Our game will never be the same," he said.
"The number of women and girls playing club football has doubled over the past five years, as record growth, year on year, has seen female participation reach 25 per cent of the total number of Australians playing our indigenous game.
"Our CEO Gillon McLachlan calls it a revolution and it is.
"A fully fledged national competition where the best women in the country will grace AFL grounds, wearing AFL club jumpers, representing immensely proud and passionate tribes.
"The establishment of a national women's league will provide a platform to inspire young girls to reach for the stars and provide another avenue for fans of Australian football to enjoy.
"Our game is on the cusp of changing forever and changing for the better.
"The concept of a national competition has been put together in short space of time but this day has been a long time coming."
Bookies to bet on women's AFL with

This is my table
There are several trusted online bookmakers that take bets on Women's AFL. These sites are industry leaders in Australian football betting and have proven track records when it comes to value odds, market range and customer service. We recommend opening accounts at each of our featured AFLW bookies to ensure you always get the best available price on any given market.
Women's football betting markets
Australia's top sports betting sites offer a wide array of betting options for women's footy. Check back closer to the start of the 2019 AFLW season for the latest premiership odds, futures markets and more.
Women's football in a nutshell
Eight teams competed in the inaugural season of the AFLW:
Adelaide Crows
Brisbane Lions
Carlton Blues
Collingwood Magpies
Fremantle Dockers
Greater Western Sydney Giants
Melbourne Demons
Western Bulldogs
There were another five applicants for a franchise, but they were knocked back by the AFL.
Those clubs – St Kilda, Richmond, Geelong, West Coast, North Melbourne – have since been issued with provisional licences and will enter the competition by 2020.
The Gold Coast Suns have also gained a berth in the AFLW, while Sydney, Hawthorn, Port Adelaide, Gold Coast and Essendon are yet to win a spot in the top flight of women's footy.
The Western Bulldogs and Melbourne are seen as the trailblazers of women's competition, the two clubs holding a series of exhibition games over the past few season and shining a spotlight on what women can do on the footy field.
There are no two more recognisable women than Melbourne's Daisy Pearce and the Bulldogs' Katie Brennan.
"We've seen on so many issues that sport is a powerful vehicle," Pearce said.
"To see women out there playing a really physical sport, at our most powerful, will encourage change across all of society."
Add in Brisbane Lions Tayla Harris and you have real star power to drive the competition.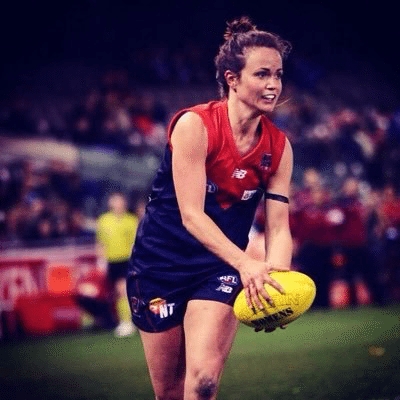 The intriguing thing about the new league is the potential for women in other professional sports to cross the floor.
Clubs are set to look at soccer, cricket and athletics to hunt down the best athletes they can possibly find and turn them into footballers.
While it is a new frontier for women in football, they won't be going in blind.
And 11-member panel of experts and players was assembled to help the women through the establishment of the league.
That includes AFLPA chief executive Paul Marsh, Collingwood player Lynden Dunn, director of the workplace gender equality agency Libby Lyons, and the chief executive of the Grace Papers organisation, Prue Gilbert. Also on the committee are seven female players from across the country: Courtney Cramey, Emma King, Leah Kaslar, Bree White, Tiarna Ernst, Lauren Arnell and Maddy Collier.
"Our women's football advisory committee will continue to provide guidance from a player and gender equality perspective, to ensure the league is a success and that players have strong support structures in place during and post their careers," Marsh said.
Our say
Any expansion of the sport into uncharted territory has to be good news, but especially when it involves women.
It brings Aussie Rules in line with sports like cricket and soccer, with traditionally male-dominated competitions giving women the chance to compete at the elite level.
It also gives punters a chance to wager their money on not only the men, but the women who play for their favourite team in Australia's national sport.
So be loud, be proud and show your support for the best of the best women footballers in our nation. They deserve it.