10 greatest AFL players of all time
Naming the 10 best AFL players of all-time is a thankless task when you consider the talent the competition has had in its long history. It's the toughest, hardest, most athletic game on the planet. Whether it is high flying marks, bone jarring tackles or freakish goals, Australian Rules has it all.
Comparing different eras in football is a thankless task, but somebody has got to be willing to put their neck out to begin the discussion, so without further procrastination I present our 10 greatest AFL players of all time. Have we missed in any one? Read through our list and then tell us in the comment box below.
1

Leigh Matthews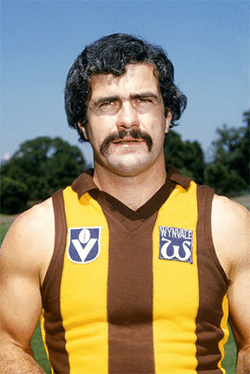 Clubs: Hawthorn
Position: Midfield or forward
Games played: 332
Goals: 915
So supremely skilled and talented, what made Matthews great was the fear he instilled in opposition players. A brutal player, Matthews would win the football, or destroy the man who grabbed it. The best small forward/midfielder of all time, and arguably the game's greatest player, the Hawk legend, who went on to coach Collingwood and Brisbane, spent 16 years with the Hawks. He was named by the AFL as the greatest player of the 20th century and few would argue. Matthews legacy to the game has continued post-coaching with the living legend a fixture on the television coverage of the AFL.
2

Ted Whitten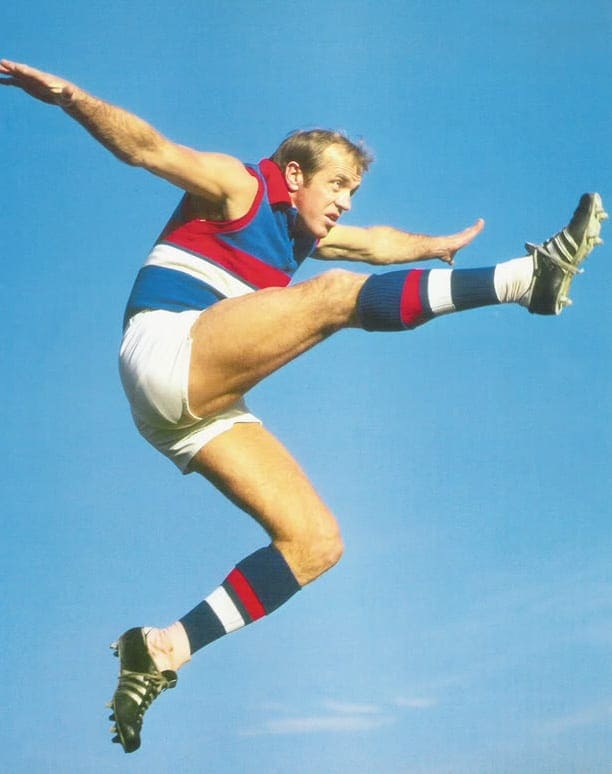 Clubs: Footscray (Western Bulldogs)
Position: Centre half forward or centre half back
Games played: 321
Goals: 360
The nick name says it all. 'Mr Football' was a larger than life icon of the game who was one of the first great key position players. He was officially either a centre half forward or centre half back, but it didn't really matter where he lined up, Whitten could play anywhere and was rarely beaten. He was and became one of the great proponents of the drop kick, an art that has died out in today's game, and also pioneered the flick pass, which is now outlawed. Became one of football's most lived figures after football, before his death in 1995.
3

Gary Ablett Senior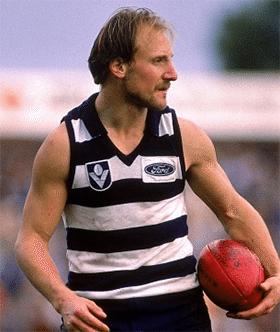 Clubs: Hawthorn, Geelong
Position: Wing or full forward
Games played: 248
Goals: 1030
Known simply as 'God' among football folk, Gary Ablett Senior was a one man human highlight reel. Like Matthews, Ablett was as tough and uncompromising as he was skilled. As fit as a fiddle, he booted bags of goals from the wing and then his goal kicking went to the next level when he became a permanent forward. Was the best player in the 1989 grand final, booting nine goals in a losing effort to the Hawks in what some call the best football game of all time.
4

Dick Reynolds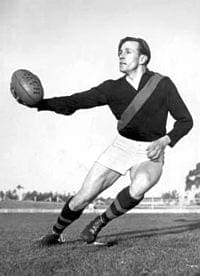 Clubs: Essendon
Position: Ruck rover or half forward
Games played: 321
Goals: 442
Reynolds was the antithesis of Matthews in that he was unshakeably fair on the football ground. He was the prototype of the ruck rover, as hard as nails, with a brilliant overhead marking ability, and he has three Brownlow Medals to show for it. Reynolds captain coached Essendon to two premierships and, at the time, was called the greatest player of all time.
5

Wayne Carey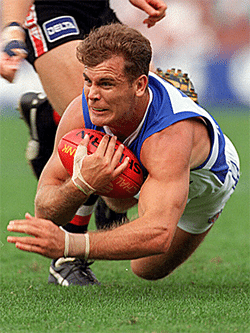 Clubs: North Melbourne, Adelaide
Position: Centre half forward
Games played: 272
Goals: 727
King Carey was the AFL's superstar in the 1990s. The best centre half forward of all time was a running machine and built like a brute. His powerful marking was a feature, but his hard running used to wreck his opponents. A fall from grace after a dalliance with team mate Anthony Stevens' wife and a series of bizarre actions following his retirement have not dampened people's opinion of his ability. Was forced to move to Adelaide following the turmoil at North Melbourne.
Recommended!
6

Ian Stewart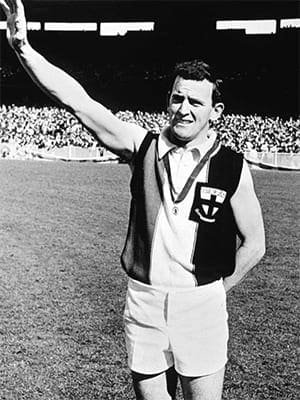 Clubs: St Kilda, Richmond
Position: Centre
Games played: 205
Goals: 80
Three Brownlow Medals and two premierships, including St Kilda's only one in 1966, Stewart set the standard in the 1960s and 70s. Named a legend in the AFL hall of fame, Stewart hardly looked like a footballer, but when he stepped on the field, he was a man possessed. Was a brilliant mark and could kick with distance and accuracy with both feet, Stewart had no peer during his playing career.
7

Gary Ablett Junior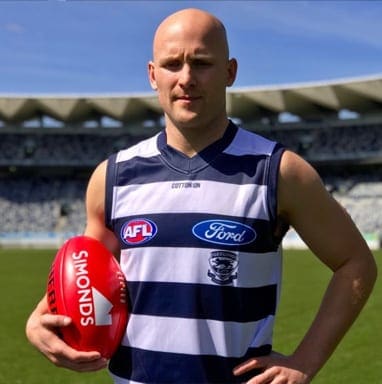 Clubs: Geelong, Gold Coast
Position: Midfield
Games played: 278
Goals: 370
The son of God came to Geelong as the saviour and he lived up to the hype, taking his club to two premierships, an achievement his superstar father was never able to fulfil. A multi million dollar move to the fledgling Gold Coast left a sour taste in some mouths, but a second Brownlow in 2013 only enhanced his legend. Junior is still the premier midfielder in the game and has shown no signs of slowing down. Could arguably wind up better than his father if he can somehow lead the Suns to an AFL flag.
8

Haydn Bunton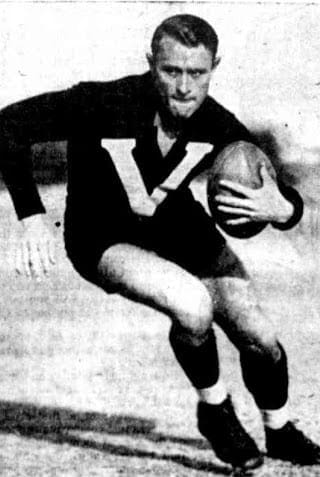 Clubs: Fitzroy
Position: Follower
Games played: 119
Goals: 207
Born in a rugby heart land in Albury, New South Wales, Bunton might have been lost to the game. But rugby's loss is Aussie Rules' gain and he started his career in the best way possible, winning two Brownlows in his first two seasons. Won a third Brownlow Medal with Fitzroy, before heading to Subiaco as playing coach and winning two more league medals. Possesses a resume the envy of most players in history.
9

Graham "Polly" Farmer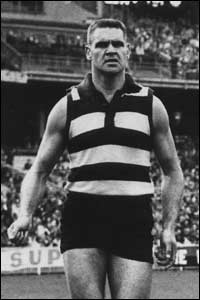 Clubs: Geelong
Position: Ruck
Games played: 101
Goals: 65
The prototype of the modern tap ruckman, Farmer only played 101 games for the Cats, but his game is the stuff of legend, forging a remarkable career that spanned 356 games in Melbourne and Perth. Is the ruckman in the AFL and the Geelong team of the century, any midfielder will tell you that they simply loved playing under the ruckman who gave them silver service at the stoppages.
10

John Coleman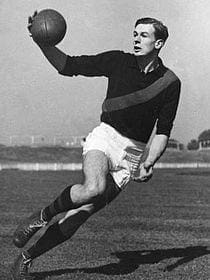 Clubs: Essendon
Position: Full forward
Games played: 98
Goals: 537
Any man who kicks 537 goals in 98 games must be included on this list. Had Coleman not destroyed his knee, who knows what he would have produced. Had he done his knee in 2016, he would have been back playing football in six weeks. He has the second highest goal kicking average and the AFL's goal kicking award is named after him.
Honourable mentions: Tony Lockett, Jason Dunstall, Stephen Silvagni, John Nicholls, Royce Hart, Alex Jesaulenko, Bob Skilton, Ron Barassi, Jack Dyer, Greg Williams, Nathan Buckley, Chris Judd, Kevin Murray, Darrel Baldock
Everyone seems to have an opinion on who the best AFL players of all time are, how close to the mark has our man Mike Randall got? Leave a comment in the box below.
Top AFL Bookmakers

This is my table