Betting on video games & eSports
Once an underground pursuit with a cult following, eSport is now a worldwide phenomenon. The rapid growth of competitive gaming extends to the gambling industry, where online bookmakers are taking bets on all the major leagues and tournaments. Find out which esport bookies offer the best odds and bonus offers on CS:GO, Dota2, FIFA, LoL, Overwatch and more.
Best bookmakers for eSports betting

This is my table
We here at BettingSite.com.au recommend the above online bookmakers to handle your E-sports action. Each of these bookies has a lot to offer to keep them competitive and hopefully help you out by fattening your wallet. All are up to date with head-to-head bets and outright winner bets available on most major tournaments. Check out their sites for more details.
What is esport?
Basically, e-sports, or electronic sports, is competitive video gaming. And as with anything competitive there is a flourishing market to have a flutter on the outcomes.
The first real venture toward an e-sports tournament was initially held in 1972 at Stanford University, California. The focus of the tournament was the game Spacewar with a grand prize of a year-long subscription to Rolling Stone magazine, with only a handful of people competing.
From there e-sports tournaments have matured and expanded over the years with the first bonafide tournament being held by games manufacturer, Atari, in 1980. Approximately 10,000 participants competed to see who could record the highest score of the all time classic game, Space Invaders.
The 90's saw a boom in the sheer volume and ability of e-sports tournaments, with the internet opening the world to a vast number of online, multi-player games. Since then, tournament prize totals have sky-rocketed up to as much as $12 million.
As is the way with anything competitive, punters got a whiff and began having a flutter on the outcome of individual match-ups and who would win tournaments.
What sorts of games are played for E-sports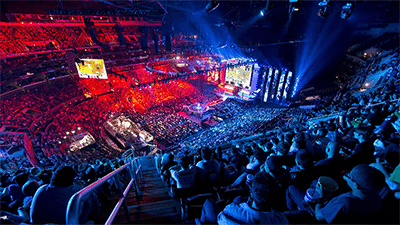 Competitions and tournaments are often broken down into different categories of games. There are five main gaming categories with several other scattered titles that don't fit into any of the following categories.
Fighting:
These are your classic battle games like the Street Fighter series, Super Smash Bros., Marvel vs. Capcom, Tekken and Killer Instinct.
First person shooters:
Or as they are commonly known, FPS, sees the action of the game through the eyes of the character you are playing as. Some of the games that fall under this genre that are popular among tournaments are Doom, Call of Duty (C.O.D.), Quake, Counter Strike, Halo and Painkiller to name a few.
Real time strategy:
Also known as RTS games, is usually an individual competing over the internet. Titles that fall under this category are: the Starcraft series, Warcraft and even Age of Empires.
Sports:
These are games based around popular sports from around the world, most notably produced by the EA company. The FIFA series is the most popular among E-sports bettors.
Multiplayer online battle:
Also known as MOBA games, are very similar to RTS games, however, instead of a single player controlling many units, this is a team-based game with each player controlling a unit. Popular tournament games are: the Dota series, League of legends and Smite.
List of E-sports tournaments
Below are a list of the most prominent E-sports tournaments:
Apex
Battle.net World Championship Series
Capcom Cup
Dreamhack
E-compete online
Electronic Sports World Cup
ESEA League
European gaming league
Evolution Championship
Intel Extreme Masters
Global Starcraft II League
Major League Gaming – or MLG
Halo Championship Series
Mexican E-sports League
World Cyber Arena
SMITE World Championship
World Cyber Games
UMG Gaming
The International
eGames
How do you bet on E-sports
Betting on eSports is simple with any of our recommended online book makers. All you have to do is locate the E-sports icon, click on it and decide on the type of bet you want to make: a head-to-head bet or a futures bet on who will win any given tournament.
Tips for betting on e-Sports
As with any bet, a little knowledge goes a long way. If you aren't exactly familiar with eSports don't get carried away and start making wild bets that you have no idea about.
Do your research. Familiarize yourself with players. What is their history in the event you want to bet on? Are they proficient in the game the tournament specializes in? What is their history against their head-to-head opponent?
If it is a team game, how long has the team been together? Do they have a good history in the game they are playing? Do they have a good history in the tournament they are competing in?
Don't go into your bet half cocked. Know what you are betting on.
As always, once you know the bet you want to make, shop around between your multiple online bookie accounts to get the best price possible for the bet you want to make.
Many bookmakers are clueless when it comes to eSports. If you know your product there is plenty of value to be found wagering on this past time.
Recommended!