Betting sites for the UFC
MANY online betting sites have markets for Mixed Martial Arts (MMA) and most notably the Ultimate Fighting Championships. The best Australian online bookmakers featuring UFC betting are licensed to operate legally and will feature both fixed odds futures bets and many more fight day markets. Generally around the time of UFC Main Events the betting markets will be ramped up.
This article detailing the best betting sites for the UFC will outline everything you need to know to successfully bet on MMA events, plus highlight some of the important dates on the 2019 MMA calendar and give you tips on how to win when wagering on it. Our favourite UFC bookies for 2019 are:

This is my table
Best UFC betting sites for 2019
Australians can legally sign up at upwards of 12 UFC online bookmakers licensed to operate in Australia, while international UFC punters have many many UFC betting options based right across the globe. If you're an Australian, yo should definitely bet with a licensed and legal bookie, because they give you more security than the offshore counterparts. You will find major betting sites in Australia will have UFC markets even if there are no Aussies involved in the fight or the card. Our top five bookies for UFC betting in 2019 are:
The Ultimate Fighting Championship is fast becoming one of the biggest sports in Australia outside of the nation's traditional codes. The hysteria surrounding the sport hit fever pitch Down Under in 2016 when Ronda Rousey was KO'd by Holly Holm on a record-breaking Etihad Stadium night. Worldwide, it has become one of the most popular sports to both watch and bet on. It packs out stadiums wherever it goes and has become a truly global phenomenon.
About the UFC and mixed martial arts
The UFC is recognised as the premier mixed martial arts competition, attracting the best fighters who combine a mix of unarmed combat methods such as judo, karate, wrestling, boxing and everything in between.
It has held over 300 events across the world, spearheaded by its larger-than-life president Dana White.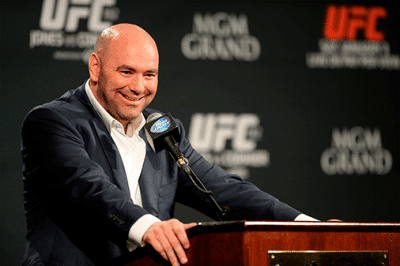 It dates back to 1993, but that event in Denver was a mere shell of the juggernaut that now exists.
These days the UFC ranks among the most valuable sporting commodities on the planet, having sold for some US $4 billion in July 2016.
Fighters like Rousey, Conor McGregor and Mark Hunt have become household names for their performances both in the octagon and outside of it.
MMA has also become a phenomenon in the punting world, with every online bookmaker worth its salt offering markets on just about every single UFC fight there is today.
Whether it is prelims or the main card, you can find odds on every fight at the click of a button on your PC or smartphone.
Popular UFC betting markets
The UFC is one of the sports that is growing in popularity with sports bettors all the time, with more and more wagers being placed on it every time there is an event. The bet types and markets UFC punters take advantage of betting online include:
Head-to-head odds
The bread-and-butter sporting bet. Head-to-head punting is dead simple: two fighters, going one-on-one in a battle of physical and mental supremacy. You have to decide which fighter has the fortitude to get the job done – and then lay your hard-earned on the line.
What round will the fight end?
First you need to know how many rounds there are in a fight – usually three or five in the UFC – and then you have to predict when the fight will finish. Whether their is a knock out or submission in the early rounds, or perhaps a points decision at the end, you have to pick.
Method of victory
How will the fight end? Will one of the fighters beat the suitcase out of his or her opponent and knock them out? Or will they produce an unstoppable grappling game and wrench their opponent's arms from their sockets, forcing a submission? How about if the two fighters give no quarter and end up making it to the end? More unlikely, but still possible, the two fighters could have a draw, just like Mark Hunt and Antonio 'Big Foot' Silva did in Brisbane back in 2013.
Method and round combo
What round will the fight end and how will it end? A combination of the two markets described above can produce some serious odds – with serious risk. To win, you need to pick the winner of the fight, the method they finish it in and the round the fight ends in.
Total rounds
This will usually be presented in an over-and-under scenario. For example: in a five-round match, it might be over or under 2.5; in a three-round fight, it will probably be over or under 1.5. In lopsided match-ups the round figure can shift and some bookies offer alternate figures, as low as 0.5, if you think there is going to be a quick finish.
Round betting
Round betting involves selecting the winner of the fight and the round it ends in. So Brock Lesnar to win in the second round, Mark Hunt to win in the third round, etc. etc.
Will the fight go the distance?
Will one of the fighters end the fight early, or can they both make it to the end and leave it up to the judges to decide who wins?
Finishing time
This is even harder, but it can give you juicy odds. You're having a stab in the dark and it will usually offer you a figure of what time the fight will be ended from round one. It goes in 30 second increments, so good luck picking that out of a bag.
How the fight will end
There are three bet options here. It doesn't matter who wins – you can choose knock out, submission, or points. This is a good one in an even fight when you can't pick the winner. If they are both expert grapplers, they might end in submission; but if they like to stand and fight, then the knockout is the slugger's bet.
---
Tips on how to bet on UFC
Gamble responsibly:
Punting can be fun and very lucrative if you do it the right way. Before you even think of laying some money on a UFC fight, you need to ask yourself: "Can I afford this?" If the bills are paid, there is food on the table and all your obligations are met, then the answer is yes, and you can enhance your fight experience with a little flutter that could go a long way.
Know your fighters:
A little bit of research can go a long, long way when betting on the UFC. This is two people, in an octagon, fighting for their lives. Upsets are common in the UFC and the key to making real money is being able to predict just when one of those upsets is going to happen. The best way to do that is to make sure you know the intricacies and idiosyncrasies of the fighters you are betting on. How is their takedown defence? Do they stand and fight, or do they like to find the mat? These things matter. Fighter A may have destroyed their last opponent because they exploited a weakness that might not be so evident in Fighter B.
Be across the injuries and training:
You want to know that your guy or gal has the best chance of winning. If they are coming off an injury, they might not be in the best form or shape for a UFC fight. It might be your chance to pounce on an underdog.
Don't get caught out:
To take advantage of the best deals, you'll need more than one betting account. There is nothing worse than backing a UFC fighter to win, only to find you missed out on a heap of coin because another bookmaker offered better odds. Do yourself a favour.
---
UFC weight classes
Bantamweight
Featherweight
Lightweight
Welterweight
Middleweight
Light heavyweight
Heavyweight
---
UFC records
As of July 2016
| | |
| --- | --- |
| Youngest champion: | Jon Jones – 23 years, 242 days |
| Oldest champion: | Randy Couture – 45 years, 146 days |
| Longest reign as champion: | Anderson Silva – 2,457d (6y 8m 22d) |
| Most championship reigns: | Randy Couture – 5 |
| Most bouts: | Jim Miller – 32 |
| Most wins: | Donald Cerrone – 23 |
| Most finishes: | Donald Cerrone – 16 |
| Most knockouts: | Vitor Belfort – 12 |
| Most submissions: | Charles Oliveira 13 |
| Most decision wins: | Georges St-Pierre – 12 |
| Most wins in title bouts: | Georges St-Pierre – 12 |
| Most title bouts: | Randy Couture – 15 |
| Most consecutive title defences: | Anderson Silva – 10 |
| Longest winning streak: | Anderson Silva – 16 |
| Most post-fight awards: | Nate Diaz – 14 |
| Most Performance of the Night awards: | Conor McGregor – 5 |
| Most Knockout of the Night awards: | Anderson Silva – 7 |
| Most Submission of the Night awards: | Joe Lauzon – 6 |
| Most Fight of the Night awards: | Frankie Edgar, Diego Sanchez, Nate Diaz – 7 |
| Most total fight time: | Frankie Edgar – 5:35:23 |
| Most takedowns in a single bout: | Khabib Nurmagomedov – 21 of 27 attempts |
| Fastest knockout: | Duane Ludwig – 0:06 |
| Fastest submission: | Oleg Taktarov – 0:09 |
| Fastest title fight knockout: | Conor McGregor – 0:13 |
| Fastest title fight submission: | Ronda Rousey – 0:14 |
Recommended!
Commonly asked questions about UFC betting
What is the best betting site for UFC?
As an Australian facing gambling portal, we always lean towards bookies regulated in this country. Our favourite betting site for 2022 is Sportsbet.com.au.
Is online UFC betting safe?
We get posed this question a lot, with the answer basically coming down to which bet site suits your needs. But it is possible to bet on UFC fights online safely.
Is MMA fighting legal in Australia?
Yes it is, in-fact Australia has hosted some of the biggest names in MMA, including champion woman Rhonda Rousey, who was knocked out in a shock loss in Melbourne in 2016. MMA fights in Australia take place regularly in front of packed out crowds right around the country. For a long time Aussie state Victoria had a ban on cage fighting, but this was lifted due to public demand.
Can i bet on MMA fights if i'm not in Australia?
Yes you can, but you will need to find a UFC betting site that accepts sign ups from your country. The best online UFC betting companies will cover all MMA events and hopefully have a high level of regulation.