What is Davis Cup tennis and how to bet on it
Billed as the World Cup of tennis, Davis Cup pits the best nations with the racquet against each other in a knockout competition that is the premier international men's event.
Starting out as a tennis battle between Great Britain and the United States way back in 1900, the Davis Cup has grown to a competition where some 130 nations participate every year.
That means it is a highly coveted trophy.
Only 18 nations qualify for the Davis Cup Finals, and only the last one standing out of those 18 teams will claim the cup.
Interestingly, nations take turns in hosting their Davis Cup ties. This stems back to 1970. So, hypothetically, if Australia played Spain in Spain in 1975 and did not meet them again until 2017, the ensuing tie would be played in Australia, even though the last one would be 42 years ago.
The Davis Cup has a long and successful history and sits next to the four Grand Slams as one of the most coveted gongs in tennis.
Here is a look at the Davis Cup, its history and how you can bet on it at Australia's top tennis betting sites.

Recommended!
How the Davis Cup works
So you want to win the Davis Cup.
Well, first you have to qualify for the Davis Cup Finals.
Sounds easy, right?
Wrong.
Remember, there are 130 nations.
You need to be part of the 18.
Do the math.
Once you've got there, you need to go through the group stage to reach the last eight, winning matches spread out over three days, with two singles games on day one, the doubles on day two and then the reverse singles on day three.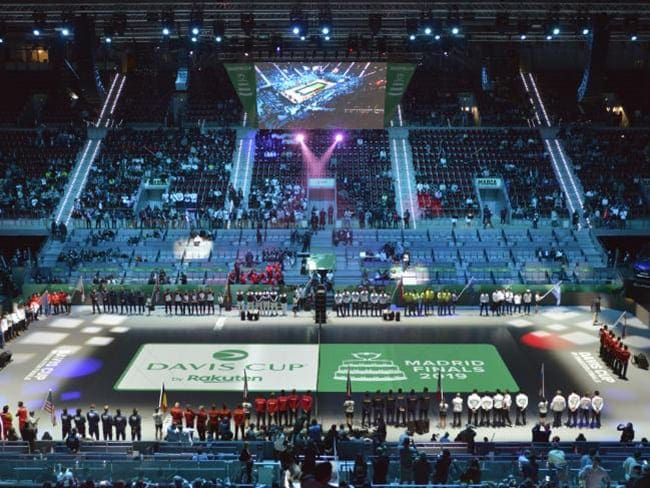 Negotiate that, then do it all again in the quarter-finals and the semi-finals to reach the cutthroat final.
Win the final and you will take the Davis Cup trophy and either have your name etched in tennis folklore – if you're a player – or a wad full of notes if you punted on the game and managed to pick the correct result.
Which countries are involved in the Davis Cup?
You want the whole list? That would take too long, but here are the nations that competed in the 2019 Davis Cup Finals:
Argentina
Australia
Belgium
Canada
Chile
Colombia
Croatia
France
Germany
Great Britain
Italy
Japan
Kazakhstan
Netherlands
Russia
Serbia
Spain
United States
Online bookmakers for Davis Cup and other tennis bets
We've tabled our recommended bookmakers for betting on the Davis Cup below:

Davis Cup Bookies
How to bet on the Davis Cup and popular markets
Davis Cup winner:
Have fun picking the winner of the entire tournament when there are 130 teams to choose from. Some bookmakers won't even offer odds on it until the later finals rounds, when the field is whittled down.
Tie winner:
Tie bets happen throughout the tournament, and it simply means which of the two nations wins the most of their five matches. You have to pick the overall winner who is on the right ledger of the five matches (5-0, 4-1, 3-2)
Tie correct result:
As with the bet above, you have to pick the winner of the tie, but you also have to correctly predict the number of matches each team wins (5-0, 4-1, 3-2).
Head to head match winner:
The most basic of tennis bets. You have two men out on the court, battling for supremacy. There are two results. A win. And a loss. Choose wisely, because your man needs to claim victory for you to salute. Whoever wins the match shares the spoils with their loyal punters.
Set betting:
There are a variety of options in set betting, but the key one involves predicting exactly how many sets a Davis Cup match will go to. Will the match be a 3-0 whitwash? Can the loser nick a set off their opponent, or will it be a five-set classic, with the victor taking a thrilling 3-2 win?
Correct set score:
This bet type breaks the game down even further to how many games each player will win in a particular set. If the winner of the set wins six games and the loser only two, you have to select the option for 6-2. A variation of this bet involves picking how many games there will be a particular set. It doesn't matter who wins or loses the particular set you just need to pick how many games there will be played.
Game betting:
The final break down is how many games there will be in the match. Usually this will be provided as an over or under odd situation, where the bookmaker will give you a set figure for games, usually with half a point added, to give you, for example, over 27.5 or under 27.5.
Five great Davis Cup moments
Rafael Nadal comes back to beat Juan Martin Del Potro in 2011
It all came down to this one. And the then world number two Rafael Nadal would simply not be denied, coming back from being flogged in the first set by Argentina's Juan Martin Del Potro to claim the match and an unassailable 3-1 lead in the Davis Cup final, giving his nation, Spain, the title. It was the last set in particular people will never forget, peppered with ridiculous rallies and shots, with both players being broken as they served for the set. But Nadal eventually won out and the Spaniards were the Davis Cup champions.
Czech Republic knocks over the defending champions in 2012
No one gave them a hope in 2012. No one except the Czechs. And they delivered on the world's biggest stage, to claim their first Davis Cup title as a sovereign nation by somehow beating defending champion Spain. The Czechs even went 1-0 down after the opening tie and things looked bleak. But monster server Tomas Berdych knocked over Nicolas Almagro and then he and Radek Step teamed up to wrest back the lead in the doubles. Stepanek then atoned for his opening day loss to David Ferrer to take a 3-1 victory, in the process, shocking the world.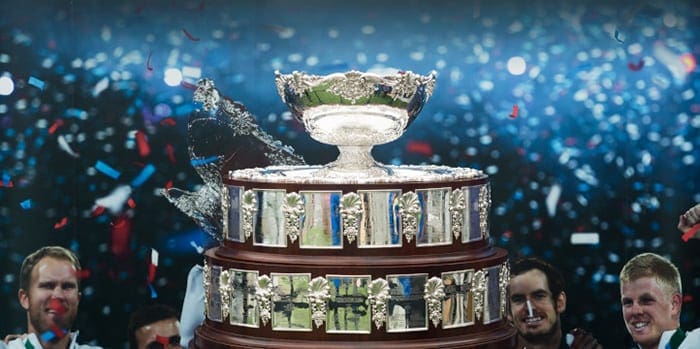 McEnroe goes out a winner in 1992
With father time catching up on the champ, John McEnroe was not expected to make a huge impact in the Davis Cup, but, still, the USA, with Pete Sampras, Andre Agassi and Jim Courier on board, made it all the way to the Davis Cup Final, where they defeated Switzerland. Most memorable was McEnroe's performance on the doubles court with Sampras, the up and coming superstar, to give their nation a 2-1 lead in the series. Not many people could forget McEnroe circling the court with the giant American flag after his teammate Courier won the fourth match and gave them a 3-1 win.
Pete Sampras loses in 1991
No wonder the Americans won it in 1992. Pete Sampras, approaching the peak of his powers, was remarkably beaten by a bloke named Guy Forget. And we will never forget the day he won, giving France its first Davis Cup title for nearly 60 years. An unlikely Davis Cup title win – after Sampras also lost to a bloke named Henri Leconte.
France's remarkable run comes to an end in 1933
We don't profess to being alive in 1933, but we do know that any team that ends a six year Davis Cup winning streak is very, very special. That's what the Brits did in '33, putting a stop to the much-vaunted "Four Musketeers" – Rene Lacoste, Henri Cochet, Jacques Brugnon and Jean Borotra – run of six straight titles, thanks to the heroics of Fred Perry, a darling of the Brit tennis world.
Davis Cup dates
The first round of the Davis Cup is usually held in March, with the Quarter Finals following in July, the semi finals in September and the finals at the end of November.
This year, 2018, Argentina will take on Croatia in Zagreb from November 25-27 to decide who will be crowned the Davis Cup champion.
Davis Cup winners list – past champions
| | |
| --- | --- |
| 2017 | France |
| 2016 | Argentina |
| 2015 | Britain |
| 2014 | Switzerland |
| 2013 | Czech Republic |
| 2012 | Czech Republic |
| 2011 | Spain |
| 2010 | Serbia |
| 2009 | Spain |
| 2008 | Spain |
| 2007 | United States |
| 2006 | Russia |
| 2005 | Croatia |
| 2004 | Spain |
| 2003 | Australia |
| 2002 | Russia |
| 2001 | France |
| 2000 | Spain |
| 1999 | Australia |
| 1998 | Sweden |
| 1997 | Sweden |
| 1996 | France |
| 1995 | United States |
| 1994 | Sweden |
| 1993 | Germany |
| 1992 | United States |
| 1991 | France |
| 1990 | United States |
| 1989 | West Germany |
| 1988 | West Germany |
| 1987 | Sweden |
| 1986 | Australia |
| 1985 | Sweden |
| 1984 | Sweden |
| 1983 | Australia |
| 1982 | United States |
| 1981 | United States |
Most wins in the Davis Cup
| | |
| --- | --- |
| United States | 32 with 29 runners-up |
| Australia | 28 with 19 runners-up |
| Great Britain | 10 with eight runners-up |
| France | 10 with eight runners-up |
| Sweden | seven with five runners-up |
| Spain | six with four runners-up |
| Germany | three with two runners-up |
| Czech Republic | three with three runners-up |
| Russia | two with three runners-up |
| Croatia | two with one runner-up |
* Five nations are tied on one win each.
Recommended!