Australia's pokies obsession at an all time high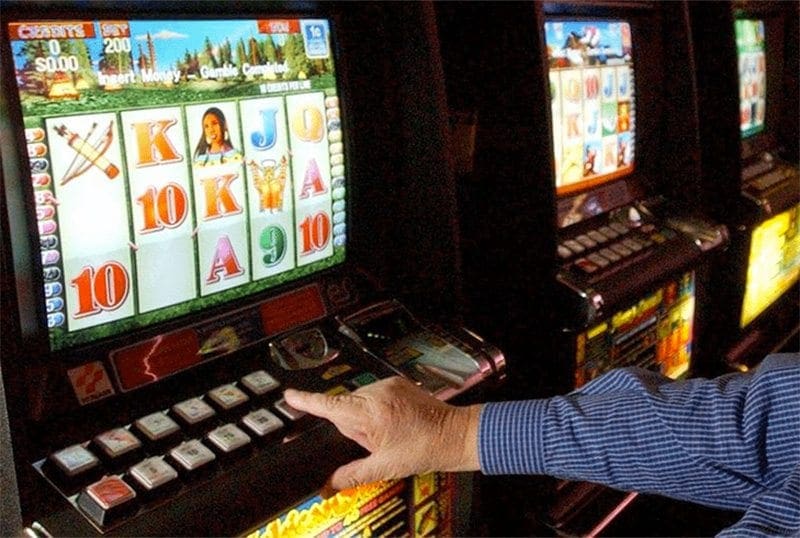 DESPITE a decrease in the total number of pokies in pubs and clubs, Australians have put more cash through the machines than ever before during the 2015-16 financial year.
The 33rd Australian Gambling Statistics report prepared by the Queensland Government showed an increase in total pokies expenditure over the last five years, flying in the face of assertions money spent at offshore interactive casinos was crippling the industry.
In September 2017, Australian politicians amended the Interactive Gambling Act, effectively banning offshore casinos and poker sites from offering their services to Australian residents. Supporters of the ban cited the leak of gambling money to unlicensed overseas operators as a major issue affecting the fortunes of local operators, however, figures reported by the Queensland Government demonstrate no apparent decline in poker machine turnover in the lead-up to the ban.
While statistics show the total number of pokies dropped by 1063 across Australia in the period between 2011 and 2016, the total amount put through the remaining machines exceeded the year prior. There was a 3.4% per cent jump in gaming machine turnover between the 2014-15 ($137,601.889 million) and 2015-16 ($142,510.066 million) financial years.
The report also demonstrates the high cost of Australia's love for poker machines with the 15-16 financial year showing we lost $12,074.215 million during the period; or roughly $650 for every Australian man or women over the legal gambling age.
Which states are Australia's biggest pokies losers?
Not surprisingly NSW, who have almost twice as many pokies as their nearest rivals; led the charge to the ATM with average individual losses of over $1,020 for every adult. The run to the hole in the wall was a little less frequent for Queenslanders who forked out $616 each, while Tasmanians managed to lose just $282 each; but with the nation's fewest poker machines they may be struggling to find them to play.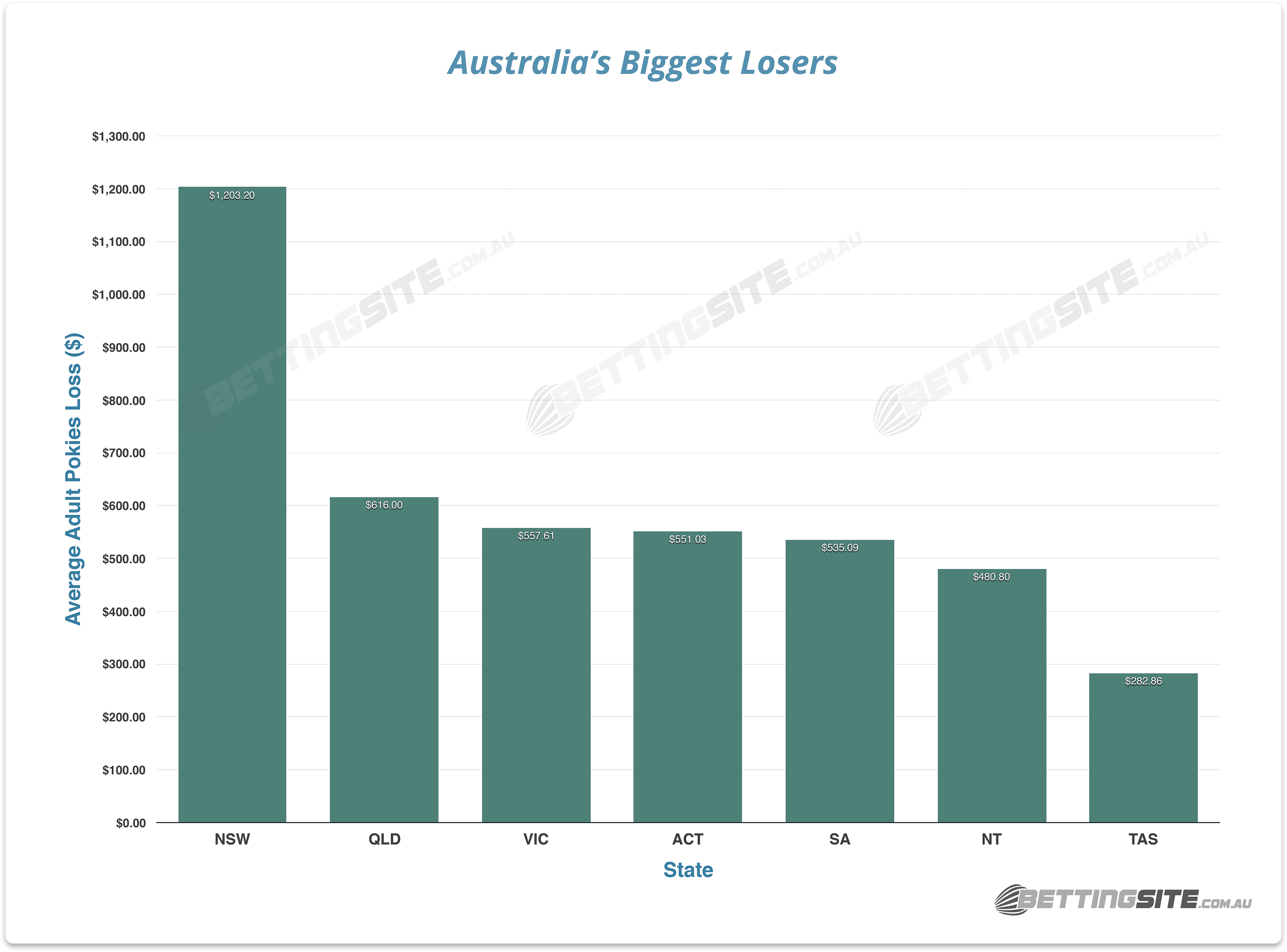 Here is how the 2015-16 financial year played out in the pokies world on a state by state basis:
Gaming machine developments in New South Wales
No official changes were made to NSW state pokies laws in 2015-2016, but the report confirmed the legal number of electronic poker machines licensed to operate within the state at:
Clubs – 69,874
Hotels – 23,034
Casino – 1,500
The report also listed the number of venues in NSW offering gaming machines at:
Clubs – 1,124 venues
Hotels – 1,509 venues
Casino – 1 venue
There were no reported changes to annual club gaming machine marginal tax rates.
Gaming machine developments in Victoria
On 1 December 2015, the Victorian government implemented the YourPlay voluntary pre-commitment system on all gaming machines within Victoria, making it the first Australian state to implement a state networked pre-commitment scheme for the pokies.
The aim of the scheme is to minimise harm caused by problem gambling by helping to assist punters to stay in control of their gambling behaviour, allowing consumers to set time and/or money limits on their pokies expenditure.
While the YourPlay scheme is voluntary for individuals to use, it is compulsory for all gaming venues, including Crown Melbourne, to have available on all pokie machines. YourPlay also allows gamblers to access detailed information about their playing habits and gambling activity in venues, online and via helplines.
Gaming machine developments in South Australia
In March 2015, the South Australian Government introduced the Statutes Amendment (Gambling Measures) Bill 2015 to fine tune the previously implemented statutory framework applying to the gambling sector. This included changes to the Gambling Machines Act 1992, the Independent Gambling Authority Act 1995 and the Problem Gambling Family Protection Orders Act 2004, which resulted in several developments in SA's pokie machine regulations.
In effect from 1 January 2016, changes to South Australia's electronic gaming machine legislations include:
Gaming machine layouts no longer require the Liquor and Gambling Commissioner's approval, although it remains a condition of a gaming license that a licensee must not make any structural alterations to a gaming area on licensed premises without the Commissioners approval.
Gaming employees no longer require the approval of the Commissioner to work at a venue hosting gaming machines, but licensees must now notify the Commissioner of the appointment of gaming managers and gaming employees using the Barring and Online Employee Notification (BOEN) system. The BOEN system can now also be accessed by SA Police staff. If there is any conflicting information about an employee, the Commissioner has the power to prohibit that person from carrying out the duties of a gaming manager or gaming employee, either indefinitely or for a specified amount of time.
Laws were amended to make it an offence to purchase, or enter into a contract or agreement to purchase, a gaming machine unless that person first has a licence to possess gaming machines
The prohibition for a licensee providing EFTPOS facilities within a gaming area was lifted so that trained gaming staff are now able to monitor a person's cash withdrawal behaviour and make an appropriate mild intervention if necessary.
Gaming machine developments in Queensland
No official changes were made to QLD state pokies laws in 2015-2016, but the Queen's Wharf Brisbane Act 2016 and Queen's Wharf Brisbane Regulation 2016 were introduced on 27 May 2016, giving the green light for another land based casino license for the state. The Queens Wharf Brisbane Integrated Resort Development will include a casino, with developments underway in 2017 and construction expected to be complete in 2022.
The Queens Wharf Brisbane Casino has since been given approval to operate 2,500 electronic gaming machines within the casino, although it's not expected that all machines will be installed at the time of opening.
Gaming machine developments in Western Australia
No official changes were made to WA state pokies laws in 2015-2016 and Western Australia remains the only Australian state not licensed to operate electronic poker machines anywhere outside of the states only land based casino. As at 30 June 2016, Crown Perth had approval to operate a maximum of 2,400 electronic gaming machines.
Gaming machine developments in ACT
On 31 August 2015, changes were introduced to the ACT's Gambling Machine Act 2004 as part of the state governments gaming machine reforms. The reforms introduced an open market trading scheme for gaming machine authorisations, underpinned by a new licensing and authorisation framework and a phased reduction in the number of gaming machines operating in the Territory.
Poker machine developments in Tasmania
No official changes were made to TAS state pokies laws in 2015-2016. However, Tasmania has since put a pokies reform back on the national agenda, with over 50 community groups, councils, unions and professional associations forming The Community Voice on Pokies Reform in a bid for pokies to be removed from pubs and clubs and restricted to the state's casinos.
Poker machine developments in Northern Territory
No official changes were made to NT state pokies laws in 2015-2016.