Young emerging prop Terrell May one to watch for NRL Roosters debut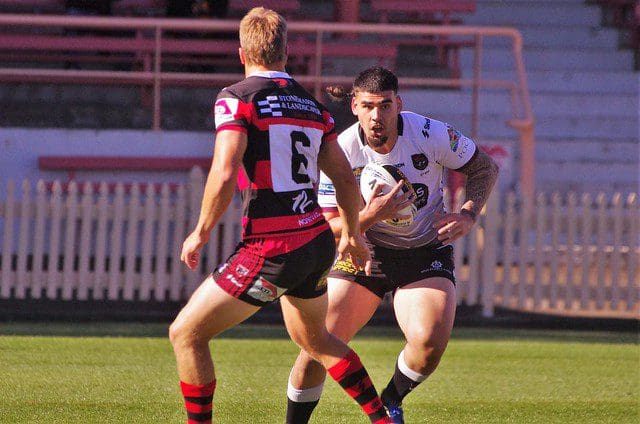 With barnstorming performances like the one he produced for the North Sydney Bears in their 28-20 win over Canberra, it is no wonder Roosters coach Trent Robinson plucked Terrell May from the Manly Sea Eagles system at the last minute.
May was simply unstoppable in the Round 6 NSW Cup clash at North Sydney Oval on Saturday, running for an incredible 223m from a total of 20 runs.
Like he did in the Bears' win over Parramatta (22 runs for 225m) and Western Suburbs (17 runs for 191m) before Saturday, the almost 23-year-old constantly attracted multiple opponents to bring down his massive and powerful frame.
And it was why Robinson – one of the most respected coaches in rugby league – picked up the phone to pluck the backrower-turned-prop from Blacktown Workers on the eve of the 2022 season.
Blacktown is NRL club Manly's feeder team.
"I was at Blacktown last year. It was weird – I wasn't meant to be at the Roosters," May told bettingsite.com.au.
"But they called me three days before I signed at Manly. Robbo gave my manager a call and asked if I wanted to be a Rooster.
"You can't say no to one of the best coaches in the world.
"It (my time at Blacktown) was really good – they set up all my opportunities for me. I got a start there and started to prove myself, and it got me to where I am now under the Roosters' system.
"The Roosters are home for me at the moment, and I'm pretty happy here, to be honest."
Despite loving his time in the Sea Eagles' system, it is obvious May has rapidly progressed his game this year as he pushes for an NRL debut at the Bondi club.
"There's no secret (to my form). Just off-field stuff and one-percenters. I've never been about the off-field stuff, I've always been about the on-field stuff," the dynamic front-rower said.
"But this year I've really taken it from Robbo and the coaching staff – do my one-percenters on and off the field, and look how I've been playing."
May has inspired the entire so-far undefeated Bears forward pack to lift their performances alongside him.
Tuku Hau Tapuha, Jordin Leiu and Renouf Atoni have also been super consistent and hard to stop up front for the Bears this year.
"It (the win over Canberra) was really good. Everyone put in a great effort in the middle and we got into a good grind," May said.
"I appreciated the efforts of everyone out there, even the bench. They all did a job.
"All the boys have got a good connection, even though some of us didn't do a pre-season together.
"Everyone is just tuned into the team and buys in."
There is a special feeling building at the Bears this year, and May says it is no fluke – hard work and belief in each other is behind the team's early-season success.
"We've got a strong connection off the field and on the field. We just know how to work together," he said.
"Even our bench middles. Every single middle that we have. The whole team is going well and it's showing – we're 5-0."
May is not getting too carried away at the thought of making his NRL debut with the Sydney Roosters this year.
Despite his incredible form, the men from Bondi certainly do not lack depth up front.
Representative props Lindsay Collins, Jared Waerea-Hargreaves and Sitili Tupouniua are continuing to inspire emerging young front-rowers such as May.
"I'll be excited to debut (in the NRL) this year, but if I don't I'll just have to work harder next year," May said.
"I'll let Robbo and the coaching staff let me know when that is."