Are offshore betting sites legal?
WITH burgeoning growth in Australia's sports betting market making it easier than ever to place a bet on your favourite sporting event or other novelty, punters are still sending their dollars offshore.
Why is it happening?
One of the reasons zeroes in on big punters who don't want their wagers recorded.
Offshore bookmakers often offer larger limits for big punters, due to the fact they are not restricted by Australian rules, laws and regulations.
Offshore bookmakers also do not pay product fees on Australian sporting events, short changing our leagues and competitions in the process.
Unregulated offshore bookmakers — whose companies are registered in jurisdictions like Manila, Curacao and the Isle of Man — are estimated to take more than two-thirds of all money bet on sport worldwide.
Australians provide offshore bookmakers with nearly $580 million in revenue, according to a Sportsbet.com.au submission to the recent government Review of the Impact of Illegal Offshore Wagering.
Recommended!
It is an offence punishable by a maximum fine of up to $1.8 million a day for offshore bookmakers to offer bets to Australians.
Offshore bookies are not only a risk to punters, they also hurt our beloved sporting codes. Each and every one, from soccer, to netball, to cricket to the AFL and NRL, none are spared.
And racing has taken a strong stance on the issue, making it illegal for any of its licensed or registered person – including racing officials and trainers – to bet on races with any bookie not approved by Racing Victoria.
That's right, those in the racing industry can get into trouble for punting with an offshore illegal bookmaker if it has not been approved by the southern state's racing regulator.
The penalties are severe, with the harshest being career ending.
But you have to ask yourself why anyone – whether they are involved with racing or otherwise – would bet with an illegal bookie when Racing Victoria has approved some 230 bookies to offer markets on racing.
If you can't find a market to punt with on the races, then you're doing something wrong.
The AFL has also decried the use of offshore bookmakers.
"In line with other professional sporting codes in Australia, the AFL has product fee and information sharing agreements with Australian betting agencies to ensure we have transparency regarding bets placed on our sport," The AFL's general counsel Andrew Dillon said.
"Only by working with the agencies are we able to protect the integrity of our sport.
"Offshore betting by Australian punters is a real concern for sport integrity because the betting cannot be scrutinised.
"The best way to counter the use of offshore illegal betting by Australians is to allow Australian registered and regulated agencies the right to compete fully with the offshore agencies, and that includes by permitting in-play betting online."
Globally, the illegal offshore wagering market is growing and wagering represents the largest sector of the global internet gambling market. It is thought that 80 per cent of these bets on global sport are illegal, based on where the consumer is making the bet – A staggering figure.
The difference between Australian and offshore betting sites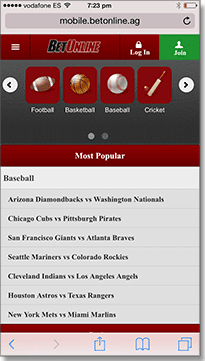 The bright lights and functional interfaces are there, but there is one key difference between Australian licensed bookmakers and their illegal offshore counterparts.
Almost none will have anti-gambling messages or mentions of gambling codes of conduct.
It takes some digging and you can easily be fooled, but it is also key to read up on the bookmaker before you try to open an account with them.
You want to know where they are licensed. If it's not in Australia – usually Northern Territory – you're cruising for a bruising.
As an aside, some of these offshore bookmakers are actually regulated in some jurisdictions, with varying levels of veracity.
Our recommended legal Australian online bookmakers
It's very easy to do things the right way. Don't be tempted by the lure of an unregulated offshore bookmaker. Especially when there are a number of bookmakers licensed in Australia who do the right thing, follow the laws and can be held to account by the Australian Government if they decide not to toe the line. We have done the work for you in sifting through the online offerings of our bookmakers and found six of the best who offer competitive odds, plenty of promotions and

This is my table
If you've opened accounts with the above mentioned bookmakers, you can be assured that they are governed by Australian law and are bound to follow regulations in Australia that protect punters.
Is offshore betting legal?
While it is an offence for a gambling operator to offer these games to Australians, it is not an offence for Australians to participate in these games.
Dangers of betting with offshore bookies
They are unregulated and therefore unsafe:
Picture this: You've just landed a hail mary multi with an offshore bookmaker. A massive 10-legger paying 100 to one. You've had a ton on it and have just cleaned up. You're on top of the world. But wait. The bookie does not have to pay you out. Sure it does, you say. But there is simply no one there to make them do it and, if they choose not to, your big win – and your wager – stays in their coffers. What can you do about it? At the end of the day, nothing.
You could be getting sucked in:
We all know the impacts of problem gambling can be severe and wide reaching. In Australia, you will see gambling messages on licensed websites aimed at having people gamble responsibly. You'll see no such messages from most of these illegal offshore bookies. They simply want your money and, when deciding to send it offshore, you could be heading down slippery slope.
You could be aiding criminals:
The links between some of the illegal offshore bookmakers and organised crime are well noted. If you're betting with these bookmakers, who knows, you could actually be aiding someone in committing crimes with your money.