The KFC Big Bash exploded on the Australian sporting scene in 2011 and the general public hasn't looked back since. Some of the biggest names in cricket fronted up in the first year and the 2017/18 season is shaping up as the best yet.
It's popularity is largely due in part to the fact T20 is so television friendly and in turn every game is aired for free on Channel 10 in Australia. The tournament begins in December and runs through to January and features teams from every Australian state, barring the ACT and Northern Territory.
The Big Bash also has enough allure to entice some of the biggest names in International cricket to spend a summer Down Under, largely through the generous salary cap system in place, although it pales in comparison to the riches on offer in the Indian Premier League.
Australian Bookies for BBL Betting
Obviously the bookmakers with the most betting options for Australian sports and in our case the BBL are based in this country. Bookies do billions of dollars worth of business each year in Australia and the BBL contributes a lot of money to the bottom line, with punters enjoying the shorter format of the game.
In preparation for the 2017-18 season it pays to open a selection of bookmaker accounts, particularly if you live in Victoria, NSW or South Australia with legislation ruling you guys out of claiming welcome bonuses. But Sports Betting Sites can let you in on a little secret, which is that these "deposit bonuses" will be offered to you when you leave your account dormant.
A sign-up bonus generally works in the form of match bets. For instance a bookmaker might match your initial deposit dollar for dollar up to a certain amount. For instance William Hill is giving all new customers up to $700. So if you deposited $700 you would have $1400 in total to bet with.
Keep in mind it is possible for UK punters to bet with Australian bookmakers, while Bet365 is another bookmakers with a great offering of BBL markets, including a futures market on the outright winner. There is generally worldwide interest in the BBL because of firstly the great cricket on offer and secondly that many international players visit Australia for the tournament.

Tips For Betting on the Big Bash League
As with any bonafide bet: a little knowledge goes a long way. You should also be looking across the several betting site accounts you have for the best value on the bet you want to make. Why take odds of +175 with one outlet when you could be getting odds of +205 on the exact same bet with a different bookie?
Bettingsite has taken a look at some of the more popular betting markets on the BBL and given a few tips on how best to invest cash with bookmakers.
Futures Markets
This is a big one. If you make a bet before the season even begins you can often find the best value for money but obviously, without a cherry being bowled it is a lot harder to predict which team may be in form to actually win the competition.
One thing to look at for pre-season Future's betting is where did your team finish last season? Another thing to look at is off-season signings. Has your team managed a coup and secured an absolute game-breaker of a player? If so this may help them in their charge toward the final.

But be wary of false dawns with the Melbourne Stars probably the team that has signed big name players, but failed to deliver on the pitch.
Obviously you can bet on Future's markets at any time throughout the season with odds being adjusted after each game. So be aware of any mid-season signings.
Head-to-Head
Things to think about before making a head-to-head bet: what is the two teams' history: is your bet playing their bogey team? Is it a home or away game? Does either side have any players out through injury? Which side is in form? Finally is the bet you are looking to make good value? Search across your numerous betting accounts with different bookies to find the best value on the bet you want to make.
Highest Run Scorer and Leading Wicket Taker for the Match
Who has been in good touch with the blade or the rolling the arm over? This can be gauged at the very beginning of the season by the International cricket season and the other Australian domestic cricket competitions like the Matador One Day Cup or even the Sheffield Shield. When it is mid-way through the season you can look at each player's history to help make your bet.
For instance if you were to bet on Shane Warne to take the most wickets, you would want to know where the game is. This piece of knowledge can tell you if the pitch will spin, it will allow you to check the weather and most importantly give you an indication as to who will suit the conditions.
2017/2018 BBL odds and predictions
The 2017/18 season is shaping up to be a beauty.
An extended fixture list means more Big Bash action than ever before, which is great news for keen punters all over the country.
Most online bookies have Perth Scorchers pegged as the team to beat. Justin Langer's men have won three of a possible six BBL titles and have yet miss the playoffs.
Melbourne Stars are always in the mix, but can they shake off past failures to claim the crown at last?
The Renegades failed to deliver on high expectations last season, so they will be eager to book a spot in the top four this time around. Brisbane Heat surprised a few in 2016-17, but their hopes could ride on the fluctuating fitness of big-hitting Chris Lynn.
Also pushing for a finals berth will be Sydney Sixers – last year's bridesmaids. Adelaide Strikers will have to improve their consistency, while Hobart Hurricanes lack the star power of the other franchises.
The 2016-17 campaign turned into a nightmare for Sydney Thunder, who went from champions to wooden spooners in the space of a season. Can they lift themselves off the foot of the ladder and mount a finals challenge?
How to watch Big Bash games live
Network Ten is showing all 43 games of BBL07 live and free on standard digital TV. If you don't have a telly, or if you are following the action from abroad, there are several other ways to watch the BBL.
Past Winners of BBL

Since 2011 there have been four winners of the KFC Big Bash League. The Sydney Sixers won in the tournament's inaugural year, downing the Perth Scorchers.
The 2012/13 season saw the Brisbane Heat prevail over Perth, who once again found themselves runner up.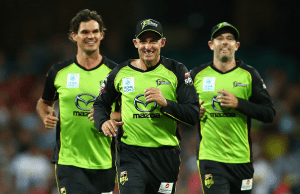 The Scorchers finally rose above second best and began to assert their dominance on the competition winning back to back titles in 2013/14 and 2014/15.
After years of failure and a finals appearance drought, the Sydney Thunder broke through for their first piece of silverware in 2015/16.
They fell flat the year after as the Scorchers returned to the summit to claim a third BBL title in the space of four years.
Latest cricket news and bonus offers
Top online bookmakers have Big Bash bonuses and betting specials lined up for every week of the tournament. See below for the latest cricket betting deals on offer at Australia's best bookies.