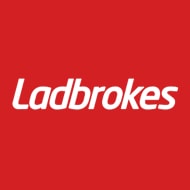 Ladbrokes is a global betting giants with an unparalleled reputation. Receive daily boosted odds on Australian horse racing.
Sign up


Screenshot
Company info

Established 1902
Customer service: Betting Line: 1800 Ladbrokes, 1300 Ladbrokes, Email: [email protected], Contact form
Owner Origin: United Kingdom
Owner: Ladbrokes PLC

Withdrawal options

Ladbroke Card, Paypal, EFT

Withdrawal Limits

Not Available

Currencies accepted

Australia Dollar

Deposit Method

BPAY, Bank EFT, MasterCard, POLi, Paypal, Visa, Ladbrokes Card, Ladbrokes Cash In

Licenses

NT Racing Commission

Restricted Countries

United States of America, Afghanistan, Albania, Algeria, Andorra, Angola, Antigua & Deps, Argentina, Armenia, Austria, Azerbaijan, Bahamas, Bahrain, Bangladesh, Barbados, Belarus, Belgium, Belize, Benin, Bhutan, Bolivia, Bosnia Herzegovina, Botswana, Brazil, Brunei, Bulgaria, Burkina, Burma, Burundi, Cambodia, Cameroon, Canada, Cape Verde, Central African Rep, Chad, Chile, People's Republic of China, Republic of China, Colombia, Comoros, Democratic Republic of the Congo, Republic of the Congo, Costa Rica, Croatia, Cuba, Cyprus, Czech Republic, Danzig, Denmark, Djibouti, Dominica, Dominican Republic, East Timor, Ecuador, Egypt, El Salvador, Equatorial Guinea, Eritrea, Estonia, Ethiopia, Fiji, Finland, France, Gabon, Gaza Strip, The Gambia, Georgia, Germany, Ghana, Greece, Grenada, Guatemala, Guinea, Guinea-Bissau, Guyana, Haiti, Holy Roman Empire, Honduras, Hungary, Iceland, India, Indonesia, Iran, Iraq, Republic of Ireland, Israel, Italy, Ivory Coast, Jamaica, Japan, Jonathanland, Jordan, Kazakhstan, Kenya, Kiribati, North Korea, South Korea, Kosovo, Kuwait, Kyrgyzstan, Laos, Latvia, Lebanon, Lesotho, Liberia, Libya, Liechtenstein, Lithuania, Luxembourg, Macedonia, Madagascar, Malawi, Malaysia, Maldives, Mali, Malta, Marshall Islands, Mauritania, Mauritius, Mexico, Micronesia, Moldova, Monaco, Mongolia, Montenegro, Morocco, Mount Athos, Mozambique, Namibia, Nauru, Nepal, Newfoundland, Netherlands, Nicaragua, Niger, Nigeria, Norway, Oman, Ottoman Empire, Pakistan, Palau, Panama, Papua New Guinea, Paraguay, Peru, Philippines, Poland, Portugal, Prussia, Qatar, Romania, Rome, Russian Federation, Rwanda, St Kitts & Nevis, St Lucia, Saint Vincent & the, Grenadines, Samoa, San Marino, Sao Tome & Principe, Saudi Arabia, Senegal, Serbia, Seychelles, Sierra Leone, Singapore, Slovakia, Slovenia, Solomon Islands, Somalia, South Africa, Spain, Sri Lanka, Sudan, Suriname, Swaziland, Sweden, Switzerland, Syria, Tajikistan, Tanzania, Thailand, Togo, Tonga, Trinidad & Tobago, Tunisia, Turkey, Turkmenistan, Tuvalu, Uganda, Ukraine, United Arab Emirates, United Kingdom, Uruguay, Uzbekistan, Vanuatu, Vatican City, Venezuela, Vietnam, Yemen, Zambia, Zimbabwe
One of the United Kingdom's powerhouse bookmakers, Ladbrokes forced its way into the Australian market three years ago and has been making waves every since. The online bookmaker launched its Australian arm in September 2013, and it is a very new player in a very old business.
Ladbrokes business dates back 130 years to 1886, when it was first formed. Today, you will find that the bookie, worldwide, employs more than 15,000 people, with operations that stretch to Belgium, Spain and Ireland. We will let you in on a little secret – Ladbrokes managed to forge its way into the market by purchasing a little Brisbane operation called Bookmaker.com.au. You'll find that the two sites have exactly the same markets and exactly the same odds, and their betting functionality is almost identical, too.
Ladbrokes Australian leg is licensed in the Northern Territory, with the respected UK bookie switching it's allegiance from Norfolk Island, after that licensing body was surrounded by doubt over its future for much of 2016.

Ladbrokes sign up bonuses
New customers get up to $500 in bonus bets when they sign up with Ladbrokes.com.au. It is quick and easy to join – just head to the website via any of our links and fill in your details to claim your bonus. You will have to make a deposit to proceed and redeem it.
The bonus bet matches whatever you deposit up to $500, so if you deposit $50, you will get a $50 bonus bet, $100 equals a $100 bonus bet, and so on and so forth. Ladbrokes offers one of the bigger bonuses on sign up that you will find in the betting industry and September is a good time to do it with the AFL Finals, NRL Finals, cricket, EPL and other massive sporting events in full noise.
Ladbrokes has many other promotions running at any one time, with horse racing and the main football codes, AFL, NRL and the ALeague all featuring prominently.
Also read:
– Ladbrokes sign up bonus 2019
Sports betting
Ladbrokes.com.au has a huge variety of sport and other events on offer for punters to lay their hard earned dough on. They include:
American Football
Australian Rules
Badminton
Baseball
Basketball
Bowls
Boxing
Cricket
Cycling
Darts
E-Sports
Elections
Entertainment
Featured Events
Field Hockey
Financial
Futsal
Golf
Handball
Ice Hockey
Live Betting
Martial Arts
Motor Sport
Netball
Novelty
Olympic Games
Quick Multi
Rugby League
Rugby Union
Snooker
Soccer
Special Events
Surfing
Table Tennis
Tennis
Volleyball
Winter Sports
There is definitely either a sport or an event for just about any and every taste there.
And, if that wasn't enough, you can livestream many of the sporting events that you are betting on.
Simply log in to your account, place a bet on any of the live events and you will be able to watch every moment, as you ride your bet home. The bookie enhances the experience by offering live stats before, during and after the game, so you really won't miss a thing.
Racing
Ladbrokes offers a huge spectrum of markets on the thoroughbreds, harness and greyhounds, giving you an event to bet on every minute. Head on over to check out their offerings right now.
Deposit and withdrawal methods at Ladbrokes
You won't get caught short trying to get money into – or out of – your betting account with ladbrokes.com.au.
The bookie offers a swag of deposit methods and traditional withdrawal options that make things very easy for punters wanting to place a bet or access their winnings.
Other deposit options
Paypal, Visa, Ladbrokes Card, Ladbrokes Cash In
Deposit options
Cash-in: What sets Ladbrokes apart from other bookmakers is their nifty little deal with news agents across Australia. The online bookmaker's funky Cash-in set up allows punters to slam their cash straight into their betting account at any of more than 1000 news agencies across the country. All you need is a smart phone, desk top computer and printer or a prepaid card that can be purchased at any of the stores. Fill out the amount you want and it is as easy as that.
Credit card: Get out your Visa or MasterCard and get it registered if you want to deposit your funds into your account easily. With Ladbrokes your credit card deposited funds are available immediately after you make the deposit, so all you have to do is make the payment and you will be placing your bets in no time.
POLi: Don't have a credit card? Don't worry, with POLi, it is just as easy – maybe even easier. All you need is an online banking tool and you can use that to send funds into your account. You won't have to wait for days for them to clear, either, because the POLi system offers immediate funds in your account. So log in to your betting account, select the POLi add-on and then all you need to do is punch in your netbank log ins and you're on the way t your next big win. Remember to keep your phone handy as your bank will often send a verification code for POLi transactions.
BPAY and Direct Bank Transfers: Some people say this is the snail's way of making a deposit. But others will tell you it is good business. If you like to plan ahead and have some time to mull over your bets, then either a BPAY or EFT direct bank transfer is the way to go. The key here is that it takes time. So you must be prepared. It can take up to three working days for your funds to clear, although if you d make the transfer early in the day, it is more commonly one to two days. So if you have some patience, your money will make it there. The advantage of restricting yourself to these styles of deposit are that it reduces the risk of you making silly bets while chasing your winnings.
Withdrawal
It's very easy to make withdrawals from your Ladbrokes account. There are two ways to do it:
Bank transfer withdrawal: The tried and true old fashioned way. Works every time. But can take some time. This involves deciding how much you want to withdraw from your account and then making the transfer. Depending on when you do it, Ladbrokes needs to do its banking and then so does your financial institution, so it can take time.
Ladbrokes Visa Card: Here's where it gets a little more interesting. If you are a Ladbrokes member, you are entitled to one of its Visa Cards. You can withdraw your funds from your Ladbrokes betting account into the Visa, and then use it to make purchases using PayWave, EFTPOS and even make withdrawals at ATMs. It's not quite revolutionary, but it is very, very handy. Just remember, it only works with your winnings. You can't dump money into your account with your credit card and then withdraw it using the Ladbrokes card. That would make it prime time for the money launderers of the world.
Accessing Ladbrokes from a mobile device
We've already told you just how good the website is, with its funky interface and ease of use, but what about access from your smartphones and tablets?
The bookie has a mobile site which is highly functioning, for the little and big screens. But if you really want the full experience, you can download their official app for both Android and Apple activated devices by tapping any of the buttons you see here on our review page to get started. The platform on the app is one of the best you will find in the gaming industry and is so very easy to use.
Verdict
Ladbrokes is a bookmaker from a bygone era, made good in today's world. The team behind it did the smart thing, busting into the market on the cheap with its purchase of bookmaker.com.au and establishing its own service alongside the successful business. The radiant red of the website is unmistakably Ladbrokes and the ease of use on both desktop and mobile gives the bookie a big tick from us.
Ladbrokes.com.au customer service: 1300 LADBROKES (523 276)