Who is the best bookmaker for racing?
To answer the question, what is the best bookmaker for racing in Australia? is impossible to do with just one word. There are too many variables on a day to day basis to say Ladbrokes is the best, or bet365 rules the roost. However it is safe to say that there are some top betting sites catering extensively to Australian and International racing.
It is one of the great aspects of betting on racing in today's landscape is the plethora of choices that punters get in terms of online bookmakers. Every bookie these days is trying to separate themselves from the pack; but can you really trust they have punters' best interests at heart?

Best Bookmakers for Racing
While some of the market focus seems to have shifted from racing to sport in recent times, any bookmaker worth their salt needs to have a strong affiliation with the racing industry – especially thoroughbred horse racing.
After all, horse racing market that most of us are looking to invest upon 365 days a year, but what we really want to know is who is the best in the business?
We have completed the research, opened accounts at all the big companies and we believe we have a winner.
---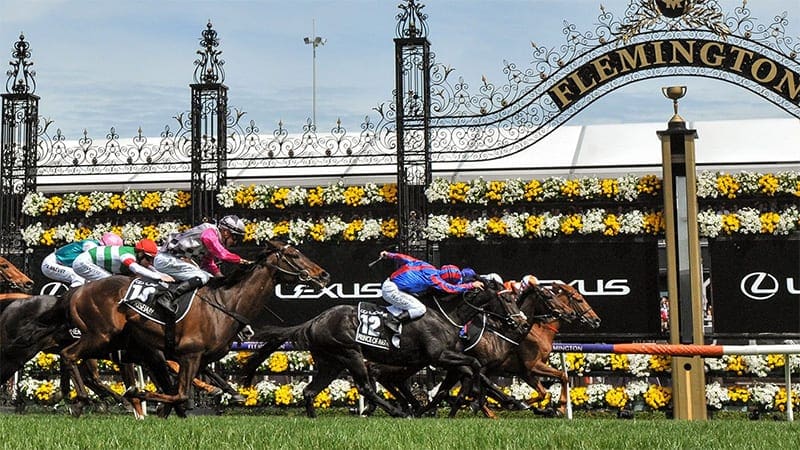 What makes Ladbrokes a good bookmaker to bet on horse racing?
Sportsbet.com.au is one of Australia's biggest betting brand with millions of Australians holding an account with this company, but it's fair to say they have gone cold when it comes to offering great racing coverage.
With Sportsbet not as good as they once were, Ladbrokes.com.au as taken over the mantle as our top bookie for racing. While the company can no longer offer sign up bonus offers because of changes to local laws (the National Gambling Framework), Ladbrokes doers still offer many great legal promos to extend your bankroll:
Cash back specials:
Every promotion that Ladbrokes run is a cash back special, which means that is money straight back into your account which can be re-invested or withdrawn – it's up to you.
First past the post:
On every Australian and New Zealand thoroughbred meet.
Protest payouts:
Some of the other bookmakers will not honour your bet if your horse loses on a protest, but there is no such worry at Ladbrokes.com.au.

To best illustrate this point, early in January of 2015 thoroughbred horse Alfonso lost in a protest at Randwick, but Ladbrokes still paid out $253,000 to punters who were lucky enough to invest on the horse.

A lot of the other companies left their customers out to dry, but the Ladbrokes customers were laughing all the way to the ATM.

Top tote plus:
There is an age old adage in horse racing that dictates that 'a win is a win' – which means if you win cash it does not matter how much it pays as long as you get a return.

Too many times to mention punters are stung by a cheapened dividend on a race just because of the state they put the bet on.

Which is why Ladbrokes top tote plus is a God-send to those punters who are sick of getting the short end of the stick.

Not only do Ladbrokes give you the best of all three Australian totes, but they will give you the starting price if that is the best dividend.

Cash back promotions on the big races:
A lot of the best betting sites for racing offer occasional cashback or specials, but none of them come close to the daily and weekly specials, as well as the sheer volume of money refunded like Ladbrokes.

For example: Ladbrokes offered punters a cash back special on the 2015 Melbourne Cup that the others could not match.

Punters that placed a bet on the Melbourne Cup were offered a refund of up to $50 if their runner finished second or third.

Everyone remembers that Prince of Penzance shocked the world to take out the race that stops a nation at triple figure odds, but few would realise that Ladbrokes refunded $670,541 to over 50,000 Melbourne Cup punters.

In 2016 they are stepping it up another notch.

If your horse finished inside the top-four but did not win they refunded your cash up to the value of $100.

That is just the beginning for the inducements Ladbrokes offer, as there is cash back specials every weekend for punters to take advantage of throughout the year.

Live stream racing:
Live horse racing vision from around the world

Not only does Ladbrokes have the comprehensive markets from America, the UK, South America and Australasia, but they also have the vision to go with it.

Punters wanting to invest on the races over in the states can find live streams, alongside betting options that most other online bookmakers do not offer.
---
Top betting app for racing in Australia
Australia has got some of the top betting apps in the world available to them, with these including brands like Ladbrokes, bet365 and Unibet. These massive global companies have put extensive effort into their mobile offering and provide very similar and great services.
Some of the top racing betting apps that we have reviewed include:
Final verdict – what is the best racing bookmaker
If you had any doubts about punting on horse racing at Ladbrokes.com.au prior to reading this article we hope those fears have been allayed, because we believe they are the best in the business.
Ladbrokes record as a bookmaker in Australia is almost unparalleled, with their customer base largely happy with the odds that they offer, the special offers they put on and most importantly their back room service.
Ladbrokes.com.au also covers all of the TAB meetings in Australia, including the minor ones, while their odds are also generally favourable.
Recommended!