The Carlton Football Club is one of the traditional powerhouse teams in Australian footy. The Blues have won 16 VFL/AFL premierships – a record matched only by Essendon.
The last two decades or so have not been especially kind to Carlton. A series of salary cap breaches caught up with the club in 2002, sinking an already-struggling team into serious strife both on and off the field. Some ill-advised personnel changes have not helped (read Mick Malthouse), nor the emergence of the Gold Coast Suns and GWS Giants.
Things went from bad to worse in 2018 as the Blues finished bottom of the ladder with only two wins for the season. But with new recruits coming in and young guns such as Patrick Cripps and Charlie Curnow committed for the foreseeable future, not all hope is lost.
How far can the Blues go in the 2020 AFL Premiership season? Let's see what the bookies have to say.
About the Carlton Football Club
| | |
| --- | --- |
| Established: | 1864 |
| Home ground: | Melbourne Cricket Ground |
| Coach: | David Teague |
| Captains: | Patrick Cripps, Sam Docherty |
| Premierships: | 16 – 1906, 1907, 1908, 1914, 1915, 1938, 1945, 1947, 1968, 1970, 1972, 1979, 1981, 1982, 1987, 1995 |
| 2019 ladder finish: | 16th |
Best bookmakers for Carlton Blues betting

This is my table
Updated Carlton futures odds
The latest AFL futures for Carlton come courtesy of Sportsbet, which is one of the best options for betting on the Blues.
Sign up now for free at Sportsbet.
2020 Premiership
Make Finals
Make Top 4
Brownlow Odds
Rising Star Odds
Coleman Odds
Jan
$36
$3.40
$13
P Cripps $6
B Kemp $21
C Curnow $41
Feb
$36
$3.40
$13
P Cripps $6
B Kemp $21
C Curnow $41
Mar
$36
$3.40
$11
P Cripps $7
B Kemp $21
C Curnow $41
Apr
SUS
SUS
SUS
SUS
SUS
SUS
May
$67
$4
$13
P Cripps $7
L Stocker $21
C Curnow $41
Jun
$81
$4
$15
P Cripps $6.50
L Stocker $21
E Betts $101
Jul
$67
$4
$13
P Cripps $9
S Philp $51
E Betts $51
Aug
$151
$6
$36
P Cripps $21
S Philp $101
E Betts $101
Sep
$151
$8
$67
P Cripps $41
B Kemp $251
–
Best Carlton bets for the 2020 AFL season
There are dozens of AFL futures markets for Carlton, but where are they likely to return some real value?
Click on the tabs below to get more analysis on these markets:
Stranger things have happened, but not bloody often. The Blues are a team in transition and have a long, long way to go before they can be considered even an outside chance of winning their first flag since 1995. To paraphrase Obi Wan Kenobi, this is not the bet you are looking for.


A flag might be out of the question, but things are looking up for the Blues. While a lot of other teams would have to struggle for Carlton to come into the finals equation, there is no doubting the club is on an upward trajectory. Who knows what might happen if Carlton get a full season out of Sam Docherty, Eddie Betts, et al?


Received wisdom says Carlton will have to make finals to have any kind of presence in the

Brownlow Medal betting

, yet Patrick Cripps has racked up 46 votes in the past two seasons despite playing in only eight wins. Imagine what he might poll if the Blues push for finals this year…

Carlton had a winner in the AFL Rising Star last year with Sam Walsh, so can the Blues back it up? Brodie Kemp looks the best bet among the incoming class, but there are plenty ahead of him in the league-wide pecking order.


While goalkicking remains a big weakness for Carlton, there were promising signs last year with the emergence of Harry McKay and the continued development of Charlie Curnow. Don't expect either of those guys to challenge for the Coleman Medal, but those who like a long shot might fancy Eddie Bett at triple-figure odds.

Blues players to watch in 2020
Patrick Cripps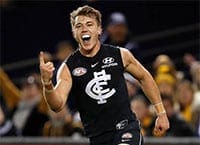 Born: 18/3/1995
Games: 101
Goals: 47
Position: Midfielder
The burden of captaincy has ruined many a young gun at this level, but Cripps looks like a natural fit for the role. Expect more of the same prolific ball-winning and relentless clearance work that has made this guy a must-have in AFL fantasy teams.
---
Charlie Curnow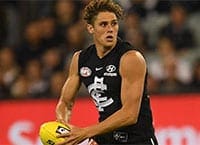 Born: 3/2/1997
Games: 58
Goals: 77
Position: Forward
Curnow missed a lot of footy last season and will sit out the early rounds of the 2020 campaign as he recovers from a fractured patella. We all know how gifted this guy is, but he can he get his body right and make an impact in the back half of the year?
---
Sam Docherty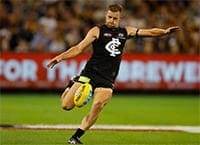 Born: 17/10/1993
Games: 92
Goals: 14
Position: Defender
Boy, have the Blues missed this guy. Back-to-back ACL injuries have kept Docherty off the field for two full seasons, so he will be itching to get back out there and remind everyone why he is widely considered one of the best on-field leaders in the competition.
Carlton records, stats and history
Most matches: 375 – Craig Bradley (1986-2002)
Most career goals: 738 – Stephen Kernahan (1986-1997)
Most goals in a season: 115 – Alex Jesaulenko (1970)
Most goals in a match: 13 – Horrie Clover (vs. St Kilda, 1921)
Best and fairest awards: 5 – John Nicholls (1959, 1963, 1965, 1966, 1967)

Most wins in a season: 20 (1995)
Most consecutive wins: 18 (1995-96)
Highest score in a match: 30.30.210 (vs. Hawthorn, 1969)
Highest winning margin: 140 (vs. St Kilda, 1985)
Highest home attendance: 91, 571 (vs. Essendon, 2000)

The Carlton Football Club was founded in 1864 and soon emerged as one of the powerhouse teams on the Melbourne footy scene. It was a founding member of the Victorian Football Association and won the inaugural premiership in 1877. That success was fleeting, however, and the Blues were among the weakest teams around when the Victorian Football League commenced in 1897.

Fortunes changed when Jack Worrall was elected as club secretary in 1902. The former Test cricketer took an unprecedented hands-on approach with the playing group and led the Blues to three consecutive premierships from 1906 to '08. Worrall is now widely regarded as the first-ever coach – and one of the greatest – in Aussie rules football.

The first 15 years of the 20th century were among the most successful in Carlton's history. Whereas other teams ceased operations during the height of hostilities in Europe, the Blues carried on. They won the 1914 and 1915 flags for a total of five in the space of 10 years.

Although the years between the wars were light on premiership titles, Carlton remained one of the most competitive and popular teams in the VFL. It was during that time that two of the club's first superstars emerged: Horrie Clover and 'Soapy' Vallence, who kicked over 1100 goals between them.

As the '40s faded, so too did Carlton's on-field presence. The team reached finals only four times between 1950 and 1964, when a boardroom shuffle led to one of the most famous acquisitions in Australian sporting history.

Ron Barassi had already played in six premierships for Melbourne when the Blues appointed him as captain-coach for the '65 season. He led them to three consecutive VFL Grand Finals for two famous wins: against Essendon in 1968 and over Collingwood in the storied 1970 decider. This era produced some of the club's greatest-ever players, including John Nicholls, Alex Jesaulenko, Robert Walls and Sergio Silvagni.

The rest of the '70s are best remembered for near-misses and a revolving door of coaches. Happy days returned in the 1979 title match against the Pies, when Wayne Harmes teed up Ken Sheldon for one of the most famous goals in VFL history. They carried that form into the 1980s, winning flags in '81, '82 and '87 to become the most successful club in Victoria.

The 1990s were tumultuous for a number of reasons. The arrival of a national competition also heralded the dismantling of traditional recruitment zones, meaning Carlton no longer had first dibs on top talents from the strong country leagues of Bendigo and the Victorian Goldfields. They won the 1995 premiership in between grand final defeats in '93 and '99, but that period was dogged by a culture of salary cap breaches and backroom dealings that culminated in severe penalties in 2002.

The Blues have never been the same since. Former captain Brett Ratten had them heading in the right direction and until the board replaced him with Mick Malthouse in 2012. That move proved disastrous at a time when the top draft picks were reserved for expansion clubs in Gold Coast and Sydney. Brendon Bolton took over as head coach in 2015 and began the slow, painful process of rebuilding a club from rock bottom.