NSW Liquor & Gaming sets precedent with Mad Monday hotel strike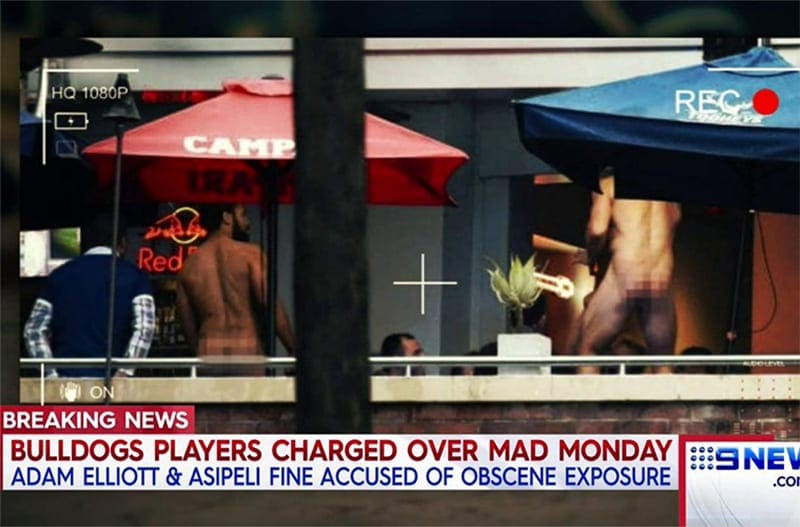 The NSW Independent Liquor & Gaming Authority set an interesting precedent this week, penalising the owners of Sydney's Harbour View Hotel after the Canterbury-Bankstown Bulldogs ran amok their in 2018 during their Mad Monday celebrations.
NSW ILGA issued a strike to the business under the state's three strikes disciplinary scheme after the hotel was found to have 'permitted both intoxication and indecency on the licensed premises'.
Under the Three Strikes scheme licensees with strikes face a range of remedial action and those incurring three strikes can have their licences suspended or be permanently banned from the industry.
The NRL teams' Mad Monday celebrations made headlines for all the wrong reasons last year when Adam Elliot, 24, and teammate Asipeli Fine, 26, stripped their clothes and danced on the outdoor terrace of the hotel, in full view of the public, which later made pictures and video footage of the event viral on social media.
Elliot and Fine were reportedly cheered on by their teammates and, importantly in relation to this week's strike, the hotel's staff, as they poured drinks on themselves.
Police reported that the duty manager clapped and cheered while the lewd behaviour was taking place.
Both men avoided convictions after appearing in NSW's Magistrate's court and pled guilty to wilful and obscene exposure.
While the behaviour would surprise no one who understands how professional sporting clubs all around the country unwind after a long and gruelling season, the move to put their hosts and alcohol-serving havens on notice is an interesting one.
The question moving forward is, will hotels like Harbour View now risk hosting Mad Monday gatherings ever again? Is this another nail in the coffin of the AFL/NFL Mad Monday? Why would these guys drink and carry on in public, when they know the public meltdowns that result?
In addition to the strike, the ILGA proposed extra conditions on the hotel's liquor licence to reduce the risk of future offences.
ILGA chair Philip Crawford said all venues need to ensure they comply with responsible service of alcohol requirements and be vigilant to prevent offences such as obscene conduct.
"The behaviour allowed by this hotel on its premises during the Bulldogs Mad Monday event is totally unacceptable and a clear breach of the law," Mr Crawford said.
"The vast majority of our state's pubs, clubs and bars do the right thing and provide a safe environment for patrons to enjoy themselves.
"But as this case shows, there can be serious consequences for venues that permit intoxication and other offences."
The first strike starts on 16 February 2019 and expires on 16 February 2022.
Latest NRL betting news & tips
[rm_recent_news tags="World Cup" title="" ajax="true"]