Keenan Palasia's standout form impresses former Broncos' legend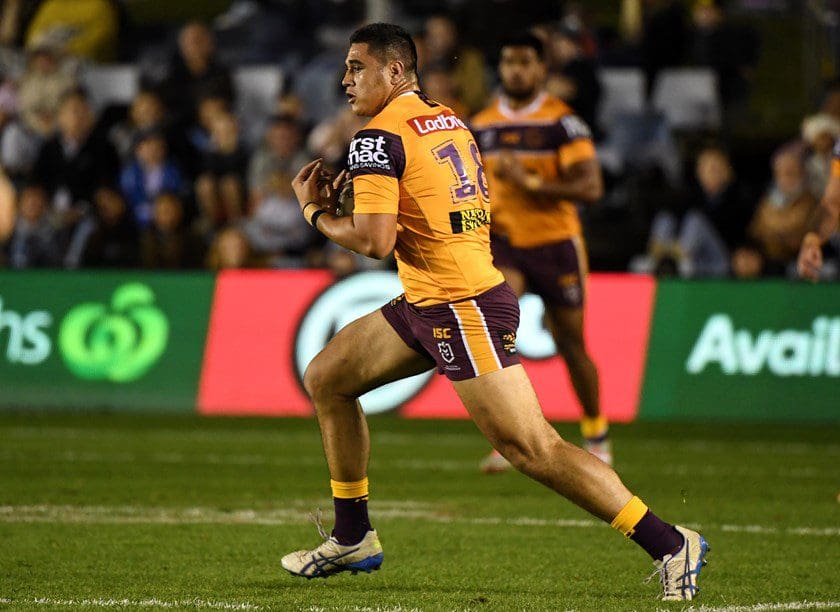 Keenan Palasia's impressive form has been one of the few bright lights in what has been a disappointing season so far for the Broncos, according to club legend Petero Civoniceva.
That was the great prop's summation after his team's 40-12 loss to Penrith Panthers on Friday night, fellow front-rower Palasia a standout with 186m from 18 total runs, along with 32 tackles.
The defeat was Brisbane's fourth in a row, after starting the 2022 NRL season with two consecutive victories.
Palasia's 2021 season was over in August last year after suffering a shoulder injury against Newcastle.
That was after a string of knee injuries – including a second ACL rupture at the back end of 2019 – saw him sidelined for most of 2020, after playing just two previous games for the Brisbane Broncos.
"It's been a really tough few seasons for him, so it's wonderful to see Keenan get some quality game time," Civoniceva told bettingsite.com.au when asked about the rising 25-year-old.
"He's had a really tough journey – he's had some really confronting injuries that he's had to rehab for extended periods of time.
"But it's wonderful to see him on the field. He's spoken about wanting to pay the Broncos back for the faith they've shown in him. When a player has injuries of that nature it's always tough.
"But it's great the club stood by him, and now he's on the field it's great to see."
There will always be high standards from Broncos fans regarding their team's on-field form.
That is because the club has won six NRL premierships since it was founded in 1988.
it is also why many Brisbane fans are not happy with where their team is currently sitting in 14th place, particularly with the amount of talent available in the club's massive system.
The Broncos have the luxury of having three feeder clubs in Queensland's Hostplus Cup – Norths Devils, Souths Logan and Wynnum-Manly.
This means there will always be plenty of talent pushing for first-grade spots, but fans and pundits have not been quiet on what players in the Broncos' 30-man squad should be playing first grade.
Calls have been growing louder and louder to have Cherbourg sensation Selwyn Cobbo starting at fullback, Corey Paix at hooker, Brenko Lee in the centres and Ezra Mam at five-eighth while Albert Kelly (foot) is out injured, among others.
Brisbane's past horror month has seen the proud club drop to +6600 with sports betting sites in this year's NRL premiership betting.
But Civoniceva said it was important to stay patient, and continue backing Broncos coach Kevin Walters and his staff.
"I know 'Kevvie' and the playing group are working hard to ensure that we'll keep improving throughout the course of the season," he said.
"And hopefully – you never know – we can still be pushing hard for finals contention.
"It's a long season. There's plenty of time to be able to ensure they (other talented players in the 30-man squad) do get adequate game time.
"I'm sure 'Kevvie' and the coaching staff know what they're doing. It's always challenging when you've had some tough losses.
"But in saying that, he's got belief in the current playing squad.
"At the right time those players will get their opportunities. That's the challenge for any player on the fringe – you've got to be ready to go when the coach gives you a tap on the shoulder.
"I'm sure those boys are focused and ready, and when the time comes they'll be ready to go."
Civoniceva believes Broncos players are trying hard, but just not executing when games are in the balance.
"It's been a really challenging start to the year. We've had a couple of good performances and some really tough losses. I think in terms of the effort level it's there," he said.
"It's one of those things – you've just got to stick at it and stay true to the task.
"I know we've got a long season in front of us, and it's just a matter of staying in the grind.
"For whatever players are available, they've got to be able to get the job done.
"It has been a challenging start to the year with a couple of good wins, but some losses there which weren't up to scratch.
"And we've seen over the past couple of weeks there's been great effort, but in saying that we're way off where we need to be."