Petero Civoniceva proud of the Fijian talent emerging with Kaiviti Silktails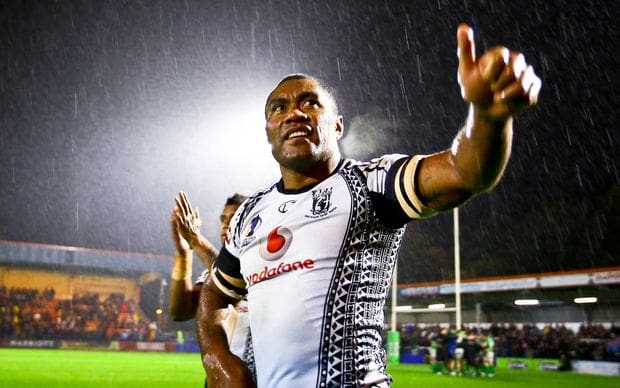 Viliame Kikau, Maika Sivo and Mikaele Ravalawa are modern-day NRL superstars who all young and aspiring Fijian rugby league players can look up to.
And now they have solid pathway systems back home so they can follow in the footsteps of those established stars.
They were the thoughts of rugby league legend Petero Civoniceva, who represented Fiji, Queensland and Australia, as well as NRL clubs the Brisbane Broncos and Penrith, with distinction.
The great former prop was on hand at North Sydney Oval to watch the Kaiviti Silktails – in his role as chairman of the organisation – push Ron Massey Cup fancies Hills District Bulls all the way, eventually losing 27-20.
That was after they held a 20-12 lead early in the second half in the Round 5 clash on Saturday.
Civoniceva was left delighted with the amount of Fijian talent on display, and – just as importantly – the strong culture and respect they showed for themselves and their opponents.
"We've got great support from the NSWRL and NRL. And local kids are now watching Viliame Kikau, Maika Sivo and Mikaele Ravalawa on TV," Civoniceva told bettingsite.com.au.
"These are boys who are from Fiji, and it's aspirational for these young kids and village kids to see their Fijian heroes playing in the NRL.
"It's definitely a fantastic pathway for young players. Obviously, rugby union is the No.1 code there.
"But I tell you what – there are a lot of kids really wanting to play rugby league as well. It's very exciting."
Civoniceva said the long-term goal of the Silktails – who enjoyed plenty of support among the good crowd at the iconic Sydney venue – was to play in the NSW Cup.
But with such strong pathways structures already in place back in Fiji, the former front-rower said there was no rush.
"It will be (our long-term goal), but in saying that we are absolutely trying to make sure we go slowly. We don't want to be rushing things too much," he said.
"I think we've got a wonderful opportunity to really learn and develop in the Ron Massey Cup.
"Eventually down the track – yes, we'd love to put a team into The Knock On Effect NSW Cup competition. But it's something we'll take our time with to ensure we've got a good, strong player base.
"And we don't want to rush the development of our players too much. The wonderful thing for us is we have the time and great support from the NSWRL to allow us to do that."
Civoniceva was thrilled with how hard his team competed against a quality opponent in Hills District, the Bulls containing eight Bears-contracted players for the NSW Cup outfit.
The Bears are the feeder club to the Sydney Roosters.
"It's wonderful to see the quality of the players who are filtering back into the Ron Massey Cup. It just goes to show the strength of the NSW Cup premiership," Civoniceva said.
"But the second tier is so strong. It's a wonderful indication of the quality of players who are in the NRL, and filtering all the way down into the Ron Massey Cup.
"The game we played against the Hills Bulls – they're a high-quality opposition, and one of the best teams in the competition.
"But I was so proud of our performance because we really put it to them. And I think we're only going to learn and develop more as the year goes on.
"I'm really excited with what's in front of us."
Fellow prop Watisoni Waqanisaravi impressed against the Bulls, taking plenty of strong hit-ups, one of which resulted in him scoring a try in the 32nd minute.
"Watisoni – he's only 19 years old. It's unbelievable, really. It's only very early in his rugby league development," Civoniceva said.
"I'm really excited for him, and hopefully some clubs out there can see opportunities for him.
"Our purpose is to find young rugby league players so we can open that door of opportunity for them."
Indeed, the current infrastructure and coaching personnel in place in Fiji will allow many more potential superstars to emerge in the NRL – much like household names Kikau, Sivo and Ravalawa.
"We've got a wonderful program that we've set up over the past few years. We've got an elite development pathway program. We've got a Silktails Centre of Excellence in Lautoka, which is to the north of Nadi," Civoniceva said.
"In that facility we have a high-performance gym, accommodation for our players and our office space. That's our home and that's where we'll eventually play our home games at Churchill Park.
"It's a wonderful ground. Unfortunately, because of Covid we just haven't had a chance to play there.
"We also have gyms in Sigatoka, which is around on the Coral Coast, and another gym in Suva.
"And we're looking at establishing another high-performance gym in Rakiraki, which is in the north.
"That'll be exciting, and that's where our captain (Apakuki Tavodi) is from.
"In each of those elite development programs we have up to 30 players where they can train in a high-performance environment.
"Not only are we a development pathway for players, but we're also looking at developing our local coaches, which is really exciting."
Despite the fact the Silktails players will be based in Sydney for the entire 2022 Ron Massey Cup competition due to the ongoing Covid-19 pandemic, all the players are grateful for the opportunity to play in this competition.
They expressed this through traditional songs and hymns, recited as a squad and at one stage while linking arms with Bulls players, after their game.
"That's a wonderful aspect of what we can bring to the competition – the pride of our Pasifika culture," Civoniceva said.
"Fijian culture is one where we can share in a prayer after a match and a few hymns.
"It just showcases who we are and what we're all about. It's great to see the respect that other teams have for us. We are so grateful to be playing in this competition.
"I know it's a big sacrifice for the players to be over here for the whole season, and away from family and friends back in Fiji – they're so grateful for this wonderful opportunity."
Playing for the Silktails means all players are closely watched by Roosters talent scouts and coaches, something which greatly pleases Civoniceva.
"Our partnership is with the Roosters, and with that comes the wonderful relationship with North Sydney Bears," he said.
"(Saturday) was amazing, and we're very grateful to (Bears CEO) Gareth Holmes for allowing us the opportunity to play against the Hills District Bulls at North Sydney Oval.
"What a day it was. It was so great to see so many spectators come out. There were so many families and young ones there enjoying the game that we all love – rugby league."