Can the chaotic Libs recover? How to cash in on Australian politics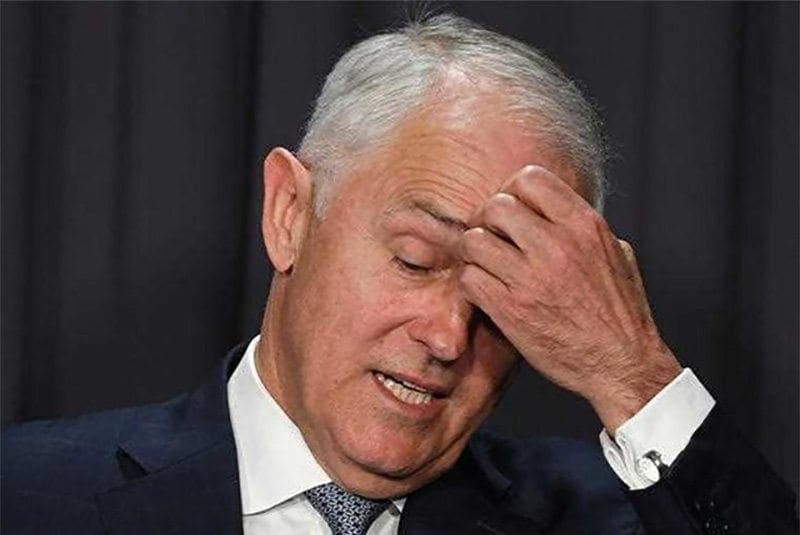 ANOTHER week, another leadership challenge on the Prime Minister of Australia.
The whispers surrounding Peter Dutton's ambition to lead the country came to fruition early on Tuesday morning when Australia's PM, Malcolm Turnbull, put his position on the table in a party meeting.
Turnbull was under the pump in recent months following instability on issues surrounding corporate tax and energy production. Many in the party's hard-right faction were left unsatisfied with the Government's position on coal-fired power plants and its inability to push through tax breaks for the nation's wealthiest people and companies.
To deflect calls on his leadership, Turnbull withdrew Australia from legislating its place in the Paris Climate Agreement on Monday, but that decision did little to hold back Dutton and those gunning for his place.
Dutton — the federal minister of Home Affairs and Immigration — is seen by many both inside and outside the party as an unlikable ghoul-like creature, incapable of being the face of a country, let alone a political party. Despite assurances last week he supported Turnbull's leadership, he formally challenged this morning and was beaten handily in the party vote, 48-35.
So we're back to where we started and the challenge has been quelled — but for how long?
Dutton has resigned his position in the Government's cabinet, but it would be naive to believe there won't be more speculation and other challengers in coming months, given a third of the party have no faith in its leadership.
Could the de-throned former Prime Minister Tony Abbott rise again? Could deputy Julie Bishop make a run? Or is there another inside the Liberal Party pulling the strings from the shadows?
There's one thing for certain as this story unfolds. Bill Shorten and the Labor Party are sitting back, eating popcorn and thoroughly enjoying the show.
Let's take a look at the political betting markets and see where the smart money sits.
Australian punters can find odds on Australian politics at Sportsbet.com.au.
Will Turnbull face another leadership challenge before next election?
| | |
| --- | --- |
| Turnbull to be challenged before election: | Turnbull to not be challenged before election: |
| $1.55 | $2.25 |
After weeks of whispers, the inevitable challenge to Malcolm Turnbull's leadership has come. The question is, will there be more challengers to come?
If recent history tells us anything, where there is one challenge, others will follow. The odds seriously favour another challenge at $1.55, but there is value in the $2.25 for no challenge before the election, given we now expect Turnbull to push for an early election before more upheaval from within the party.
Who will lead the Liberal Party at the next federal election?
| | |
| --- | --- |
| Liberal leader at next election: | Odds: |
| Malcolm Turnbull | $1.65 |
| Peter Dutton | $2.40 |
| Julie Bishop | $6.50 |
| Christian Porter | $8.50 |
| Tony Abbott | $9 |
| Scott Morrison | $18 |
The bookies still believe Turnbull is the man to lead the Coalition to the next federal election.
While there is clear dissatisfaction from within the Liberal Party, a lack of a viable replacement will most likely mean Turnbull will see out any other challengers. Peter Dutton is still a chance to gather more numbers and challenge again at $2.40 and Julie Bishop at $6.50 would have to have an extraordinary about-face to backstab Turnbull now.
Former PM, Tony Abbot, a victim of a leadership challenge himself, is unlikely to make a run at $9, but could be in play after the next election.
Which party will win the next federal election?
| | |
| --- | --- |
| Sworn in Government: | Odds: |
| Labor | $1.40 |
| Coalition | $2.80 |
| Australian Conservatives | $101 |
| Greens | $201 |
| One Nation | $226 |
Make no mistake, the current in-fighting within the Government is helping Labor and the odds reflect that.
But a couple of months is a long time in politics and a lot can change prior to an election. Yes, the current polls say Labor is a deserved $1.40 favourite, but there is real value in the Coalition at $2.80, given these things always get closer to an even-money race prior to polling day.
We have very little faith in Bill Shorten and Labor to capitalise on the current leadership debacle, but they are well-placed to return to Government.
What will the date of the next Australian federal election be?
| | |
| --- | --- |
| Month of next federal election: | Odds: |
| September 2018 | $9 |
| October 2018 | $2.50 |
| November 2018 | $17 |
| December 2018 | $16 |
| January 2019 | $51 |
| February 2019 | $4 |
| March 2019 | $4 |
| April 2019 | $8 |
| May 2019 | $3.50 |
| June 2019 | $41 |
The whispers have already begun that Turnbull will look to an early election to shore up his place as leader, before polling gets any worse.
The $2.50 on an October election, giving both parties a reasonable two-month timetable to campaign, is a likely outcome. November provides real value at $17, but don't expect anything in December or January while the country enjoys its holidays.