OPINION: AFL must act fast on rules fiasco or risk losing fans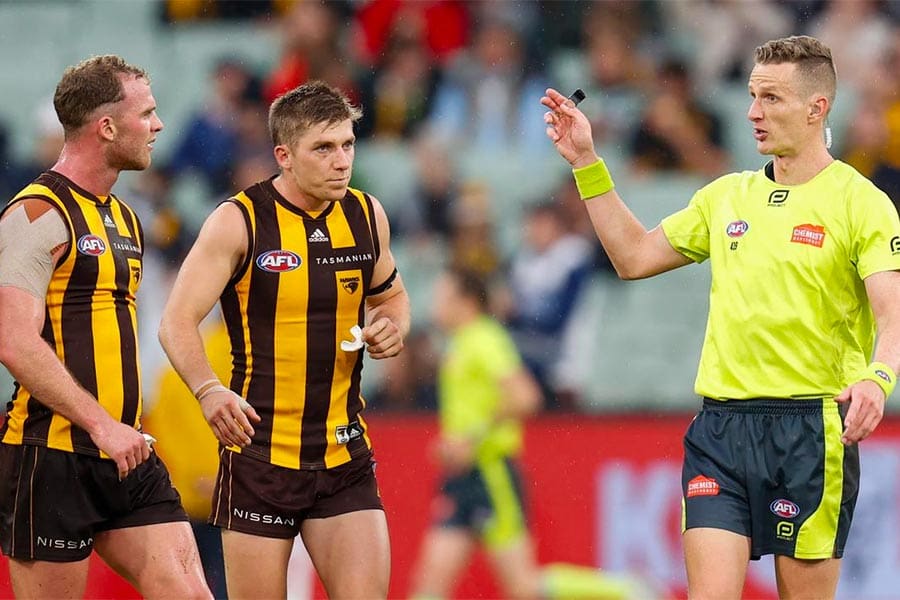 Driving on the country roads on Good Friday for a day trip with two 'footy diehard' mates, the conversation in the car at some stage was obviously going to turn to AFL sooner rather than later.
And it did… five minutes in.
"Did you watch the Brisbane v Collingwood game last night mate?" my friend asked.
"Yes," I replied.
"What about that ridiculous free kick and 50-metre penalty against that Brisbane player for simply shrugging his shoulders when a free kick was paid against him, before then asking the umpire what it was for?" he said.
The decision he was talking about was when an umpire paid a suspect free kick against Harris Andrews, then paid paid a 50-metre penalty against the Brisbane Lions backman for politely querying the decision with his hands slightly raised.
That did it, that first question from my mate sparked a three-hour debate about what was once our great game. It was like that question was the spark that started non-stop complaints about the AFL, and unfortunately it was all one-sided. There was really no debate. The AFL is losing touch with its fans.
Be it the new man on the mark rule, or the constant poor umpiring, or I guess we can blame COVID – either way, the crowd numbers are down, the highlights are down, but the dodgy free kicks are up.
Take the Adelaide v Richmond game at the weekend, for example: 33-13 free kicks in favour of the home side (Crows). That is a hiding in anyone's language.
This comes after the AFL announced they would crack down on player abuse before round one. They have taken it to a new (ridiculous) level.
During the road trip the general discussion was about how many still watch and keep up-to-date with AFL games and scores, but have lost the passion for the game itself.
Does the AFL really need to change rules and interpretations of free kicks every year? Even past AFL legends are getting confused, let alone my mates who are retired country footballers.
Recommended!
In the car, I played the role of journalist to one of my mates, a 30-year-old Western Bulldogs fan and AFL lover from Geelong.
Brendan: Why has the game become less attractive in the last couple of years, it can't be all COVID-related can it?
Matt: Na mate, I have been losing interest in AFL for a few years now. The umpiring, the players ducking, the rules, and it is more soft now, it's very hard to watch.
Brendan: Like me, you used to watch three or four matches a week didn't you?
Matt: Yes, I loved AFL but now I barely even watch my own team and I didn't even know there was a match last night (Easter Thursday) until I was flicking the TV channels.
Brendan: But you still watched?
Matt: Na, not really, these days watching for me is like watching 10 minutes of the first half and maybe 10 minutes of the last quarter, whereas I used to watch the entire match. I just can't do it now.
Brendan: But you can't blame the umpires can you? You are a Bulldogs supporter and they have had the most free kicks over the last 12 months.
Matt: Every team has players who duck, drop their shoulders and play for free kicks now, it does my head in. The umpires are bad and you don't even know what a free kick is anymore.
Brendan: The umpires are now playing 'deliberate out of bounds' when a player kicks the ball their own way 50m and it goes out of bounds. They have no idea what they are doing out there, do they?
Matt: The 'deliberate' rule is a joke, as is the 'stand' rule, and like I said, I just struggle to watch AFL anymore and a lot of the time I have to have a small bet on the match to keep it interesting.
So there you have it, AFL lovers – a former footy fanatic now has to have a small flutter on a match to keep their interest levels up due to poor umpiring and rule adjustments.
And this conversation has come from two AFL lovers whose teams have had recent success, being the Bulldogs and the Tigers, so you can't say that we have gone stale on the game due to lack of triumph.
Whatever the answer, the AFL has to do something – or maybe a lot less, vis-a-vis tinkering with the rules of the game – as many, like us, are getting frustrated with the current state of play and will soon turn to other areas of interest.