Where does Queensland's 2022 State of Origin win rank?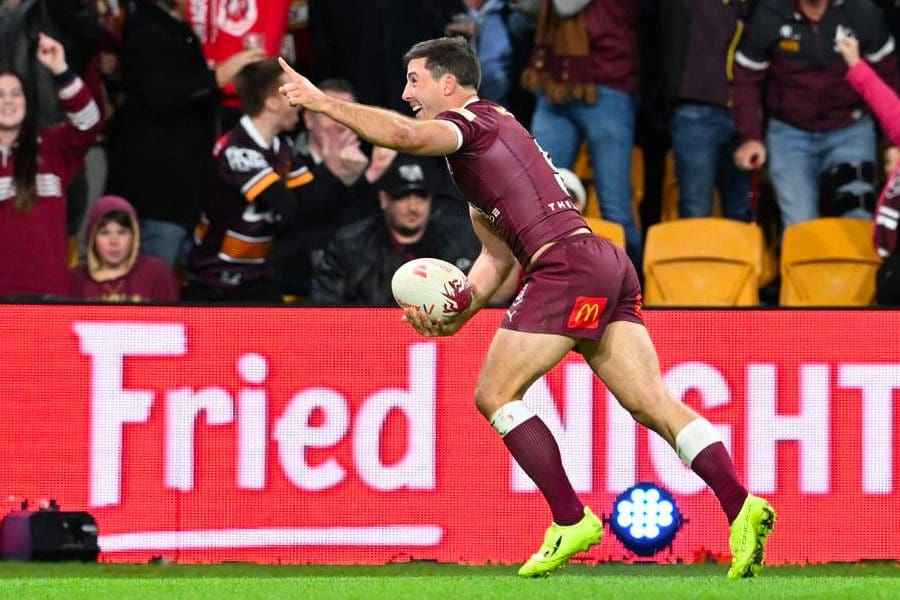 Was it the best State of Origin game ever?
That's a huge call, but given what unfolded during a brutal 80-minute battle at Suncorp Stadium last night, it's not without some justification.
There's no argument Queensland's heroic 22-12 victory to claim its sixth-straight series decider at Lang Park sits high on the list of Origin clashes since 1980.
Three players (Cam Murray for NSW, and Selwyn Cobbo and Lindsay Collins for Queensland) were carted from the field in the opening four minutes and ruled out for the rest of the game.
It was a fierce opening and set the tone for the remainder of the game.
In the euphoria of the magnificent win, the epic 80-minute tussle has been hailed by some as "the best" and most intense Origin game ever played.
Certainly, a majority of the 52,385 fans packed into the stadium felt that way as Queensland hooker Ben Hunt surged downfield to a deafening roar to seal yet another underdog win for the Maroons.
Seven years after the worst moment of his career, when he dropped a kick-off in the 2015 NRL Grand Final between Brisbane and North Queensland, Hunt had his redemption — and boy, was it a sweet moment.
If it wasn't the best, it is certainly a contender for the grand final.
For mine, I still regard Queensland's epic 16-12 win in game two of the 1989 series at the Sydney Football Stadium as the greatest and most courageous Origin win I have ever seen.
On that night, Queensland players fell like 10 pins — yet, with Wally Lewis playing one of his great games, they managed to hold off the Blues and clinch the series with a 16-12 win.
READ: Queensland's most inspirational State of Origin players
First to go was halfback Allan Langer (broken ankle), then centre Mal Meninga was forced off the field with a fractured eye-socket.
Test winger Michael Hancock joined them in the second half with a busted shoulder as the Maroons' dressing room began to resemble a hospital triage ward.
Queensland lock Bob Lindner, who could barely walk, played the final few minutes as a passenger on the wing as Queensland had no replacements left.
He was later diagnosed with a broken leg.
The reason last night's game was so good, in my opinion anyway, was that it was a throwback to the bruising, bitter battles between the two states during the 1980s and '90s.
It had everything.
Carnage, controversy, passion, emotion, bravery, brutality, and physicality, even a return to the good old days of a bit of biffo when tempers flare, as they did throughout the clash.
But once again, that special something that Queensland seems to find in deciders at Lang Park surfaced again last night and the men in maroon rose to the occasion.
On a remarkable evening, young bull Pat Carrigan – awarded the Wally Lewis Medal as player of the series – stamped himself as a future leader, Tom Dearden presented Queensland selectors with a long-range headache for 2023, Corey Oates turned back the clock with a massive game, and halfback Daly Cherry-Evans stood tall along with an inspirational Josh Papalii.
And Hunt may have finally eased, if not erased, his ghost of 2015 with a tremendous game — highlighted by his crucial 40-20 in the second half and his series-clinching try near the death.
Queensland's win has also clouded some selections for Australia for the end-of-year Rugby League World Cup.
Blues No.7 Nathan Cleary was considered a near-certain selection, but the performance of Cherry-Evans last night suggests otherwise.
Carrigan certainly put his hand up as one of the best young forwards in the game.
So, another Origin series is done and dusted with Queensland pulling off another famous underdog victory.
It only adds to the anticipation of 2023.