Carrigan backs under-fire Papalii to step up in Origin III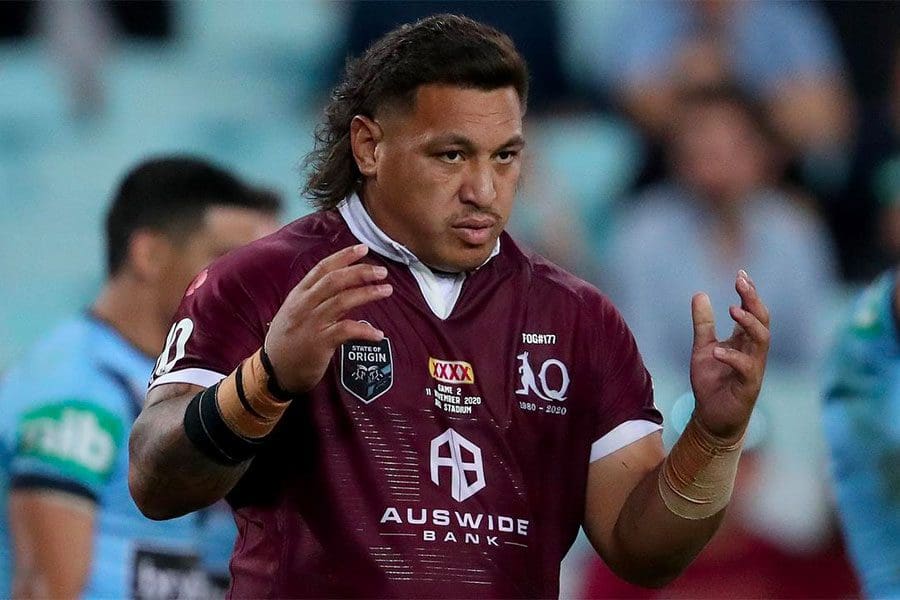 Young buck Patrick Carrigan has jumped to the defence of veteran Canberra forward Josh Papalii, describing him as the "spiritual leader" of the Queensland squad and the first player he would pick in any team.
Talk of Queensland pensioning off Papalii following a quiet 2022 State of Origin series to date proved just that, with the 30-year-old named to start in his 23rd Origin in next Wednesday's series decider at Suncorp Stadium.
Carrigan sees a bit of Arthur Beetson in Papalii, the way he leads and inspires players to follow him into battle just as Beetson did 42 years ago at Lang Park on July 8, 1980.
"I'd pick Papps first in any team I played in," said Carrigan, who displays a lot of leadership qualities himself for such a young player.
"The effect he has on the group, he's definitely our spiritual leader in the forward pack and how he brings everyone together.
"The standard he has played at for so many years means he is being unfairly criticised at the moment.
"I love laying with big Pappa, he was one of my idols as a kid. He's had a bit of heat put on him but if I was picking the team I would pick him first every day of the week.
"I'm looking forward to playing with him because I know Josh Papalii stands tall in the big games."
It's that kind of respect that has bonded Queensland teams over the years, going back to when NSW called Maroon bookends Petero Civoniceva (33) and Steve Price (28) "dad's army" as they played well into their 30s.
READ: Queensland's most inspirational State of Origin players
Origin history and honouring the players before him are very important to Carrigan, who is well aware of the emotion that will grip the Maroons camp later this week on the 42nd anniversary of Beetson leading Queensland to a victory that launched the Origin phenomena.
"We are where we are today because of guys like Artie (Beetson) and Gordie (Tallis) who stood up to New South Wales and fortified the Queensland spirit," he said.
"It's pretty special really. To play in the same jersey as he did 42 years ago. I don't know if I feel Artie as such but even last night when I was presented with the jersey, seeing the other guys get their jumpers from Billy (Slater), JT (Johnathan Thurston), and Cam (Cameron Smith) who played 42 Origins, you see what it means to those guys.
"That makes you think any chance you get (to where the Maroon jumper) you don't want to let anyone down.
"I know that every player in this team will do everything they can to prepare as best they can and go out on Wednesday to play the best football they can.
"There's a lot of pressure on us but you put pressure on yourself. We're not going to win game three by playing safe or hoping that we're going to win.
"I know as a team we are going to go after this game. If we want to be victorious on Wednesday night we are going to have to do that."