NRL State Of Origin Betting Guide 2018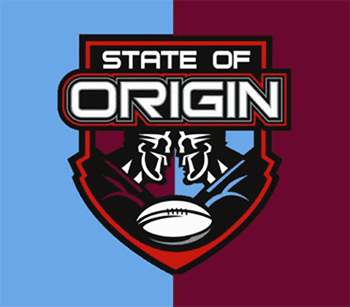 State of Origin is that special time of year that has two states – Queensland and New South Wales – foaming at the mouth and spitting hateful venom across the border at each other.
The passion that gets whipped up when The Maroons (QLD) and the Blues (NSW) face-off is astounding. Your best mate can become your most hated enemy during Origin time if they were born on the wrong side of the border: "State against State, mate against mate" is often heard around this time of the year.
It is played as a best of three series, with the teams alternating on a year by year basis as to who gets two home games. For several years the third game was played in Melbourne, Victoria.
Growing up as a kid, State of Origin was the only time I was ever allowed to stay awake past my bed time of 8pm. Dad would smuggle me a single Bundaberg rum and Coke and we would settle in to watch the game, abuse the refs and Andrew Johns. We would scream blue murder at the teevee and Mum would screech like a banshee from the next room, telling us to shut up.
It was our own little atmosphere in the living room.
These days State Of Origin is telecast all round Australia and even non-rugby fans tune in for the games. Of course this means it is a huge betting event. Every Australian bookmaker will feature extensive markets on a variety of different outcomes. This article will teach you everything you need to know.
Best bookies for State of Origin
We strongly recommend using the following bookies when it comes to State of Origin time. Any of the following online bookies are safe and usually have great promotions or inflated odds or super bets heading in to the Origin period. Check out their sites closer to the date for Origin deals.
2017 State of Origin dates
The 2017 Origin series will begin on May 31 in Queensland as the Maroon attempt to continue their dominance over NSW. To make the Blues' task that much harder is the fact the Maroons are hosting two of the three match series this year.
Origin I — Wednesday, May 31 8pm (AEST), at Suncorp Stadium
Origin II — Wednesday, June 21 8pm (AEST), at ANZ Stadium
Origin III — Wednesday, July 12 8pm (AEST), at Suncorp Stadium
Prediction for the 2017 series
Queensland will be aiming to continue its State of Origin dominance in 2017 when game one kicks off at Suncorp Stadium this Wednesday night.
The maroons have copped some criticism since the team announcements revealed Billy Slater and Valentine Holmes had missed selection for game one, while Johnathan Thurston will also miss the series opener due to a shoulder injury.
Thurston is a massive loss to the side which has won 10 of the past 11 series. The great man has been a pivotal part of the team, playing the past 35 games, in a streak which dates back to game three of 2004.
Thurston will be replaced by talented footballer Anthony Milford – however there is a query whether the Brisbane Broncos player will have the same effect on the field as Thurston.
While some holes in the Queensland outfit look positive for NSW, the blues still have to put it all together on the night. Laurie Daley's men have lost their last three games at Suncorp Stadium and have only won two of the past eight series openers.
Additionally, the cockroaches are only averaging 11 points per game under Daley – the test will be whether the big changes to the team in 2017 will have an impact.
Jarryd Hayne was a controversial decision inclusion in the team – however there is no denying his talent which he will have to showcase at centre. He simply loves the big stage and limelight.
Hayne will be supported by some quality players including Blake Ferguson, Brett Morris, Josh Jackson, Tyson Frizell and Boyd Cordner – who will captain the team after Paul Gallon hung up his Origin boots at the end of the last series.
So, who will win? We are siding with NSW for this one. There is no doubt Queensland has dominated Origin over the past decade, however the feeling is different heading into this year with some key players missing.
The Blues feel reinvigorated and look poised to strike so we'll tip them 2-1 in a classic origin series. You can back the Blues to win the series 2-1 at Sportsbet with it paying $2.40.
History of State of Origin
State of Origin was originally a crazed experiment that most south of the border expected to have a short life and even quicker and quiet death.
1980 and 1981 saw the the advent of the State of Origin with a single match series each year. There were two "interstate" games played prior to the single match State of Origin in '80 and '81. Under the interstate eligibility rules players could only play for the state they were currently playing club league in. Under State of Origin eligibility rules players could represent the state they were born in. Queensland won both State of Origin single match series.
Quick origin facts
1982 saw the first best of three series under the State of Origin selection rules.
Since then Queensland have gone on to 19 series, New South Wales has won 13 while two series have been drawn. Of those 19 series wins, Queensland has managed to win nine of those in the last 10 years, racking up a record eight straight series wins.
The largest winning margin in an Origin match was recorded by Queensland in Game III, 2015 with a 52-6 win over the Blues.
The most consecutive games won is eight, tallied up by Queensland between Game III 1987 to Game III 1989.
Cameron Smith has won the Wally Lewis Man of the Series award the most times, with three (2007, 2011, 2013).
Wally Lewis (8) holds the record for most Man of the Match awards. He is followed by Cameron Smith and Jonathan Thurston who have both won five Man of the Match awards.
Popular betting markets on State of Origin
State of Origin can often be the hardest bet of the year for some punters: do you bet with your heart or your mind? The heart could scream one thing but logic dictates the complete opposite.
Some of the most popular bets available on State of Origin are:
Head to Head: This is a simple bet on who will win the game outright. Usually head-to-head odds on the State of Origin are pretty even.
Line: A line bet on the Origin doesn't usually offer too much of a start because matches are traditionally pretty close affairs. This doesn't mean the possibility of a large line bet coming good isn't off the cards as shown by Queensland's 46 point winning margin in Game III, 2015. Sportsbet have a feature where you can choose your own line.
Series win: This is a simple bet on which side will win the series outright.
First try scorer: This is a simple bet on who you think will be the first player to score a try in the game.
The recent first try scorers are:
Greg Inglis (QLD) Game III, 2016
Dane Gagai (QLD) Game II, 2016
Boyd Cordner (NSW) game I, 2016
Dane Gagai (QLD) Game III, 2015
Michael Jennings (NSW) Game II, 2015
Cooper Cronk (QLD) Game I, 2015
Cameron Smith (QLD) Game III, 2014
Trent Hodkinson (NSW) Game II, 2014
Darius Boyd (QLD) Game I, 2014
Jonathan Thurston (QLD) Game III, 2013
Darius Boyd (QLD) Game II, 2013
Jarryd Hayne (NSW) Game I, 2013
As you can see most of these players are either backs or halves, with the exception of Cameron Smith.
Man of the match: A simple bet on who will be the man of the match for the game you are betting on. Recent man of the match awards went to:
James Maloney (NSW) Game III, 2016
Cameron Smith (QLD) Game II, 2016
Matt Gillett (QLD) Game I, 2016
Jonathan Thurston (QLD) Game III, 2015
Michael Jennings (NSW) Game II, 2015
Cameron Smith (QLD) Game I, 2015
Corey Parker (QLD) Game III, 2014
Paul Gallen (NSW) Game II, 2014
Jarryd Hayne (NSW) Game I, 2014
Brent Tate (QLD) Game III, 2013
Cameron Smith (QLD) Game II, 2013
Luke Lewis (NSW) Game I, 2013
Wally Lewis Medal: This is a medal awarded to the most outstanding player of the series. It was originally a medal awarded to the Queensland player of the series but since 2004 it has been awarded to the player of the series. Recent winners are:
Cameron Smith (QLD) 2016
Corey Parker (QLD), 2015
Paul Gallen (NSW), 2014
Cameron Smith (QLD), 2013
Nate Myles (QLD), 2012
Cameron Smith (QLD), 2011
Billy Slater (QLD), 2010
Greg Inglis (QLD), 2009
Jonathan Thurston (QLD), 2008
Cameron Smith (QLD), 2007
Tips on betting State of Origin
Always back Queensland and you can't lose… Well maybe not quiet but punters have been falling into the Blues for many years now without much joy. There is growing momentum in 2017 that the Maroons golden era might be about to finish with players like Johnathon Thurston and Cameron Smith nearing the end of their illustrious representative careers.
Don't bet on the series too far ahead of time. Sure you might find some better value but there are too many unknowns. Wait until the teams are announced and closer to the event to exclude the possibility of losing players to injury or suspension in the lead up to the game.
Things to look for in head to head betting is the team chosen, is it cohesive, do the halves for each side have experience playing with each other? Is there a lot of Origin experience in the side?
Establish what sort of bet you want to make, whether it be head-to-head or first try scorer or man of the match, and do some research across your online bookies to see who has the best odds for you. Be smart and always hunt out the odds that benefit you.
Also read: