2025 Rugby League World Cup betting
First held in France way back in 1954, the Rugby League World Cup has grown into a massive tournament that unites the rugby league world.
But it hasn't always been that way. The idea of an international rugby league tournament stems all the way back to 1931, but it took more than 20 years to get it off the ground.
And it took even longer to get it right, with the tournament never quite being able to decide exactly what format works best.
From group formatting, to round robin, to events staged over three years, there have been several incarnations of the World Cup.
Most World Cup events in sports are held every four years, but that's not the case for rugby league's premier international tournament.
---

This is my table
---
The event has been held in intervals ranging anywhere from two to eight years, with some tournaments held over a three year period.
In 1995, the competition was restructured, but organisers might have finally got it right in 2013, with that event considered the best ever. It was expanded to 14 teams and organisers pledged to hold the event every four years.
Australia is the dominant force in the sport over the journey and has show its ascendancy with 11 World Cup wins, easily dwarfing Great Britain's three.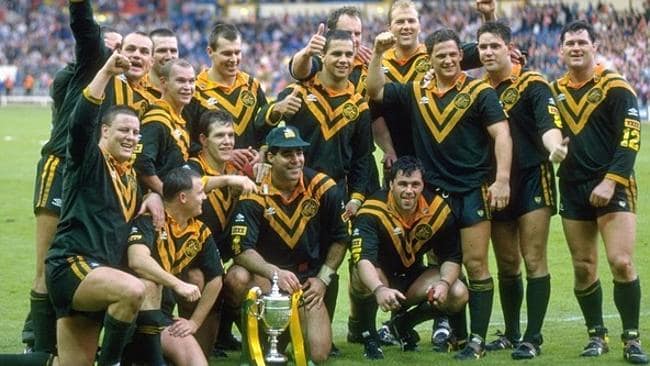 Australia v France, 1968 – Sydney Cricket Ground
The tournament always produces a flurry of betting action, so here's our guide to getting your bets on responsibly and hopefully making a little dough in the process.
---
How do you bet on the Rugby League World Cup?
So you want to be patriotic and place a bet on the Rugby League World Cup? Maybe you're not so loyal and think another nation can steal your country's thunder?
Either way, before you bet, you need to make sure you can afford it. And we don't just mean having the money in the bank, we mean to make sure you have met all of your obligations, like bills and other commitments before you load up your betting account and start splurging your hard earned money. So put the food on the table, pay the rent or mortgage and then have a little flutter.
The next thing you need to do is find a good online bookmaker to look after your bet.
There's no need to go hunting far and wide though, we have scoured the world wide web and come up with a list of the hottest online bookmakers to handle your Rugby League World Cup bet.
Pick one – or more than one – to take advantage of bonus bets and other promotions, as well as have the piece of mind that your money and bets are safe and sound.


Recommended!
---
What is the format of the Rugby League World Cup?
As we have mentioned, there have been a variety of different formats across the journey for the Rugby League World Cup, but he current format looks like it is here to stay.
At present, the host nation automatically qualifies for the World Cup, one of 14 teams that will make the finals after the group stages are completed.
Those teams become four groups – two of four teams and two of three teams – with three teams from the groups of four progressing and one each from the groups of three.
The quarter finals become knockout events, going from eight teams to four and then two in the final.
---
What markets are available on the Rugby League World Cup?
If you look now, you will only find the one market available on the Rugby League World Cup, and that is on the winner. You'll find this market available almost all year round, with other shaped much closer to the event. There are markets on both the tournament and individual matches, with player props options to boot.
Typical Rugby League World Cup markets:
Winner
To make the final
To make the semi final
To make the quarter final
How many tournament wins
Leading try scorer
Head to head match winner
Line betting
Total match score
First try scorer
Margin betting
---
Tips for winning money on the Rugby League World Cup
So you want to enhance your Rugby League World Cup experience by having a bet – but you want to make sure you're maximising your chances of actually winning? Here are a few tips that should hopefully set you on your way to the pot of gold at the end of the tunnel.
Steer clear of straight out win bets in the group stages
There are very few upsets early doors in the tournament and the odds are so skewed toward the favoured nations, it is almost not worth betting on head to head markets – unless you're a multi millionaire who can afford to put your house on Australia to beat Ireland at $1.03.
Use multis to increase your odds
Given we've just mentioned how ordinary the head to head odds often are, here's how you can make it worth your while. Take the favourites and pack them in a multi to enhance your odds. It's a quick, easy way of making money and, if you can handle the odd scare here and there, you can make some decent money.

New Zealand's All-Blacks are always a force to be rekconed with

Australia, New Zealand, England
Stick with the big guns and you will be doing ok. These teams tend to smash the opposition in the group stages, so don't get scared off by big lines. Back them in to lay waste to their opposition and you'r sure to get a good run for your money.
---
Who won the last Rugby League World Cup?
Australia, New Zealand and Papua New Guinea shared hosting rights for RLWC 2017. The Kangaroos were short-priced favourites to defend their title on home soil, and they delivered the goods with a 6-0 win over England in the final at Brisbane's Suncorp Stadium. Cameron Smith top scored for the tournament with 50 points, while Valentine Holmes finished with 12 tries.
---
Where and when is the next Rugby League World Cup?
The next edition of the RLWC is scheduled for 2021, when England will host the tournament for the seventh time. Along with the host nation, even other teams have earned automatic qualification by reaching the quarter-finals in 2017: Australia, Fiji, Lebanon, New Zealand, Papua New Guinea, Samoa, and Tonga.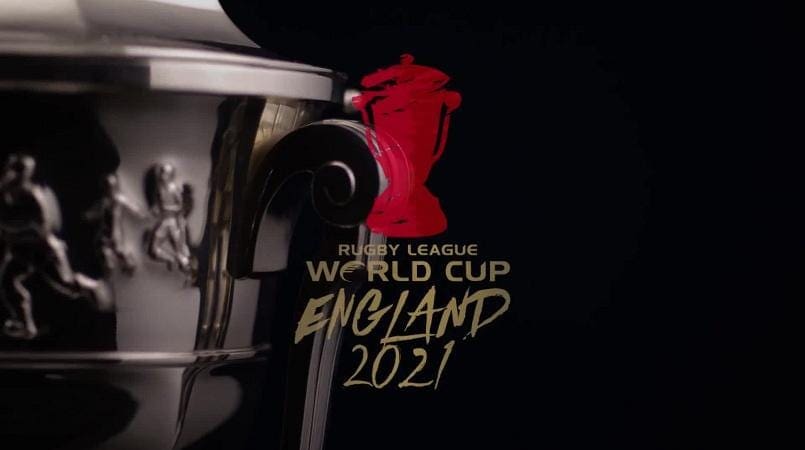 The 2021 Rugby League World Cup is to be held in England.
Recommended!
---
Most Rugby League World Cup tournament wins and past winners
As we have mentioned, Australia is the dominant force in world rugby league, winning 11 of the 15 Rugby League World Cups to have been staged.
In fact, only three nations have won the World Cup and the Aussies have lost just once since 1972 – the famous tied final that was awarded to Great Britain because they were higher in the standings.
That loss was the famous boil over when New Zealand claimed their first RLWC title on the back of a stunning 34 to 20 win over the Aussies in 2008.
Group format era:

1954, France:
Great Britain 16 defeated France 12
1957, Australia:
Australia topped the table and was declared winner
1960, England:
Great Britain topped the table and was declared winner
1968, Australia:
Australia 20 defeated France 2
1970, England:
Australia 12 defeated Great Britain 7
1972, France:
Great Britain 10 drew with Australian 10 (Great Britain awarded world cup thanks to higher position on table)
1975, International:
Australia topped the table and was declared winner
1977, Australia, New Zealand:
Australia 13 defeated Great Britain 12
1985-88, International:
Australia 25 defeated New Zealand 12
1989-92, International:
Australia 10 defeated Great Britain 6

Expanded format era:

1995, England:
Australia 16 defeated England 8
2000, United Kingdom, Ireland, France:
Australia 40 defeated New Zealand 12
2008, Australia:
New Zealand 34 defeated Australia 20
2013, England, Wales:
Australia 34 defeated New Zealand 2
2017, Australia, New Zealand, Papua New Guinea:
Australia 6 defeated England 0