Queensland's most inspirational State of Origin players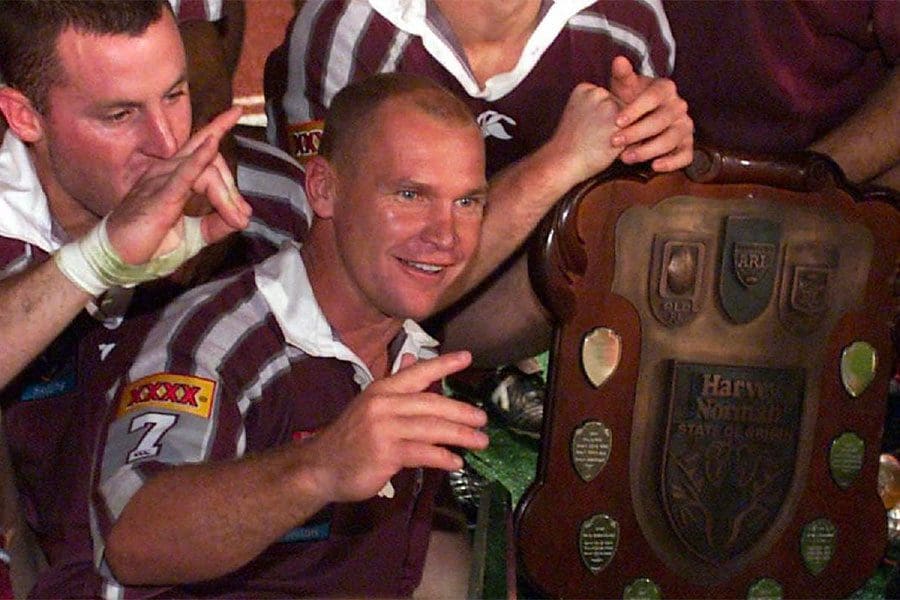 Picking the "best team" or comparing greats from different eras is a sure-fire way of getting yourself into a heated debate.
But Australians love to voice their opinions on any topic and argue the pros and cons with each other at the pub, around the office water cooler, or at weekend barbecues.
It's almost a national pastime.
When it comes to State of Origin, though, emotions can run high, because Origin is about pride and passion and representing your state or your people with courage and honour.
State of Origin football was born at Lang Park on July 8, 1980, when a parochial crowd of 33,210 witnessed the birth of a sporting phenomenon that has morphed into one of the great gladiatorial contests in the world.
It came about because Queenslanders were sick and tired of being flogged by NSW teams which contained most of their best players, who, at the time, were signed by wealthier Sydney clubs.
But after Queensland again lost the 1980 interstate series for the 21st year in a row, it was decided to play an experimental game with the Queensland players returning home to represent their state of birth against an all-NSW side in a clash billed as State of Origin.
Queensland won the inaugural game 20-10 and in the 41 years since, Origin has been a sporting blockbuster producing some amazing battles, spectacular tries, fierce fights, and enough controversies to fill a Tolstoy novel.
But this article isn't a history lesson – it's about my top 12 Queensland players since 1980 whom I believe, and it's only my opinion, embodied and instilled the spirit, pride and passion, and a never-say-die attitude into the Maroon Jumper.
Having reported on 100 Origin games, mostly from Queensland camps, I have come up with the 12 players whom I believe most inspired the Maroons to hold a 22-16 series edge of NSW.
Many would expect The King, Wally Lewis, to take the top spot.
After all, he was named man-of-the-match eight times – twice as many as any other Origin player – and he captained Queensland in 30 of his 31 games.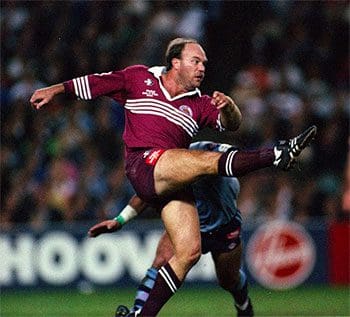 Lewis (pictured left) was so good, he was despised by anyone south of the Queensland border.
He was always enemy number one.
Perhaps his finest hour, for me, came in Game II of 1989 when the Maroons clinched the series with arguably the most courageous performance in Origin history in front of 40,000 at the Sydney Football Stadium.
With Lewis calling the shots, as he usually did, Queensland overcame the loss of halfback Allan Langer (broken ankle), Mal Meninga (fractured eye socket), Paul Vautin (elbow), and winger Michael Hancock (busted shoulder).
They finished the game with 12 men after Bob Lindner played on with a broken ankle until being forced to leave the field five minutes from the end of the epic 16-12 victory which wrapped up the series 2-0.
While Lewis's Origin resume deserves the top spot, I'd split it with legendary forward Arthur Beetson.
Beetson only played one Origin, but it was unforgettable.
He led Queensland into battle on that July night in Brisbane, setting the bar for every player that followed so they knew what it meant to pull on a Maroon jumper for the people of Queensland.
Without Beetson's leadership that night, Origin may not be the showpiece it is today.
When selectors picked the very first Queensland team, the late Senator Ron McAuliffe – the boss of the Queensland Rugby League at the time – rejected it as "the wrong team".
When it came back with the addition of veteran forward Beetson, who was struggling, playing in reserve grade in Sydney for Parramatta, McAuliffe gave the team his full approval.
READ: Queensland set to name strong squad for Origin 1
Beetson, born in Roma and part of the Stolen Generation, was at the end of his career after establishing himself as the best ball-playing prop in the game's history.
Even though he was reluctant to play at the time, McAuliffe knew Beetson, even at the ripe-old age of 35, was the one Queenslander who would provide the heart and leadership the Maroons would require to beat the powerful Blues.
And, when Beetson belted his Parramatta teammate and friend, Mick Cronin, in the chops early in the game, it sent a message to his young Maroon troops what finally playing for his home state against NSW meant to him and should mean for every Queensland player in the future.
The other members of the club include Chris "Choppy" Close, a man-of-the-match in the first two Origin games who once said publicly he would "die for Queensland".
Some of Choppy's pre-game speeches brought teammates to tears, and his performances on the field inspired and lifted them.
Paul Vautin has to be included as an inspirational figure both on and off the field.
His passion for Queensland was endless and his ability to keep turning up and refusing to quit set a standard for all Queensland players to aspire to.
Allan Langer, pound-for-pound the best Origin player I saw, is high on the list along with Trevor "The Axe" Gillmeister, who climbed off his hospital bed in 1995 against doctor's orders to play for Queensland even though they had the series wrapped up 2-0.
Billy Moore's Famous "QUEENSLANDER" call call coming up the tunnel at half time in Origin 1 at the Sydney Football Stadium in that same year earns him a place on the list.
Queensland were leading 2-0 when the passionate Moore bellowed QUEENSLANDER at the top of his lungs. His teammates responded to the call keeping a powerful NSW team scoreless for a shock win on the way to the biggest 3-0 series upset in Origin history.
Tackling-tyrant Gary Larson also makes the list, his tireless defence laying the foundation for many victories in his 25 Origin appearances in the 1990s.
Then there were the tough men, the players who put their bodies on the line without fear for their own safety.
Greg Dowling (11 Origins) was one of Queensland's early enforcers.
Dowling set the tone for toughness and never took a backward step.
In later years Fijian-born prop Petero Civoniceva, who played 33 Origins, took over as the team intimidator with his presence and he commanded great respect for the way he played the game.
Rounding off the list are the big three — Darren Lockyer (36), Johnathan Thurston (37), and Cameron Smith (42), whose inclusion needs no explanation.
The complete list (not in any order) with games included:
Arthur Beetson (1)
Wally Lewis (31)
Chris Close (14)
Paul Vautin (22)
Allan Langer (34)
Trevor Gillmeister (22)
Gary Larson (24)
Greg Dowling (11)
Petero Civoniceva (33)
Darren Lockyer (36)
Johnathan Thurston (37)
Cameron Smith (42)
Billy Moore
It must be noted that a number of other players – including Gorden Tallis, Billy Moore, Andrew Gee and Greg Inglis – could have easily made my list.