Silver lining for Manly as young guns line up for NRL debut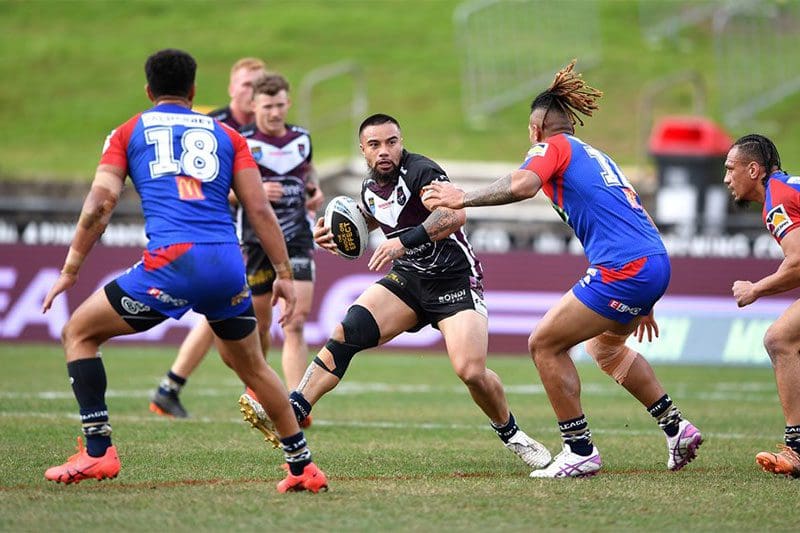 It wasn't long ago that impressive Manly junior Alfred Smalley was almost lost to the game, but for some fast thinking from Blacktown Workers general manager Todd Darvall.
The blockbusting winger received another slice of good fortune this week when called up to make his NRL debut for Manly against the Roosters at 4 Pines Park on Thursday night.
Smalley gets his chance after seven Sea Eagles stars stood down for personal reasons following the rainbow jersey controversy which made national and worldwide headlines this week.
But after some strong performances for Manly's feeder club at NSW Cup level this season, the 23-year-old Kiwi is deserving of his opportunity.
"Alfie went back during COVID to New Zealand and did his knee," Darvall told BettingSite.com.au.
"He was out for about 12 months. He got himself fit and strong, and he nearly gave it away.
"I messaged him via Facebook Messenger and said 'I want you to come back'. He said 'I don't know' because of COVID and some other reasons, and uncertainty with the season because it got cancelled halfway through last year.
"And after one game the year before. I said 'no, it's all systems go and I'm not taking no for an answer, so you better book a flight and get over here'.
"That was how he ended up here. We got him a job. He's doing some plumbing. He was doing forklift driving."
Tonight's Round 20 clash gives Smalley a long sought-after opportunity to push for a spot in Manly's top 30 for next year.
"He's a gun," Darvall said.
"He's a really nice guy and very thankful. I spoke to him and his family and they just can't believe that it (Smalley's NRL debut) is happening."
There's no doubt Roosters halves Luke Keary and Sam Walker will target Smalley with a high-ball onslaught in what is a must-win fixture for both sides.
But the powerful winger has the game and mentality to be up to it. He fielded several high bombs in Blacktown's 48-6 loss to Penrith at HE Laybutt Field in Round 19 NSW Cup action on Sunday.
He's also been a standout for Blacktown in 2022, crossing for six tries from 14 appearances in a last-placed side which has often struggled to execute on its try-scoring opportunities inside the opposition 20m zone.
"They (Manly's junior coaches) put a lot of hard work into him, and we've reaped the benefit of that. Manly has done a lot of good work with him through the juniors," Darvall said.
The Blacktown GM added that Manly's other debutant winger on Thursday night, Pio Seci, will also handle the pressure-cooker environment of the NRL.
"Pio's been with us four weeks. He came back from overseas. He was playing in France (for Avignon at Elite One level)," Darvall said.
"Last year he played with Kaiviti Silktails in the Ron Massey Cup.
"They wanted to keep him, but he had to play at a higher level to be picked for the World Cup at the end of the year.
"He played in the mid-season Test match for Fiji against Papua New Guinea."
Darvall did not hesitate to offer Seci a contract after the classy Fijian winger's manager got in touch with him.
"His agent came to me and said 'we want him to play at a higher level – would you guys be interested?'" he said.
"The Silktails wanted to keep him, but they said 'it's all about the player and he wants to play at a high level'.
"So I rang him back and sent him a contract, and he was signed, sealed and delivered.
"He's been with us four weeks.
"Normally I've got to ring the CEO to get approval. But I just gave him an offer.
"He's scored some really good individual tries. Even the one on the weekend (against Penrith in the NSW Cup), he still had to beat a few people to score.
"He's just big and strong. Both of them (Seci and Smalley) are kind of like Maika Sivo at the Eels. They can barge over people, but they've also got skills."
Recommended!
Along with Smalley and Seci, Darvall also recruited James Segeyaro to Blacktown Workers.
The dynamic hooker/half will finally play a first-grade game for Manly this season after signing with Blacktown this year following a well-publicised doping breach.
The 31-year-old and 164-game NRL veteran has impressed at Blacktown, offering plenty of energy with a high workload in attack and defence.
The Papua New Guinea representative scored a hat-trick in his team's 40-30 defeat to Western Suburbs in Round 14.
"He was with us and then Manly grabbed him when Karl Lawton got suspended (for a lifting tackle against South Sydney in Round 8 NRL action). They have kept him ever since," Darvall said.
"But he drops back every week and plays for us. There's another story – I signed him through Instagram of all places.
"He put up a post before pre-season saying 'I want to make it back' and he was after an opportunity.
"I just said 'I'm the GM of Blacktown Workers – we'd like to talk to you'. That was how it all started."
Blockbuster winger Ray Vaega is one promising Manly squad member who would have come to mind among die-hard Sea Eagles supporters after the seven NRL stars stood down this week.
"He is on a train-and-trial contract with Manly. I dare say he would have (been selected in the NRL matchday 17 squad against the Roosters). Obviously, religious beliefs probably prevented it," Darvall said of the New Zealander with five tries from 12 NSW Cup appearances this season.
READ: Vaega staying humble despite scintillating NSW Cup form
Another is fast-developing prop Alec Tuitavake, although he was never a chance to feature this week.
"He did his knee a couple of weeks ago. He's out for the rest of the season," Darvall said.
While Blacktown Workers have strike-power all over the park, they are in last spot on the NSW Cup ladder with just two wins this year.
One of the reasons for this has been an inability to capitalise on their chances in the opposition's 20m zone.
Having the No.1 halfback on their roster – former Rabbitohs first-grader Troy Dargan – suffer a long-term knee injury before a ball was kicked in 2022 has had a dramatic effect on the team's season.
"We were meant to have Troy Dargan – he's contracted to Blacktown and he was the back-up to Adam Reynolds when he was at South Sydney," Darvall said.
"He played (two) NRL games (in 2020). But he did his knee in the second- or third-last week of the pre-season.
"Injuries like that – you have plans for him to be your halfback, and all of a sudden there's an injury.
"So then you've got to go and try to find a halfback or a five-eighth."
Darvall is confident Blacktown Workers will drastically improve in 2023.
"We've spent a lot of money on the program with GPSs and a new gym. We went all out. But it's been hard with injuries," he said.
"We've had some positive meetings for next year on what we want to do and who we're going to target.
"Manly will help again with recruitment. I've got big hopes for next year. We're looking at some older, hardened guys."