Staines happy to play his role at Penrith despite transfer talk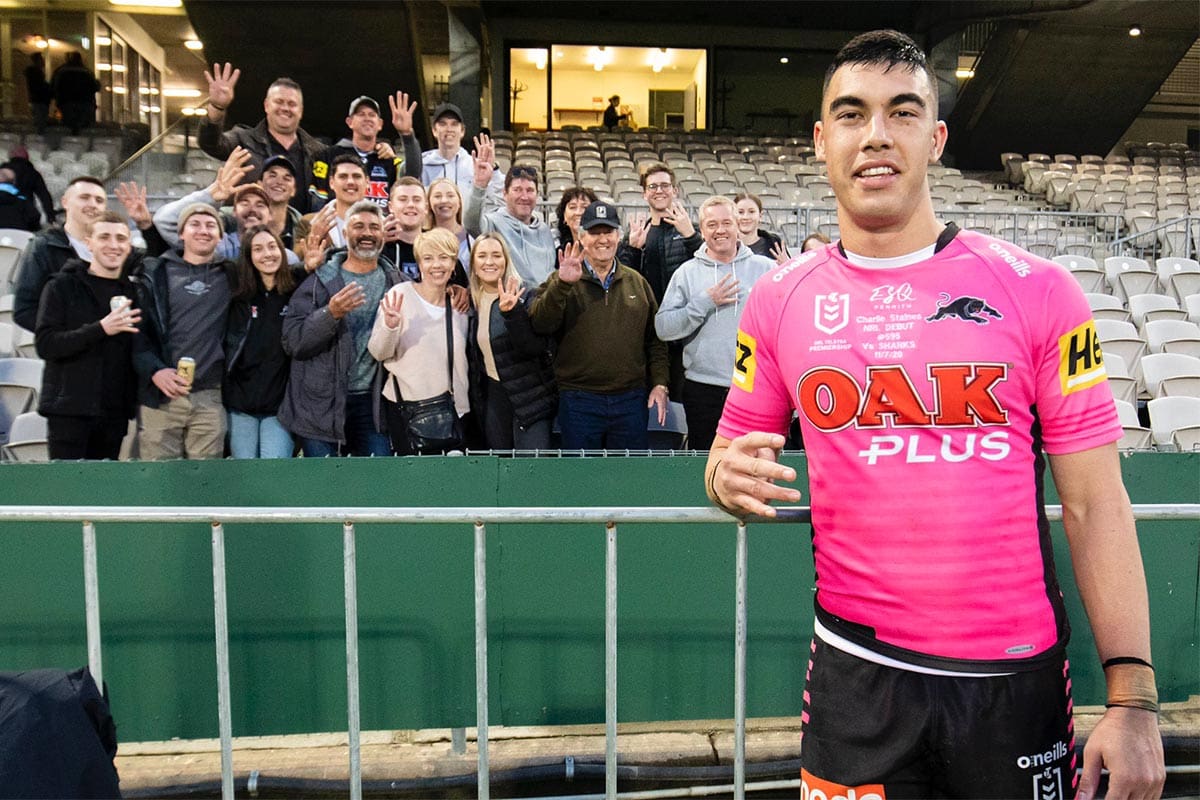 There has been plenty of speculation regarding the future of gun Penrith fullback Charlie Staines, currently biding his time at NSW Cup level.
But the 21-year-old dubbed the 'Forbes Ferrari' – off contract at the end of next year and playing in the state competition because of the emergence of dynamic winger Taylan May – is not complaining.
Staines loves the freedom to use his blinding pace in the No.1 position, but Dylan Edwards has a mortgage on that jersey in first grade at the moment.
The youngster – who scored an unbelievable four tries on his NRL debut against the Sharks two years ago – recently said he would be open to an opportunity elsewhere if it meant starting at fullback.
But he is also committed to playing his role in the ladder-leading Panthers' 30-man squad and helping the team push for a second-straight NRL title, while learning off the super-consistent Edwards.
Meanwhile, Staines is impressing for the second-placed Penrith in the NSW Cup, scoring a try and running for 194m in his side's comprehensive 48-6 win over Blacktown Workers last Sunday.
"It was good to put in a good performance. I was just trying to help the boys and help our forwards get through the tough stuff and score a try," he told BettingSite.com.au.
"I love playing fullback and I love playing with this bunch of boys.
"He (Edwards) is the (fullback) leader here at Penrith. I look up to him and get good advice off him – it's unreal."
Staines – with a humble upbringing as a Forbes Magpies junior in the Central West region of country New South Wales – said he was still happy to keep bettering himself at NSW Cup level.
This is despite the fact the Samoan international – subsequently named on the bench against the Eels in Round 20 NRL action at CommBank Stadium tonight – is clearly an NRL-standard player.
"I'm still young and I'm still learning my craft. I've still got a lot of stuff to work on," he said.
"Wherever I can play and wherever I fit in, that's where I'll play.
"I'm just biding my time at the moment and I'm enjoying it."
Staines said the Panthers would be keen to atone for their thrilling 22-20 defeat to Parramatta back in Round 9 when both sides clash in another western Sydney derby.
He added the Penrith outfit – with just one defeat so far this year – would be battle-hardened from a bruising 20-10 win over the Sharks last Saturday night.
Jarome Luai (MCL, six weeks), Mitch Kenny (MCL) and Stephen Crichton (ear laceration and concussion) were all casualties from that game, opening up a deserved bench spot for Staines.
"Far out, it was a tough game and they played well," he said.
"It (tonight's game against Parramatta) will be a really good one. It's always a tough clash playing against those boys."
Meanwhile, Staines has been impressed with the Panthers' form at NSW Cup level.
He spoke highly of the team's performance after comfortably prevailing over Blacktown Workers Sea Eagles last Sunday.
"It was a good performance. We prided ourselves on our defence. To leak one late was a bit disappointing, but it was good to get the win," he said.
"It's a good system here. We pride ourselves on helping each other out. We play for each other and there are no individuals in this team."