NRL Round 11 Review: Raiders grind out another gutsy win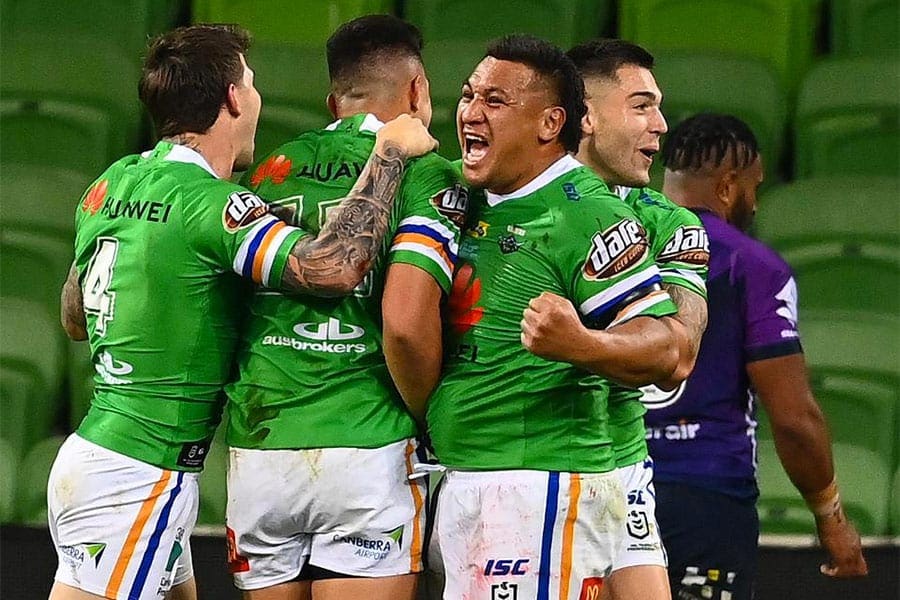 Round 11 of the 2020 NRL Premiership shaped up as an absolute stinker with four teams paying $6.50 or more in the head-to-head market, but what looked a straightforward week to pick proved to be anything but. Let's look back at a round which threw up a Saturday classic, a Sunday dogfight and another Broncos capitulation.
Eels 26
16 Tigers
The Tigers started this one in fantastic fashion and led 12-4 at one point, but the Parramatta Eels flexed their muscles and scored the next 22 points straight to run out 26-16 winners.
The game included the best no try ever seen from Blake Ferguson as well as Reagan Campbell-Gillard running 50 metres and around Adam Doueihi to score one of the best tries not just for a prop, but for any player in any era.
If you had Parramatta at the -7.5 start, you'd have picked up a nice return at $1.90. Even better if you coupled that with the overs.
Cowboys 12
24 Sea Eagles
Addin Fonua-Blake was a surprising late inclusion considering Queensland's strong stance against those who haven't had the flu shot, and he proved a big factor with 225 running metres as the Manly Sea Eagles claimed a 24-12 win in Townsville.
The North Queensland Cowboys competed hard in their first game under interim coach Josh Hannay, but spilling two tryscoring chances at the line proved to be their undoing.
The Cowboys' slow starts continued as predicted. They have now scored first in just two of 11 games this season, so that is an exotic market to keep an eye on moving forward.
Had you have taken Manly -6.5, the $2.20 on offer would have been sweet compared to the standard -3.5 at $1.90.
Broncos 8
48 Storm
Even when the Brisbane Broncos led 8-6, did anyone seriously think the upset was on? We didn't, although there must have been a brief concern about the -29.5 line predicted in the lead up to this clash.
Thankfully, the Melbourne Storm pulled through and their record of running up the score against bad teams held firm. If you coupled that line in a multi with Ryan Papenhuyzen to score anytime, like one lucky punter did, you would have got a nice return of $5.70.
Just where Brisbane go now is anyone's guess. They've constantly shuffled the deck and keep coming up with jokers.
Next the Broncos must face a Cronulla Sharks side who are proving to be a headache with ball in hand, so it could be another heavy defeat if their defence late in this game is anything to go by.
Warriors 10
18 Roosters
"The $11 head-to-head quote would suggest the Warriors are no chance this weekend, but in 2013 the Titans were paying a similar price against the Chooks and caught them napping."
For so long we couldn't help but remember this quote from our Warriors vs Roosters betting preview. While a big Sydney win was everyone's prediction, New Zealand proved there is a universe where upsets of this scale can happen in the NRL.
It was a sloppy effort from the Sydney Roosters, who had multiple key players missing. For a team who are attempting to win a third-straight title, these are the dark days of the season where they are just trying to get to finals healthy.
Sharks 28
24 Dragons
Now this was a thriller, and one that feature a big dose of controversy for good measure.
If you had Jack Williams as an anytime try scorer, consider yourself the luckiest person alive. A clearly incorrect try decision was all that stood between the two local rivals, with the Cronulla Sharks running out 28-24 winners on the back of another great performance from Shaun Johnson.
Our big man crush Braden Hamlin-Uele couldn't earn us a truckload of cash by crossing the stripe first this week, but well done if you had Tyrell Fuimaono.
Cronulla are now seventh on the 2020 NRL ladder, while the 11th-placed Dragons missed a golden chance to get into genuine finals contention. Come round 20, they may rue that awful bunker call.
Raiders 18
12 Rabbitohs
A Saturday night slugfest in the nation's capital showed once more just how resilient the Canberra Raiders are.
It's one thing to beat the Roosters, but it doesn't matter if you don't back it up in your next game. The Raiders overcame even more injury issues to grind Souths into the turf, repelling waves of attack much like their preliminary final victory against the same opponent.
The weather proved to be ugly as predicted, playing into the hands of our unders and Raiders 1-12 predictions.
While the Raiders showed wonderful courage once again, the mounting injury toll is going to put significant pressure on their depth and their attack. Some day they will play a team they can't get away with scoring 12-18 points against, but until that time we will enjoy their never-say-die attitude.
Knights 12
18 Bulldogs
Now this was shocking on the surface, but the warning was there. Our preview tipped off the corresponding fixture last year and how the Canterbury Bulldogs spoiled the Knights season. They may have done so once again with a flawless performance in the wet.
It was a performance that would have bought a tear to the old Dogs Of War, but ultimately they just played smarter for longer periods than the Newcastle Knights. Spare a thought for the punter who dropped $20k on Newcastle at $1.15 – the definition of heartbreak.
The Knights missed a golden chance to remain in the top four and now their credentials to finish in that position will be called into question, and rightly so. Canterbury's win has breathed a tiny bit of life into the wooden spoon race, closing the gap to just two points behind the Titans and Broncos.
Titans 14
22 Panthers
While the early Sunday game produced a shocker, this one went pretty much according to plan.
The first try coming on the left wing and not the right did spoil our script a bit, and then the Titans finished the first half in thrilling fashion to trail 14-16 at the break. The second half started out as an arm wrestle before the Penrith Panthers kicked clear at the end, but they didn't do enough to cover the 13+ margin many punters would have been backing.
The 42.5 line was also not threatened despite 30 points being run up in the first half. As many would have predicted the Panthers to run up a big score, it was a disastrous second half for a lot of punters.
Penrith now sit atop the table with nine rounds to play, but they are just one point ahead of the Storm. The race for the minor premiership will go down to the wire.
More News

Deprecated: WP_Query was called with an argument that is deprecated since version 3.1.0! caller_get_posts is deprecated. Use ignore_sticky_posts instead. in /home/bettingsite/public_html/wp-includes/functions.php on line 5145

All Recent News