Neds app review – How to download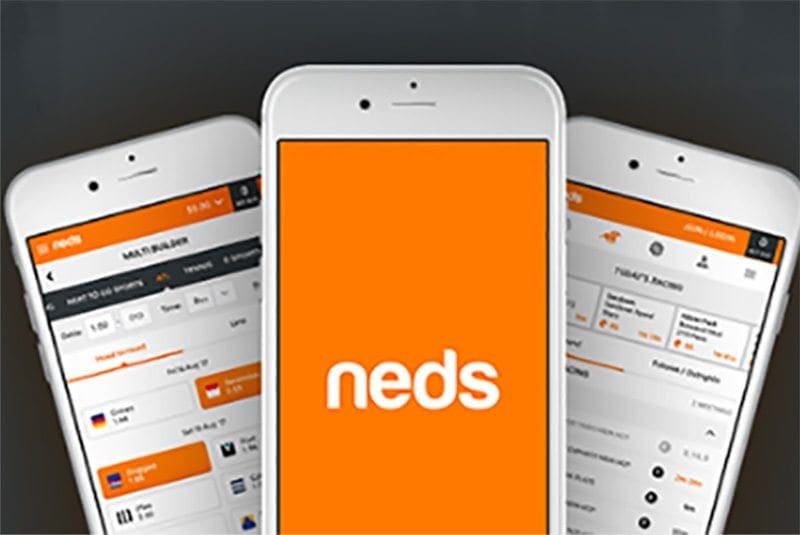 It is a very easy process to download the Neds app for various kinds of smartphones and tablets in 2023. The Neds app is available for both Android and iPhone (iOS) users and gives you access to one of Australia's leading online betting sites. If you are using another type of smartphone it is possible to create a Neds web app. To download the Neds betting app or web app, tap the link corresponding to your mobile device:
Neds Apple – Download
Neds Android – Download
Neds Web App – Download
While we have touched on Neds smartphone services and navigation in our Neds review, below we will go into further depth here to outline the strengths and weaknesses of the smartphone betting tools, which are further enhanced when you download the Neds App.
How to download the Neds Apple App
The Neds app is available to download directly from the Apple App store or as a non-market app for Android devices. To download these different apps you need to follow slightly different processes.
Download the Android Neds.com.au App:
STEP One – Here we need to make sure that you have non-market apps allowed. Visit settings on your mobile phone or tablet.
STEP Two – Find the security settings.
STEP Three – Look for unknown app sources and make sure that they are allowed.
STEP Four – To download the Neds Android app open or sign into your account. Then visit the menu of your new account and visit mobile.
Download the iOS Neds.com.au App:
STEP One – Create or sign into your Neds.com.au account.
STEP Two – Visit the Apple store and download the Neds app for free.
Neds web app
On all modern smart phones it is possible to create a web app and this includes Neds. A web app is basically a short cut on the desktop of your mobile which will allow you to quickly visit the Neds mobile website instantly. Essentially the Neds apps are just a software download of the website, so you are only loading the data that is required to make it current. With a web app you are also downloading the website, meaning theoretically it should be slower.
Neds iOS smartphone betting app
The iOS app for Neds was launched in conjunction with the desktop website and, like its desktop counterpart, is optimised for ease of use and quick, effective access to betting markets.
The new Neds iPhone and iPad app is free to download, features a stark colour theme that makes it easy to see odds and a solid tool for multis and live sport betting.
There are quick links available to the big races and sporting events of the day/week and it's strength lies in the fact that you can navigate to any bet you'd like to make in two taps.
For more specific searching, you can click to expand the menu in the top left hand corner and browse through the multitude of options. There are also clear options to contact Neds, live chat with a customer service rep or look at the FAQ.
Neds Android betting app
While other bookmakers like Sportsbet took more than five years to release its Android app after the initial release of its iOS one, Neds has delivered its Android option on day one.
Like its iOS counterpart, the Neds Android app boasts the same easy design – offering all of the big racing and sports markets of the day immediately on the home page, while making other live markets and futures markets easy to find after accessing the menu in the top right corner.
Like the iOS app, the Android app is free to download, makes depositing and withdrawing quick and easy and comes with all the bells and whistles you'd expect.
---
Neds app review
The Neds apps have come a long way since the online bookmaker launched with a bang several years back. Neds.com.au apps in their early days were rather glitchy, but this is no longer the case in 2023.
We found, the latest time we updated our Neds app review, that they had completely overhauled the technology behind both their Android and iOS apps and they now clearly are among the best Aussie betting apps.
The Neds apps give you access to everything you would expect to find on the desktop website, including very easy access to all Australian TAB meetings in racing and all major sports events.
A feature of the Neds apps is that there are some exclusive promotions that are available via the apps, that you won't find on desktop. Because of Australian betting laws we are unable to go into greater depth about what is up for grabs, however you will find it is well worth your while.
---
Neds mobile site review
The Neds mobile browser website, easily found on safari for iOS or any Android internet explorer, operates at a quick speed and is one of the most impressive of its kind that we have seen in the online bookmaker industry.
Essentially, the Neds mobile site operates the same way as the iOS and Android app – offering the same features and navigation.
We can recommend that you download the app for ease of access, but if you're using someone else's phone or for whatever reason the app is not working, the mobile browser site will step up and fill the breach. There are plenty of other great betting apps available to Australians.
While writing our Neds app review, we found that there were some features not available on the mobile website. These Neds app features, that are available on desktop computer, include things like same game multis and same race multis.
Basically the Neds mobile website is a stripped back version of the apps, that will do the job, but not provide as much satisfaction.
---
Neds App deposit methods
All Neds apps use secure deposit options that have been approved by Australian gambling and retail standards regulators.
Punters can use Visa, Mastercard, POLi and BPAY to deposit and once they have made a withdrawal, their winnings will be sent to the nominated bank account within 24 business hours. In addition to these methods, on desktop you can also make direct bank transfers.
Neds makes depositing easy via their app, but not so easy that you can accidentally deposit more than you initially planned. Make sure the Neds bonus code GETON is also also active, during any payments you make to the bookie.
---
Neds app review conclusion
The Neds app for both Android and iOS smartphones and tablets is a great product, that we believe is an essential for anyone who takes sports betting seriously. The Neds app, while having some early flaws, has developed into arguably the market leader in the Australian bookmaker app scene. Neds, for those who are unfamiliar, is owned by the same company as Ladbrokes, which should fill you with confidence when betting online with these guys. You can download the Neds bookmaker app for Android or iOS by following any of the links on this page.