Beetson helped save rugby league, says Origin hero 'Choppy' Close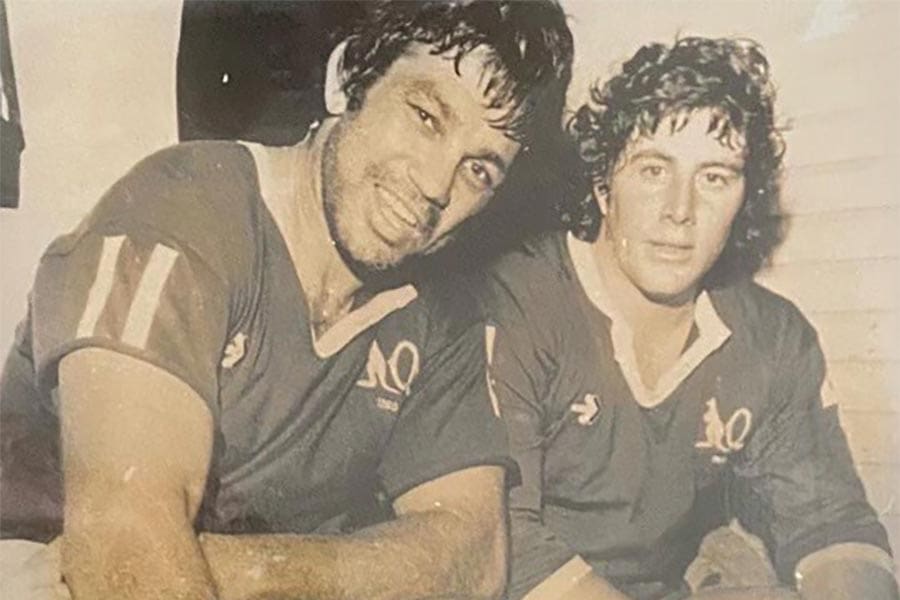 Forty-two years ago to the day and Chris 'Choppy' Close remains convinced Arthur Beetson inspired Queensland to a monumental victory over New South Wales which saved rugby league from sinking.
It was July 8, 1980, on a chilly night at Brisbane's Lang Park, a former graveyard, where Beetson — aged 36 and past his magnificent prime, playing reserve grade for Parramatta — pulled on a Queensland Origin jumper for the first and only time, to change rugby league forever.
Close's recollections of the build-up to the very first State of Origin clash — an experimental game that allowed Queensland's best players to return from NSW and represent their state — are fascinating.
It's now history how Beetson's blow to the head of his Parramatta teammate Mick Cronin launched the State of Origin phenomenon which celebrates its 42nd anniversary today.
We caught up with the man they call 'Choppy' today to get his thoughts on Beetson and that famous night at Lang Park where, as a 21-year-old, he was named Origin's first man-of-the-match.
He had no doubt had Queensland not delivered 20-10 in front of a boisterous 33,210 fans that night that rugby league could look quite different today.
READ: Queensland's most inspirational State of Origin players
Close recalled a private conversation he had at the time with Ken Arthurson, the then Chairman of the Australian Rugby League (ARL), about just how important the Origin concept was to the future of the game.
"Ken told me rugby league needed State of Origin to be successful and that State of Origin needed Queensland to be successful," said Close.
"If either of those things didn't happen, rugby league was dead in the water or at least a sinking ship, that's how bad things were going for the game back then."
Interstate games had become a joke.
Queensland's best players, who were playing for Sydney clubs, turned out for NSW sides that never lost an interstate game.
Australia was so dominant on the world stage that there was no real opposition or competition or interest internationally.
"Nobody could match it with Australia, the NSW rugby league competition was so far ahead of Queensland, it wasn't funny," recalled Close.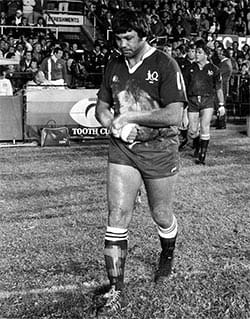 There's a story that's told of how the Queensland selectors picked the team for the very first Origin game in 1980 and sent it to the then Queensland Rugby League chairman, the late Senator Ron McAuliffe.
Legend has it that McAuliffe sent the team back with a message to selectors: "You've picked the wrong team, pick it again."
They did, and this time they included the name Arthur Henry Beetson, a magnificent ball-playing forward who was in the twilight of his career, running around in reserve grade in Sydney for Parramatta.
Beetson was 36 years of age at the time.
He was initially reluctant not just to play for Queensland in what proved to be such a defining game for rugby league in Australia, but to captain the side when he was not playing his best football.
Close agreed Beetson probably wasn't in the form to be considered a certain selection.
"In the context of it, he wasn't entitled to be in that arena that night," he said
"Nobody really expected him to be picked and nobody really gave him a hope.
"I don't know if (the story) is true or a myth.
"You wouldn't know in those days but McAuliffe was a politician, so it could well be true.
"If it was the Senator who made that call, there was no more intelligent man in the game than him.
"I'm not going to ruin that story and knowing the Senator, he was old school and too smart for them, that's exactly what he would have said."
None of that ever really mattered according to Close, who admits to being in awe of Beetson from the time they met in camp.
"You have to understand, Artie was so inspirational and so charismatic," said Close, who did his best to carry on Beetson's legacy as someone who inspired his Queensland teammates as a player and later as a team manager.
READ: Carrigan backs under-fire Papalii to step up in Origin III
Close recalled a brief meeting with Beetson in the bar of the old Lang Park stadium when he was at a game with his mum when he was 14 or 15.
"He walked in through the bar like many players did at Lang Park in those days and he shook my hand. I'll never forget the feeling I had that day even though we didn't speak much," he said.
Several years later, Close ran onto Lang Park with a number of nervous and excited young Queenslanders including Wally Lewis and Mal Meninga, celebrating his 20th birthday, and won a game he believes not only restored Queensland pride but saved rugby league from dying a slow death.
"Arthur was so inspirational, so charismatic," said Close.
"I fell in love with him straight away."
Close believes had Beetson not played that night, Queensland would not have got within a "bull's roar" of New South Wales.
"Without Arthur Beetson that night, rugby league could be totally different today," he said.
Close was named best-on-ground in that game but insists it was Beetson who led Queensland to victory.
"It wasn't about who got man-of-the-match that night, it was about who led, and Arthur led. He led fearlessly from the front and by example.
"I won man-of-the-match and I won't give it back for all the money in the world.
"I gave everything I fucking had that night. I couldn't possibly have given any more.
"I thought Artie was worthy of man-of-the-match, but I won it and I thought my effort was worthy as well.
"What I didn't do was lead a team of young players, he did and the way he led that team changed the course of the game."
Beetson put the responsibility on each and every player to give their very best for each other and Queensland from the moment he entered camp.
"He laid it on the line for all of us," said Choppy reliving the emotions this week.
"He made a huge impression on me and the other players as well.
"I would have laid down my life for Artie and Queensland that night and I demonstrated that clearly."
It's that attitude Close believes the Queensland players must carry into next Wednesday night's series decider.
It's what Beetson would have expected of them.