Snooker prodigy Jason Yu takes out U16 national title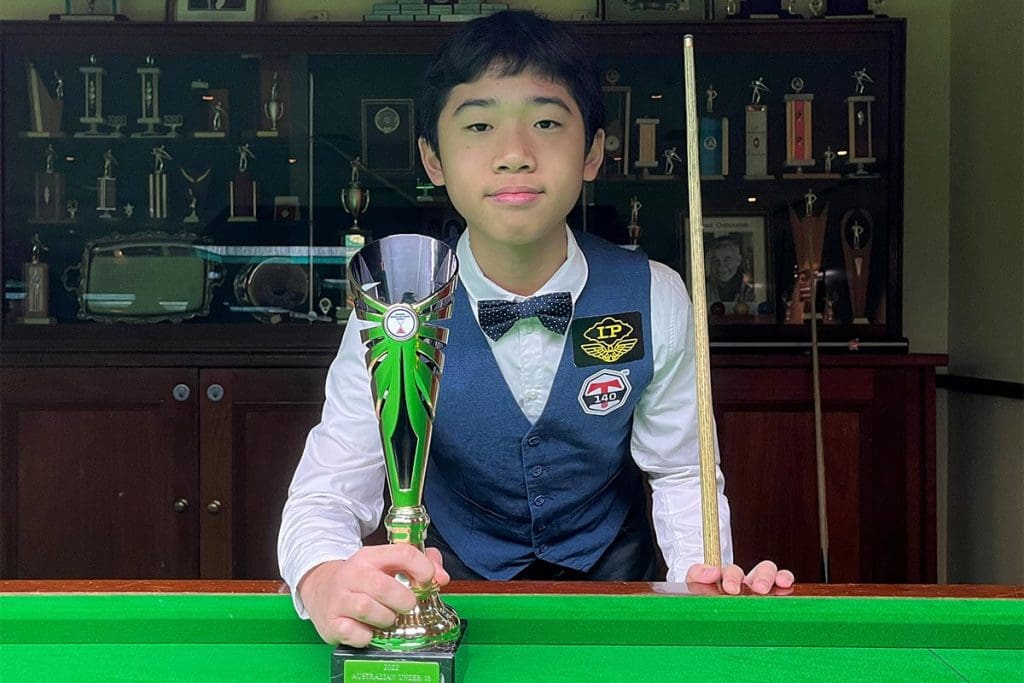 Before his against-the-odds triumph at the under-16 national snooker championships in Albury on Saturday, child prodigy Jason Yu had already captured the imagination of the Darwin eightball community.
And that was why the president of the Darwin and District Eightball Association, John Hilton, was delighted at the 13-year-old's victory over Lilly Meldrum in the final.
Meldrum – a runner-up at the women's under-21 snooker world championship – beat the now-Adelaide resident Jason in the Australian under-21 championships in April.
But Jason's determination to continue improving never wavered, turning around that result and triumphing 3-1 over Meldrum in the national-title decider in Albury.
With the snooker world now at his feet, Jason was proud to represent the Northern Territory after his family moved to Adelaide to further his snooker career in May.
Hilton said the Darwin community got behind Jason because of his incredible work ethic, humility and love of the contest – even against grown adults with a lot more years of experience.
"We made allowances for him to join our Darwin and Districts league," Hilton told BettingSite.com.au.
"He had the full support of NT Eightball as well, the head body. And he really did grow because he would come to the weekly leagues and competitions.
"It wasn't long before he was a force to be reckoned with from even the better players.
"And he just lapped it up. He kept going and going. Darwin doesn't have enough snooker for him to follow his passion here."
It wasn't long before Darwin's eightball scene collectively reached into its pockets to help aid Jason's journey towards becoming a national champion on the weekend.
"The whole NT pool community up here has got behind Jason," he said.
"We're all very, very proud of him.
"It might be once or twice in a generation that we get a junior who can take it to the rest of the country.
"We're very stoked. He's based in Adelaide now, but he is very proud to have had his grounding in Darwin.
"He's had all sorts of different help, from raffles to raising money to help him go away and supporting his father as much as we can in teaching him the ways of our community."
People in the Darwin eightball scene quickly saw that Jason's actions were speaking louder than his words.
"Jason's a very quiet boy but he's a one-track mind and he's full-on with whatever he does. He gets straight As in school and doesn't miss on the pool table," Hilton said.
"It's a credit to him."
Hilton said it was a no-brainer for Jason's father, Patrick, to relocate him to a bigger cue-sports scene in the South Australian capital.
"Probably a lot of the reason why he's in South Australia is because there isn't a big snooker community here," he said.
"It's an eightball community. He's a fabulous eightball player as well, and he's just going to the next level.
"And we have watched him grow because he's a very quiet boy. But he wrote a post on Facebook (after his under-16 national titles victory) and it is so well-written and so mature.
"It's amazing for a boy who's only turned 13 years old."
Recommended!
Jason – now excelling at Underdale High School – already understands the importance of mental preparation for a sport which always tests the spirit of its competitors.
"I just listened to my coaches. They just gave me some advice to sleep well and prepare for the competition mentally," he said.
"I tried to prepare for her (Meldrum) mentally. My coach just told me to believe in myself because I've played well.
"They've been really helpful with snooker, and mental health and mental preparation.
"They have supported me through my snooker career with all sorts of competitions and tournaments."
Jason has an unwavering vision of representing Australia, which is why he averages four hours of practise on snooker tables in Adelaide every day.
"Yeah, I definitely want to (represent Australia at senior level). And hopefully I'll get onto the national team," the top maths and science student said.
"I really enjoy it. Everyday we go to the club and keep practising.
"It's kind of hard for me to keep going with school work and assessments, but I'm just trying to aim for what I want."
READ: BEST ONLINE BOOKMAKERS FOR SNOOKER BETTING
Snooker South Australia manager Phil Reilly believes Jason is a once-in-a-generation talent who can compete on the world level in the future.
"He'll definitely represent Australia at world championships, and he can easily be the Australian champion," Reilly said.
"But to be a professional he will have to move overseas. He has all the skills to be the best snooker player in Australia, no doubt about that.
"I've been involved in the sport my whole life. I've seen Neil Robertson (ranked fourth in the world) at a young age.
"I've seen Steve Mifsud, who is the current Australian snooker champion and former world amateur champion, and world under-21 snooker and eightball champion Quinten Hann.
"They all went on to turn professional, and Jason is as good as all of them at his age."
Reilly believes Jason is the "perfect student" of snooker because of his razor-sharp focus when being taught new things by James Giannaros and Tyson Crinis in Adelaide.
Giannaros is a former Australian snooker champion, and his technique coach Crinis is currently ranked fifth in the nation.
"Jason has the ability, but to actually practise it solo is a big challenge. Yet, Jason has that focus and ability to practise on his own for long periods to hone his skills," Reilly said.
"He has the ability to focus and concentrate for long periods of time.
"He understands the mechanics of the game very well. He understands things adults don't get, and he listens to what people tell him.
"He's the perfect student because he listens and he tries to implement what they're telling him. But that's all a part of him wanting to be the best he possibly can.
"He's got this incredible eagerness to learn. He's got this really good talent, but he's also trying to hone that talent.
"Jason is prepared to work and improve his talent for him to star in this sport. He's striving to be a better player.
"He'll definitely achieve that status (representing Australia at senior level) – it's just how far he can go."
The weight of expectation already on Jason's shoulders is a lot for a 13-year-old to handle.
But with the help of his father, Patrick Yu, Jason remains grounded despite all the external pressure and hype.
"For me, the important thing for Jason is doing something he loves and engaging with the community around him, instead of spending so much time on Tik-Tok and social media," Yu said.
"I just want him to live a happy life, and practising and playing snooker gives him the foundation that he needs.
"Jason is very humble, but because he works hard he is handling the pressure of playing snooker together with his studies in school."