Wooden Spoon looming for winless Eels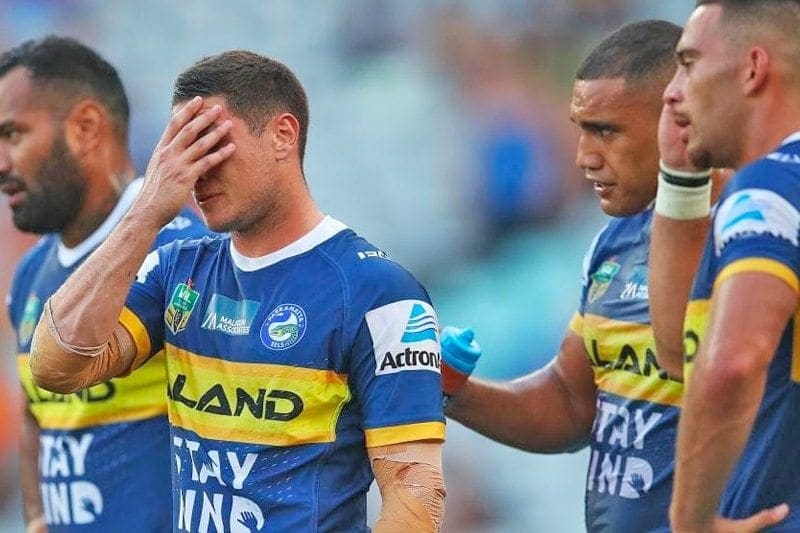 THE Parramatta Eels remain the only winless team in the NRL after a shocking 18-2 loss to the Canberra Raiders in the nation's capital on Saturday night.
Slumping to a sixth-straight defeat, the Eels remain anchored to the bottom of the ladder with the only triple figure negative point differential in the league.
The loss, which left Parra two wins behind the 15th placed North Queensland Cowboys, saw the team firm even further in the least wins market with online bookmaker Sportsbet.
The Eels are the $3 favourites at Sportsbet to end 2018 with the least amount of wins, with the Canterbury Bulldogs and the Gold Coast Titans ($5) on the second line of betting.
Eels' superstar Mitchell Moses said "nothing's clicking" following a positive start to Saturday's match.
"The boys are staying positive," Moses said.
"We just did it to ourselves; discipline.
"Our defence I thought was good at times … It's just upsetting, the boys are trying really hard but nothing's clicking at the moment."
While the team's prospects look bleak, all hope might not be lost if the experts are to be believed.
Former Eels star Peter Sterling urged his former team to lift their work-rate to salvage something from the season.
"I'm frustrated and disappointed like everybody else," Sterling said on The Sunday Footy Show on the Nine Network.
"I had them in my top four. I thought based on last year that they were even going to be better this year.
"Look, they are far from a confident football team. There's absolutely no doubt about that. Their body language tells us that."
Sterling said he believes the Eels "can defy history."
"No side (starting) 0 and six has ever played finals football.
"There's your challenge right there now and it starts next week against the side who put on 54 against them a couple of weeks ago and that's the Manly club.
"The ball's in their court. The only thing that gets you out of these situations is hard work."
Parramatta next play against Manly on Saturday night at ANZ Stadium.