UFC Fight Night Sydney – Werdum vs. Tybura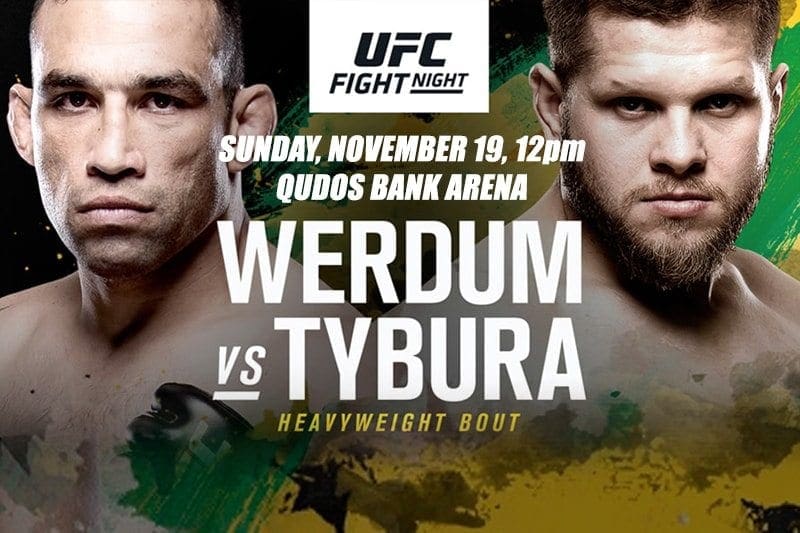 UFC Fight Night Sydney is set to be an exciting afternoon of quality MMA fighting, which is headlined by the controversial Fabricio Werdum vs. Marcin Tybura fight.
There have been numerous changes on the fight card with Australian star Bec "Rowdy" Rawlings now fighting Jessica-Rose Clarke, but all eyes will be on the Brazil vs. Poland main event.
Fabricio Werdum made headlines on Thursday night after assaulting fellow fighter Colby Covington with a boomerang. Someone clearly told the #2 ranked fighter in his division to acclimatise to Australian culture, but we think he took things a touch too far.
Werdum has been charged with assault, but it won't affect the 40-year-old's fight this Sunday.
We have free UFC tips for the major fights in Sydney this Sunday where some of the popular UFC divisions could get a shaken up.
Werdum vs. Tybura fight prediction
The Sport info cannot be found

We're unsure what led Fabricio Werdum to use a boomerang against a fellow fighter, but the Brazilian shouldn't be taking risks at the age of 40.

His time in the UFC is coming to an end, but he's still the second best fighter in this division and this is a must-win fight for the 29-fight veteran.

A win over Walt Harris at UFC 216 was to be expected and the first round submission victory was a good bounce-back performance after losing to the controversial Alistair Overeem at UFC 213.

If there's any criticism of Werdum's game is that he is out-powered by the younger fighters, but Marcin Tybura likes to get fighters to the ground and we don't think that's going to be easy this Sunday.

Tybura is the eighth ranked heavyweight after scoring three consecutive wins since August 2016 and that included one Performance of the Night title.

The Polish fighter hasn't faced someone as tough as Fabricio Werdum and it will be a real test of where his skills are at. With all the distractions in the Werdum camp, this could be his best chance to knock off a top fighter.

Werdum is one of the great heavyweights of this generation and he should be too good at the skinny odds with bookmakers.
Rawlings vs. Clark fight tips
The Sport info cannot be found

Neither Bec Rawlings or Jessica-Rose Clark have impressive win/loss records, but Rawlings has been the more impressive fighter overall.

The home-grown Australian fighter is coming off consecutive losses to Dancing with the Stars contestant Paige van Zant and Tecia Torres in February, but by all accounts she has returned from camp in fine order.

Coming up against Rawlings is fellow Australian Jessica-Rose Clark, who doesn't boast the same pedigree as her counterpart and we think she could really struggle to find her footing against an aggressive Rawlings.

Rawlings, who officially asked Ronda Rousey to use her nickname, comes out swinging and despite her ground game being the plan of attack in recent fights, we think she will be throwing plenty of strikes to put Clark off her game early.

We'll unlikely see a knockout in this division, but we're confident Rawlings will get the job done at nice odds of $1.62 with Sportsbet.com.au.
Means vs. Muhammad fight prediction
The Sport info cannot be found

Tim Means is one of the battlers in the UFC and he's the current favourite to defeat Belal "Remember the Name" Mohammad, who has a tidy record of 12-2.

Means, an American-born fighter with a record of 27-8-1, has been around the UFC for a long time now and he got his career back on track when beating Alex Garcia in June.

His record prior to that included one no contest and a loss to Alex Oliveira. The first time they met he could not continue and he was submitted in the return visit, but Mohammad is a completely different welterweight.

Consecutive wins coming into this fight has put Mohammad back on track after losing at UFC 205 and despite both wins coming by unanimous decision, he can provide plenty of entertainment. He has a Fight of the Night bonus attached to his name and he loves a good striking battle.

As does Tim "Dirty Bird" Means, and that's going to provide fans and punters with an exciting fight. Both fighters are reluctant to go to the ground and we think the elder statesman could come away with the win.

Stick with Means at $1.43 and add him to your UFC multi bets.
UFC Fight Night Sydney multi-bet tips
Tim Means – $1.43
Bec Rawlings – $1.62
Fabricio Werdum – $1.27
That three-leg multi-bet returns $2.94 for a $1 stake, but we're going to bump those returns up with another couple of options.
Jake Matthews is one of our favourite fighters and although he's not as good as he used to be, he's still capable of beating Bojan Velickovic on Sunday.
Bookmakers are offering $1.67 for the American and that's good value.
Elias Theodorou is a handy up-and-coming fighter which has many more wins in store, including one this weekend against Dan Kelly.
Kelly is a tough battler, but Theodorou is heading in the right direction and adding the $1.36 to multi's will bump up returns.
The suggested five-leg multi returns $68.68 for a $10 bet at Sportsbet.