Best bets, multi odds & bookie specials for NBA Thursday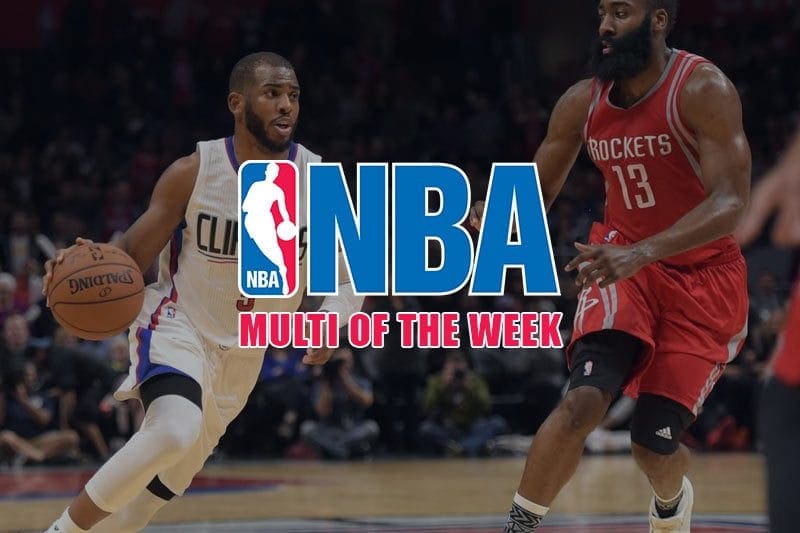 CAN anybody catch the Boston Celtics?
After a horror start that saw Gordon Hayward snap his leg in the first game of the 2017 NBA season, the Celts have churned out 16 wins in a row to establish a commanding lead in the Eastern Conference.
Chasing them are the Cleveland Cavaliers, who have recovered from a rocky start of their own to climb into fourth place on the ladder.
The Houston Rockets and Golden State Warriors are locked in a tussle for top spot in the Western Conference, with San Antonio Spurs two games back in third place.
Top odds for Thursday's tips come courtesy of Sportsbet.com.au, where you can get up to $50 back in bonus bets if your NBA multi misses by one.
NBA multi for Thursday, November 23
76ers to win – $1.47
Celtics to win – $1.64
Warriors to win – $1.42
Spurs to win – $2.09
Multi odds = $7.15 at Sportsbet
Portland Trail Blazers at Philadelphia 76ers
11am AEDT – Wells Fargo Center, Philadelphia
Portland – $2.76
Philadelphia – $1.47
The Trail Blazers are no joke, as anyone who has played them at Moda Center this year can attest. Can they bottle some of that inimitable home spirit and take it with them to Pennsylvania? Philly's form is one of the stories of the year, not least due to the efforts of rookie sensation Ben Simmons, so we are backing the 76ers to get it done on their own court.
Boston Celtics at Miami Heat
11:30am AEDT – American Airlines Arena, Miami
Boston – $1.64
Miami – $2.32
The Dallas Mavericks gave Boston a massive scare on Tuesday, but another big performance from Kyrie Irving (47 points, six assists) got them over the line. The Heat have lost three of their last four games, the most recent of which was a 25-point pantsing at the hands of the Indiana Pacers. Get on the Celts to make it 17 on the bounce.
Golden State Warriors at Oklahoma City Thunder
12pm AEDT – Chesapeake Energy Arena, Oklahoma City
Golden State – $1.42
Oklahoma City – $2.96
Warriors did not start the campaign like champions elects, but they have picked up the pace in recent weeks and look a good chance to top the conference by season's end. OKC are one of the NBA's streakiest teams – their last nine games have returned four straight defeats, then three wins, then back-to-back losses. Expect a third consecutive reverse for the Thunder.
San Antonio Spurs at New Orleans Pelicans
12pm AEDT – Smoothie King Center, New Orleans
San Antonio – $2.09
New Orleans – $1.78
Spurs need to keep winning in order to pile the pressure on Houston and Golden State. They also have Portland, Minnesota, et al hot on their heels, so a couple of defeats could send them sliding way down the ladder. The Pelicans are among those that stand to benefit from a San Antonio loss, but we don't see it happening on this occasion.
Sign up at Sportsbet.com.au today and score up to $501 in bonus bets