UFC 225 Whittaker vs Romero 2 betting & multi tips, June 10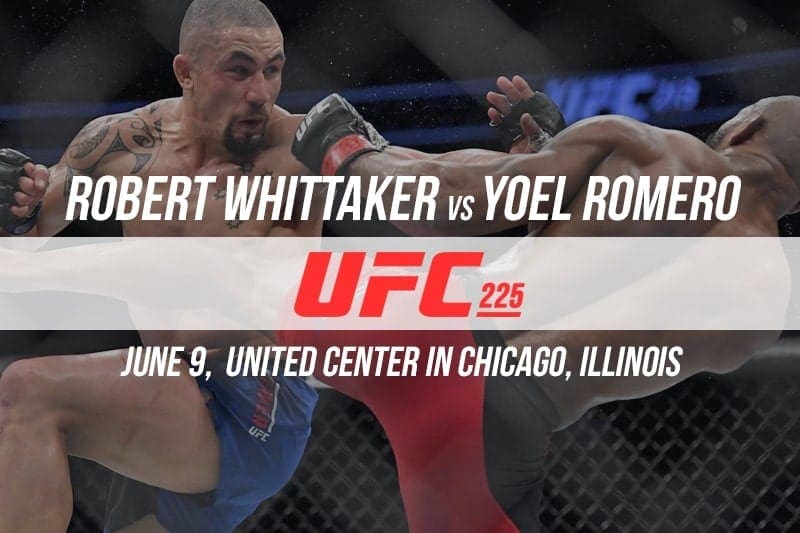 Main card kicks off at 12pm AEST United Centre, Chicago, Sunday, June 10
IT is the rematch to one of the fights of 2017 as Robert Whittaker (19-4-0) faces off against Yoel Romero (13-2-0) at UFC 225 in Chicago this Sunday.
It has been a long journey back to the octagon for Whittaker, who has suffered a number of injuries following his decision win over the Cuban. After suffering knee damage in that fight the Aussie went on to pull a hamstring, get a staph injection and then battle the chicken pox.
Romero has only fought once since their middleweight title bout but his powerful KO victory over former champion Luke Rockhold guaranteed his next fight would again be for the gold.
While most men would re-enter the fray full of confidence, Whittaker said there's not much to take from his decision victory over Romero back in July of last year.
"Some people ask me: Does it give you any confidence knowing that you've already beaten him once? I've got to say 'not really' because he hits like a truck and it only takes one to get you," Whittaker told ESPN.
"He's a human specimen to begin with and he's one of the most athletic, explosive and talented humans on the planet. So every time I step in there with him it's 50/50."
Whittaker said he wants to became an all-time great in the MMA universe.
"I want to be the best fighter ever, there ever was, there ever has been; there ever could be. And the only way I can do that is by fighting everyone and just stopping everyone."
Few could argue a second win over the formidable Romero – who only has two losses to his name – would not solidify Whittaker's legacy as a UFC great.
Whittaker vs Romero – who wins?
It has been almost a year since Whittaker has taken to the octagon, but we still feel he's one of the most well-rounded fighters on the UFC roster.
Time off aside, Whittaker can beat opponents in a multitude of ways and recorded his eighth-straight success when he bested Romero for the title all the way back in July of last year.
While Romero has gone on to win since, we think Rockhold is a shadow of the fighter he once was. Rockhold actually had the better of the Cuban for large portions of that fight and was arguably unlucky to get knocked out.
If Whittaker returns in top shape we find it hard to back against him. The Aussie should make it nine-straight as he successfully defends his middlweight title for the first time ever.
Fight result: Robert Whittaker to win ($1.48 via Sportsbet)
Top multi for UFC 225
Curtis Blaydes to defeat Alister Overeem ($1.58)
We're fans of Overeem, but can anyone truly recover from getting your head almost removed from your body by Francis Ngannou? Blaydes is on a five-fight win streak and recently got the decision victory over Mark Hunt in Australia.
Mike Jackson to defeat CM Punk ($1.43)
No one wants to see CM Punk win a UFC fight more than us, but until he's fighting someone at his skill level he's not going to win. Jackson has been training in the martial arts arena, whereas Punk is a relative newcomer to the sport. Jackson should be too classy for the former WWE Superstar.
Holly Holm to defeat Megan Anderson ($1.43)
Making her UFC debut, Megan Anderson faces a tought task of overcoming one of the best female fighters of all-time in the form of Holly Holm. The former UFC bantamweight champion has had a tough time of it lately, but should be too tough for the former Invicta FC featherweight champion.
Multi value: $3.23 via Sportsbet