Home-grown Whittaker eyes off stardom after Melbourne UFC win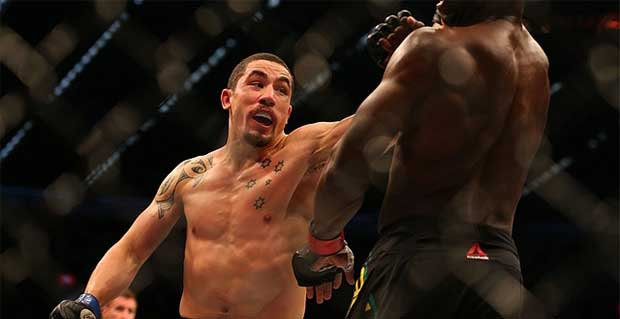 AUSTRALIAN middleweight fighter Robert Whittaker is looking to become the country's first ever UFC champion after upsetting Ultimate Fighter-winner Derek Brunson in the main event in Melbourne on Sunday.
The 25-year-old overcame an opening minute flurry from his American opponent to record an impressive TKO victory.
The fight ended with just 54 seconds remaining in the first round.
The win was Whittaker's six straight win in the UFC and fifth consecutive success since moving to middleweight.
The Aussie – who is currently ranked eighth in the middleweight division – said while he knew his opponent would come out swinging, he had no idea just how intent Brunson was on securing an opening round finish.
"I had a solid game plan and knew he was going to come out tough, but I had no idea he was going to come out that hard," Whittaker said in the aftermath of the win.

"I knew I had to weather the storm, he's a heavy hitter. I tried to duck and weave as much as I could, but I stuck to the game plan, I stuck to my set-up, I ended up breaking out, circling out, and working to his weakness.
"He hits hard, very hard – his other opponents would testify to that – but I hit hard too. I'm just as fast and I'm just as strong and if you come at me with holes in your game, I'm going to take the win."
The Whittaker wins means only Cuban heavy-hitter, Yoel Romero – who has registered eight straight wins – has a better record in the division.
Whittaker said he is ready to take the next step in his career if the UFC is prepared to give him the opportunity.
"I've been in the top 10 for a long while now. I've tried to demonstrate my ability every time I step in here and make an example," Whittaker said.
"I'm ready for those top-five contenders. I'm ready for my shot."
It was a mixed day of results for Australia in the octagon on Sunday.
UFC debutants Alex Volkanovski and Tyson Pedro joined Whittaker on the right side of the ledger alongside Damien Brown and Dan Kelly. However, compatriots Jake Matthews, Rich Walsh and Kyle Noke – who announced his retirement post-loss – all failed to register wins.
Conor McGregor relinquishes UFC Featherweight belt
Conor McGregor's reign as the only dual-weight champion in UFC history has come to a close after charismatic Irishman 'vacated' the featherweight title.
Announced on Sunday via the UFC.com website, the statement read that:
"Interim featherweight titleholder Jose Aldo has now been elevated to undisputed champion, and following these developments, the interim UFC featherweight title will be on the line on Saturday, Dec. 10, as Max Holloway and Anthony Pettis battle for championship gold in the new main event of UFC 206."
It is understood the move was implemented to save the UFC 206 card after it was announced Daniel Cormier will not compete after suffered a torn adductor in training camp which will keep the light heavyweight champion until the beginning of 2017.

The UFC believed the card needed a legitimate title fight to headline the pay per view, which would have effectively been a glorified number one contender match for McGregor's featherweight title.
The McGregor camp has yet to issue a statement.
The decision to strip McGregor of his featherweight belt has further muddied the waters in regards to who the Irishman will face next.
Sportsbet.com.au has decided to open a market on who the lightweight champion will fight in the octagon next, and some surprising candidates are currently in the frame.
A third Nate Diaz fight is the clear cut scenario in the market at the $2.37 quote, while the next best option is Russian wrecking ball Khabib Nurmagomedov, who is at the $2.70 mark.
The man many believe to be the next in line for a lightweight title shot, Tony Ferguson, is at $6.50.
Who Will McGregor fight next?
All odds provided by Sportsbet.com.au
Nate Diaz $2.37
Tyron Woodley $4.33
Tony Ferguson $6.50
Stephen Thompson $8
Georges St Pierre $10
Nick Diaz $10
Jose Aldo $11
Donald Cerrone $18
Max Holloway $18
Floyd Mayweather $21
Frankie Edgar $34
Anthony Pettis $51
Jon Jones $67
Eddie Alvarez $91