Serena Williams costs punters millions after Australian Open exit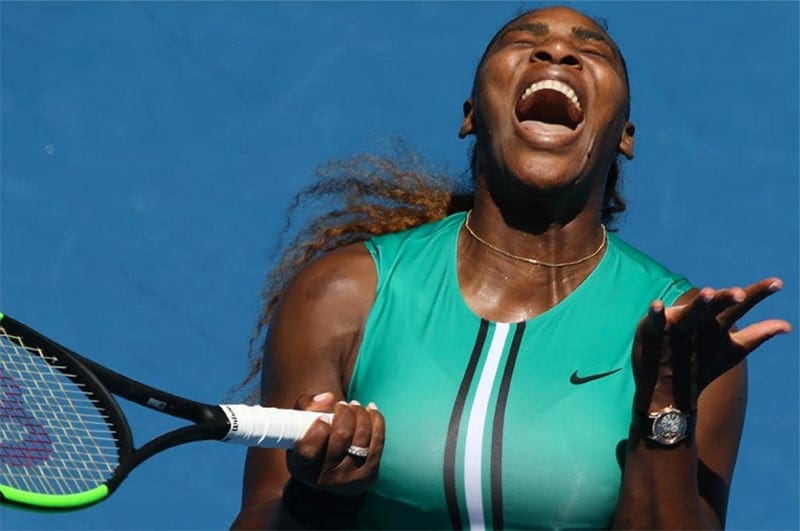 SERENA Williams was bungled out of the Australian Open on Wednesday afternoon, giving bookmakers across the country a nice cash injection.
Facing Czech world number 7, Karolina Pliskova, Williams suffered one of the greatest boil-overs of her storied career in a three-set thriller, losing 4-6, 6-4, 5-7.
Leading 5-1 in the third set, Serena had four match points and blew them all, before watching Pliskova win six consecutive games to record one of the biggest upsets in recent memory.
To correctly emphasise Pliskova's feat, Sportsbet.com.au said the former world number one was as high as $201 in live betting when Serena had her second match point, while the price at Betfair could have been even higher.
There was over $1 million matched on Serena at $1.01 with @Betfair_Aus so Pliskova would have hit 1000-1 at some stage

— bernie the mad cabbie (@themadcabdriver) January 23, 2019
The damage Serena did to punters was felt sharply, especially at the famous betting exchange site in the United Kingdom.
Punters who jumped on Williams to win the Australian Open, win the match against Pliskova and thought the match was a fait accompli and jumped on the live odds, all suffered.
Just under £500,000 was matched on Serena Williams at 1.05 and shorter, with £312,217 at the minimum price before losing to Karolína Plíšková in the third set.#AusOpen

— Betfair Exchange (@BetfairExchange) January 23, 2019
Williams started the match as a $1.30 favourite to win and while her price to win the tournament varied significantly at different bookmakers, she was as short as $2.50 to win a record 24th major prior to the loss.
How did Serena choke the game against Pliskova?
The strangest thing about the loss was it went against Williams character and has been described as the biggest 'choke' of her career.
After dominating the majority of the third set, Williams' troubles began when she was called for a foot fault when serving for her first match point at 5-1.
An unforced error, followed by a slight tumble and rolled ankle let Pliskova survive another match point and escape the game.
Two games later at 5-4, Williams earned another match point and failed again.
Then, at 5-5 and with momentum well and truly in Pliskova's favour, a stunned crowd watch Williams double-faulted twice and surrendered her service game without winning a point.
Pliskova held her final service, completing the huge comeback.
The tale of the game from a gambling point of view was illustrated nicely in the Betfair markets:
Check out the fluctuations on the Betfair Exchange in the #AusOpen. With Serena down a set and a break in the 2nd, she fought back in the third to get to match point. Pliskova then fought back saving 4 match points, down 5-1, to win 7-5! #GWTG pic.twitter.com/SzLgsy7sfg

— Betfair Australia (@Betfair_Aus) January 23, 2019
Williams took the unprecedented step of praising her conquerer following the bout, rather than blaming injury, umpiring or other factors.
"My ankle seems to be fine, I usually don't (how bad it is) know til the next day," Williams said at her post-match press conference.
"She just played lights out. She just played unbelievable.
"I don't think it had anything to do with my ankle. Obviously I made some mistakes.
"She played well on my serve after that point (when she hurt her ankle), she played really good.
"I don't think she gave up at all. She gave it her all at match point. Giving up was not an option for her.
"At that point I'm thinking 'OK win this point'.
"The big picture for me is always winning, I'm not going to lie about that. It hasn't happened yet but I think it's gonna happen. One match at a time and keep soldiering on.
Latest Australian Open betting news & tips
[rm_recent_news tags="Aus Open, Australian Open, tennis" title="" ajax="true"]