Panthers are a 'good influence' on local footy, says Simmons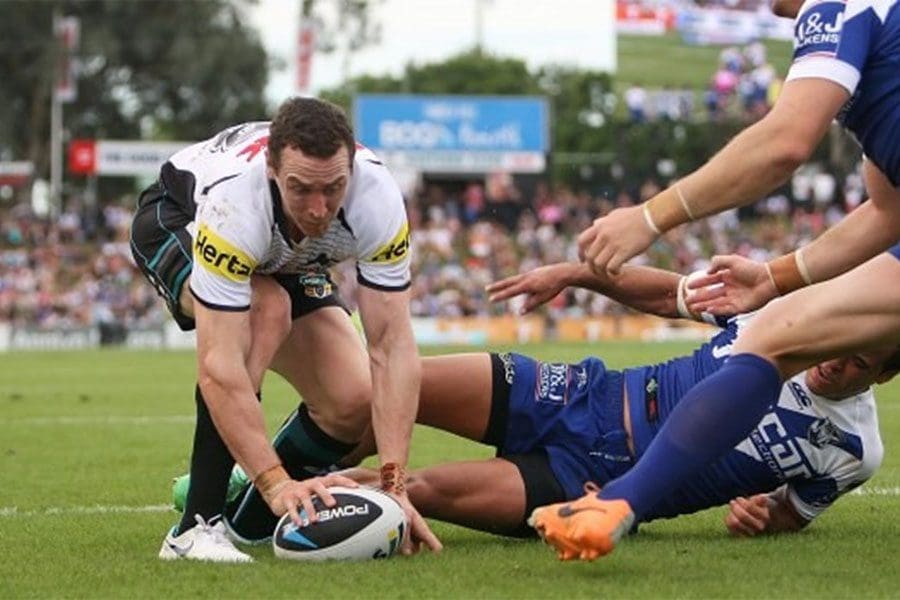 Despite recent headlines about fears of possible gang violence at Penrith District Rugby League games, the good work the Panthers are doing should be celebrated.
That is the message from the club's former star winger and current chaplain, David Simmons, who scored 103 tries across a brilliant 200-game NRL career.
The 37-year-old now works as an Anglican minister at Emu Plains, and he is continually impressed by the Panthers' "brotherhood", which current players always refer to and cherish.
It is also a big reason why they are the reigning premiers and leading this year's competition, with just one defeat ahead of their Round 13 clash against Canterbury at BlueBet Stadium tonight.
Penrith District Rugby League was rocked by headlines that the organisation was on high alert regarding possible "postcode wars" and gang-related violence at its junior matches last month.
It came after Riverstone police called for an under-20s division two game between Londonderry and St Pats to be cancelled on the first weekend of May.
READ: Panthers vs Bulldogs betting tips & same game multi
But Simmons was quick to point out the positive influence his former club was having on the region and the many talented young kids playing the game out west.
"The story is the good influence that the Panthers are having on junior footy in the region," he told BettingSite.com.au.
"There are lot of positive influences coming from the Panthers footy team, particularly the young guys playing first grade at the moment.
"They're fantastic role models for the community."
Simmons said every time he works with Panthers players as the club's chaplain, he is impressed by the team's collective positive attitude.
"I'm their chaplain just trying to support the guys who have faith as part of their lives," he said.
"I'm loving it. It's part of their culture, and the club is really supportive of that.
"It's a really good vibe there at the moment, not just because they're winning.
"They've been working in it (culture) for years, and they're getting the fruits of that now."