Punters declare Cowboys the team to beat in NRL 2018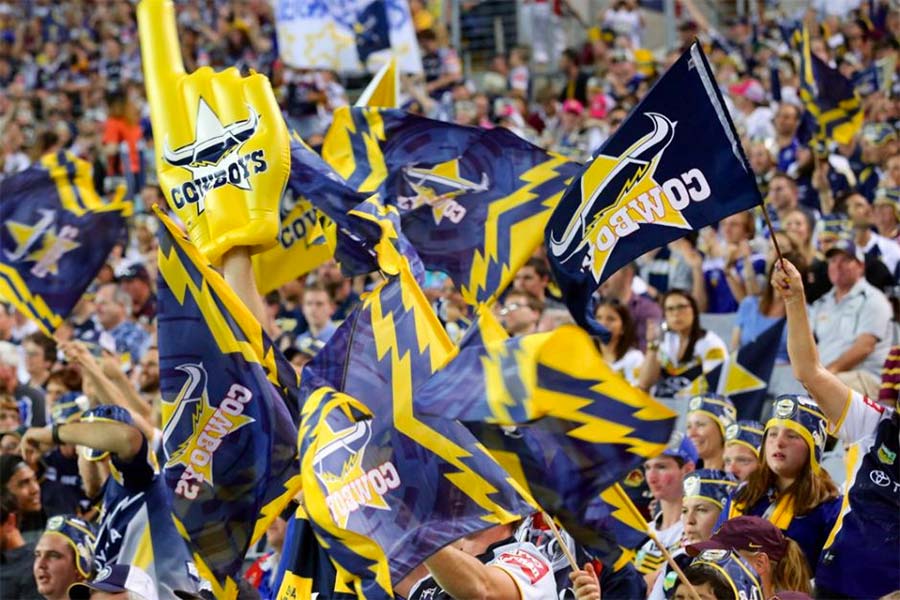 Online bookmaker Sportsbet.com.au has taken some decent-sized bets over the NRL off-season, headlined by a mammoth $35,000 at $7.00 on North Queensland to go one better in 2018.
The Cowboys (now $5.50) are the most popular team to win the NRL Grand Final followed by the Storm, Roosters and Eels.
The Warriors ($7.50) are the best-backed team for the wooden spoon.
One-third of all bets on Top 8 Finish have been on Newcastle ($2.50).
"Punters saw what North Queensland was able to achieve without Thurston and Scott and the Cowboys have been far and away the best backed team in the competition," said Sportsbet's Christian Jantzen.
Big Bets:
$35,000 on Cowboys at $7.00
$10,000 on Roosters at $5.00
$10,000 on Storm at $6.00
$8,000 on Roosters to win Minor Premiership at $4.50
$1,000 on Knights at $34
2018 NRL futures
Grand Final winner
$5.00 Roosters
$5.50 Cowboys
$6.00 Storm
$12 Broncos
$13 Eels
$15 Sharks
$15 Panthers
$15 Dragons
$17 Rabbitohs
$26 Raiders
$26 Sea Eagles
$31 Knights
$34 Bulldogs
$41 Warriors
$67 Titans
$67 Tigers
Least wins
$3.75 Tigers
$4.00 Titans
$6.50 Bulldogs
$7.50 Warriors
$13 Raiders
$13 Knights
$17 Sea Eagles
$17 Rabbitohs
Others quoted
NRL Round 1 odds
Dragons vs. Broncos
$1.80 Dragons
$2.00 Broncos
Knights vs. Sea Eagles
$1.90 Knights
$1.90 Sea Eagles
Cowboys vs. Sharks
$1.50 Cowboys
$2.60 Sharks
Tigers vs. Roosters
$3.50 Tigers
$1.30 Roosters
Rabbitohs vs. Warriors
$1.60 Rabbitohs
$2.35 Warriors
Bulldogs vs. Storm
$3.30 Bulldogs
$1.33 Storm
Panthers vs. Eels
$1.75 Panthers
$2.08 Eels
Titans vs. Raiders
$2.20 Titans
$1.67 Raiders