NRL Round 6 draw, match odds & betting news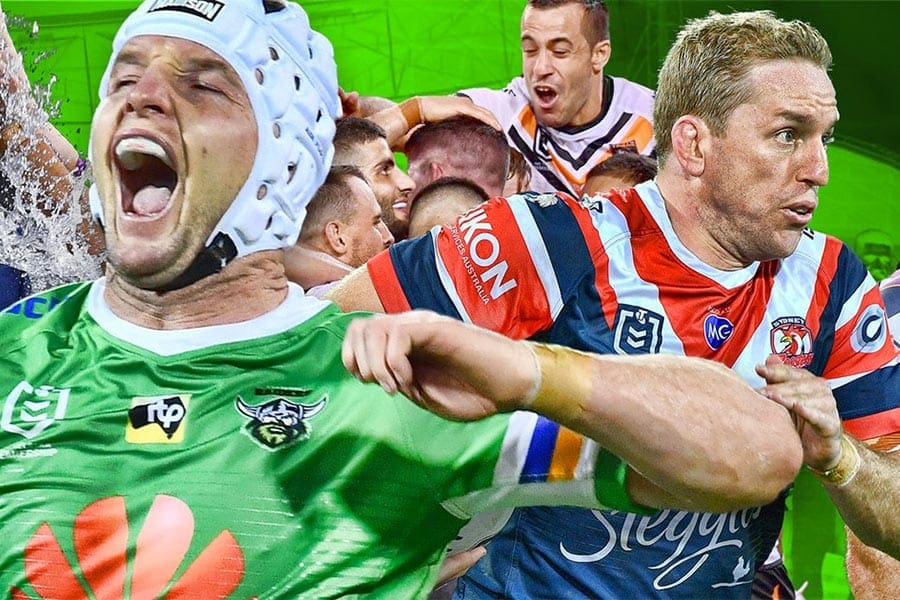 One quarter of the season has passed and the 2020 NRL Premiership ladder is starting to take shape.
While there is still a long way to go before a minor premier is crowned, it has become clear there are seven teams who appear odds-on to play finals footy, four who almost certainly won't and five who are fighting for the last spot in the eight.
Round six could see the Roosters move into the top four pending other results, while the Tigers, Cowboys and could all lay a claim to eighth place.
Let's look ahead to a bumper round six and the latest NRL betting odds on offer at Sportsbet.com.au.
Knights vs Broncos
The Brisbane Broncos will once again travel south to take on Newcastle, who appear every bit a top-four contender.
They'll once again be forced to make changes with Kotoni Staggs due to miss the clash after injuring his hamstring at training. Expect Alex Glenn to move to right centre to fill the gap, while Tevita Pangai Jr will return to the Brisbane pack after a four-game suspension.
The Newcastle Knights are expected to get Lachlan Fitzgibbon back from injury, while Edrick Lee and Kurt Mann will also take their place after picking up minor injuries during their loss to the Storm.
The early money is coming in for Newcastle at the $1.43 price, but Brisbane almost produced an enormous boilover at the same ground as $4.50 underdogs seven days earlier. While they won't be that far out again, you can get $2.85 for the Queenslanders.
Rabbitohs vs Warriors
At the time of writing, the prices for this fixture are identical to those for Thursday's clash.
The South Sydney Rabbitohs are now in the softest part of their schedule and started in fine fashion with a 32-12 win over the Titans last week.
The New Zealand Warriors have won two of their three games since the competition resumption, but their loss was a 26-0 thumping on the road in Sydney.
The early form suggests the Warriors will be able to aim up at their new 'home' ground on the Central Coast, but any away games might be too big of a hurdle for an inexperienced New Zealand team.
Souths comfortably covered the 13+ margin last start and will be expected to do so again at the $2.70 quote, especially if Latrell Mitchell improves on his last outing.
Panthers vs Storm
The same-day travel for provided no headaches for the Melbourne Storm last round and you'd expect them to be a problem for a young Penrith side.
The Panthers looked to be in control for 60 minutes against Parramatta before a horror 10-minute period cost them the game.
Whether you put more weight into a good hour or a shocking few minutes will determine if punters are willing to touch the Penrith Panthers at the $2.86 price.
Considering slippery conditions are often a feature of games at Campbelltown on a cold night, under 35.5 total points is certainly on the cards.
Titans vs Dragons
While the St George Illawarra Dragons were impressive last-start winners, the Titans must be thinking they're a huge chance to get their second win of the season.
Rarely in round six does a game have wooden spoon implications, but this clash at Suncorp Stadium will see the losing team firm even further in the betting for most losses this season.
Recommended!
Gold Coast ($2.80) and St George Illawarra ($3.50) are the leading contenders and should the Dragons fall to the Titans, you could well see those prices flip.
Moving Ben Hunt to play hooker for the final 50-odd minutes freed up the under-pressure million-dollar man, but Matt Dufty will need to produce more of what he showed against the Sharks if the Saints are to get their second win of the season.
Until last week, the Gold Coast Titans were the only team the Dragons had defeated in their previous 14 matches and the $1.57 favouritism shows many expect them to make it three in a row in this matchup.
Tigers vs Cowboys
It shapes as a huge clash for two clubs who will both be desperate to avoid three losses in a row.
While this week's travel schedule is not quite as bad as what the North Queensland Cowboys had to endure to get to Gosford last start, the 2,000km flight and one hour on the bus to Campbelltown gives the home side a big leg-up.
With that in mind, the $1.80 price for the Wests Tigers is fair given their efforts in their last two starts, while the opposition's woes on the road suggest $3 for a 1-12 point win is worth a look.
The Cowboys lacked defensive resolve against a limited Warriors outfit who hung 37 points on them. Given that propensity to leak points, you should feel comfortable taking the overs on the total points line of 38.5 in this clash.
Roosters vs Eels
This could be a legitimate NRL Grand Final quinella and it promises to be the Sydney Roosters' biggest test of 2020.
The back-to-back premiers have made light work of Brisbane and Canterbury, winning by a combined score of 101-6, but the Parramatta Eels represent a huge step up in class.
Those games felt like running against maidens with a 52kg jockey, while this clash will feel more like having a 60kg hoop in a Group 1 with lead weights in the saddle.
Considering the change to the schedule gives the Roosters just a five-day turnaround, the $2.64 head-to-head price for Parramatta at Fortress Bankwest will be hard to ignore.
Raiders vs Sea Eagles
The last meeting between these two teams had everything, including a possible eight-point try, so we can expect a belter on Sunday afternoon.
The Canberra Raiders will take the bus to Campbelltown for the third week in a row, but the venue also presents a significant challenge to their opponents.
The Manly Sea Eagles have only played at the ground twice since 1997, so it's an unfamiliar road trip for a lot of their players.
Canberra ground out a tough eight-point win in their last start to get back on track, while the Sea Eagles bumbled and stumbled against a young Brisbane outfit.
Given Manly have won three of their last four against the Green Machine, you'd have to love the $2.35 head-to-head price.
Sharks vs Bulldogs
Much like the Titans vs Dragons clash on Saturday, this game has big ramifications for the loser.
The Canterbury Bulldogs were completely outmatched by a red-hot Roosters side in round five, but they'd have to fancy their chances this week against a team that's much closer to their level on a man-for-man basis.
The Cronulla Sharks were well beaten by the Dragons last time out, yet they will start as the $1.55 favourites out of nothing but respect for making the finals five seasons in a row.
The Bulldogs at $3.75 for a 1-12 point win is definitely worth considering, especially with Kieran Foran looking closer and closer to his best.
More News

Deprecated: WP_Query was called with an argument that is deprecated since version 3.1.0! caller_get_posts is deprecated. Use ignore_sticky_posts instead. in /home/bettingsite/public_html/wp-includes/functions.php on line 5145

All Recent News