NRL Round 12 Review: Sharks circling, Tigers trip up again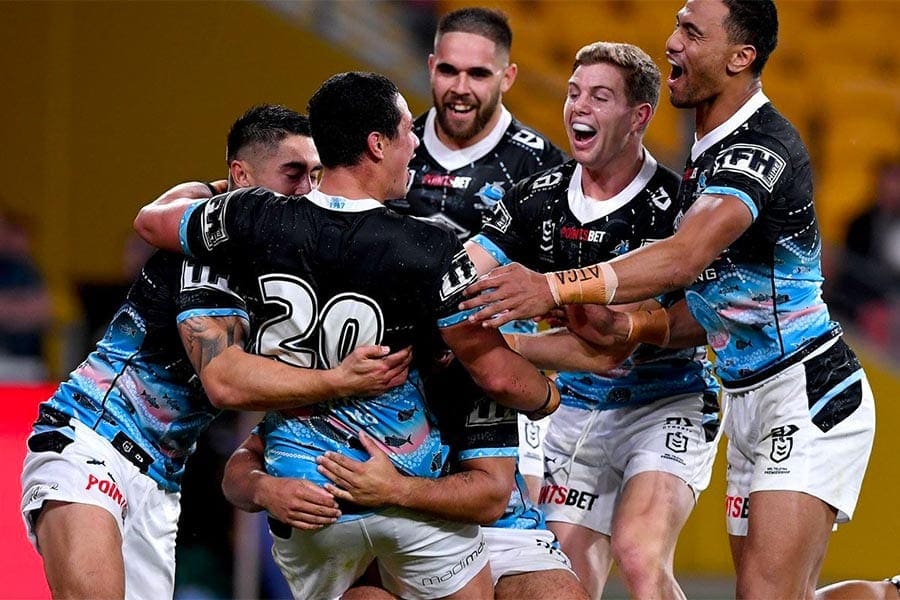 It's been a round to savour for some, while others would much rather be swallowed up by an enormous sinkhole.
The Sea Eagles found themselves in injury turmoil once more, while the Raiders continued their single-digit heart stoppers… oh, and the Broncos found yet another way to lose.
The race for the finals is virtually down to nine teams, but who expected the Sharks to be head of the peloton chasing the top five?
The final eight weeks of the NRL 2020 regular season promise to throw up many surprises, much like round 12 did.
Dragons 24
32 Rabbitohs
This was a seriously fun Thursday night game with points aplenty. The St George Illawarra Dragons desperately needed a win to keep their faint finals hopes alive, and at 16-0 they looked on their way to doing just that. Quite how they were outscored 32-8 for the remainder of the game left many scratching their heads, not least their supporters and coaching staff.
Once the South Sydney Rabbitohs got it back to 16-10, you could feel their confidence grow and it probably ended up being their best performance of the season. Alex Johnston scored a sensational treble to enter the frame for the top tryscorer award, sitting just two behind Sione Katoa.
Unfortunately for our predictions, this contest bucked some key trends. Night footy in Sydney usually means low scoring, but it was the complete opposite with a combined 56 points in an end-to-end belter.
Tigers 20
24 Warriors
When the Wests Tigers inevitably miss the eight for a ninth straight season, it will be games like this they regret. Throw in a loss to the Titans earlier in the year and you can see why their fans were in meltdown post-game.
They weren't just beaten under freak circumstances, they were run off the park from the moment they had a try denied when leading 8-0. The Tigers have done a lot right by hiring Michael Maguire as their coach and dropping big-name players when they felt it was the right call, but for whatever reason, they just cannot get their act together.
Fair play to the New Zealand Warriors, they got the job done despite paying over $5 and being given a 14.5-point start. This clash was another that went completely the opposite way to what many believed it would, but that's the beauty of sport.
Broncos 26
36 Sharks
At 26-18, the Brisbane Broncos actually looked in control of a game for once. Those who took the $2.50 on offer for them in the head-to-head market must have been feeling like they were home and hosed.
And then the Cronulla Sharks scored three tries in nine minutes to win by 10 points, throwing the emotions of plenty of punters into a blender. The Sharkies now are locked firmly into the top eight after a good run of results, and they may look back on this game as absolutely vital if they end up finishing in the eight.
Unfortunately, the first try went to the opposite wing we thought it might. However, the overs at $1.90 always appeared to be easy money.
He has scored first three times this year, but it wasn't to be for Braden Hamlin-Uele on this occasion. That didn't stop him from scoring last, and you can only imagine how much he might have returned. Out there in league land you can guarantee someone had him to score last, there is nothing like a big bopper scoring the final try in the dying minutes.
Roosters 18
12 Titans
A bit like the Sydney Roosters on their last start against the Warriors where we forecasted a flogging, sometimes you get a nice surprise as a fan.
But if you're a fan who threw some cash down on some lopsided lines or 13-plus results for the Roosters, you probably hated this game.
The Gold Coast Titans have found ways to be competitive in recent weeks against some of the top sides in the competition, and this once went right down to the wire again.
These are days where the Chooks are just trying to get to the finals knowing their best is good enough to win the competition again, so their game against the Dragons next week will be interesting. Close games against lesser opposition may be a trend for a few more weeks before they ramp up the intensity.
Cowboys 12
14 Raiders
Josh Hannay has the young North Queensland Cowboys giving 110% and making it hard for their opposition. They lack a bit of polish that only experience can nurture, but last year's runners-up were pushed right to the brink in this clash.
The return of John Bateman was a big success for the Canberra Raiders, as was the debut of Corey Harawira-Naera, but there is now a trend developing. Their last eight games have been decided by single digits, and they've managed to win five of them.
That's an important fact punters should remember in the weeks ahead, even when the Raiders take on the Panthers in round 13.
Sea Eagles 12
14 Panthers
Fair dinkum, what can't Charlie Staines do? Six tries in his first two games and the Penrith Panthers are absolutely flying. This is a team who will be there right at the death, and they are a lot of fun to watch.
We started weighing up Penrith's premiership credentials a few weeks back, and a 40-12 win at Lottoland is another good notch on their belt. The Manly Sea Eagles can't take a trick and have run into more injury concerns, but their attitude just wasn't up to scratch on the night.
Nathan Cleary is also playing the best football of his career, justifying the hype he has generated for many years. If there was Dally M Medal betting still available, he would be attracting plenty of money.
Bulldogs 16
18 Eels
Once their season was over in 2018, the Canterbury Bulldogs won five of their last six games. In 2019 they won seven of their last 10 to cause plenty of teams headaches.
Since parting ways with their coach a few weeks ago, the Dogs have pulled defeat from the jaws of victory against the Dragons, dispatched the Knights in Newcastle and got within a whisker of taking down the Eels. It's absolutely bizarre that it looks to be happening for a third straight year, but rest assured it is going to cause carnage for punters.
Canterbury play the Tigers in a fortnight and Wests fans will be petrified considering their form against lower-ranked opposition. A tip moving forward: keep your lines short, and don't be afraid of taking on lopsided head-to-head prices.
Storm 26
16 Knights
Are the Newcastle Knights going to be able to name 21 players this Tuesday? Their fourth-string hooker Chris Randall was KO'd and may not be able to take the field next week. Their injury list is as long as a summer day, but against Melbourne they showed they have plenty of courage.
At times they take silly options and come up with mistakes at crucial moments, but Newcastle's schedule for the next five weeks lightens up considerably. If they play with the commitment to the cause they showed for long periods on Sunday, their luck may turn.
The Melbourne Storm may be without Cameron Smith for a number of weeks after he suffered a shoulder injury, but it may not matter too much when they have Brandon Smith to fill in at hooker. Punters would have been filthy when Enari Tuala crossed late to bring the margin back under the 13 points, as a big win for the Storm was backed off the map.
More News

Deprecated: WP_Query was called with an argument that is deprecated since version 3.1.0! caller_get_posts is deprecated. Use ignore_sticky_posts instead. in /home/bettingsite/public_html/wp-includes/functions.php on line 5145

All Recent News