NRL Finals 2020 Week 1 odds, betting news & matchups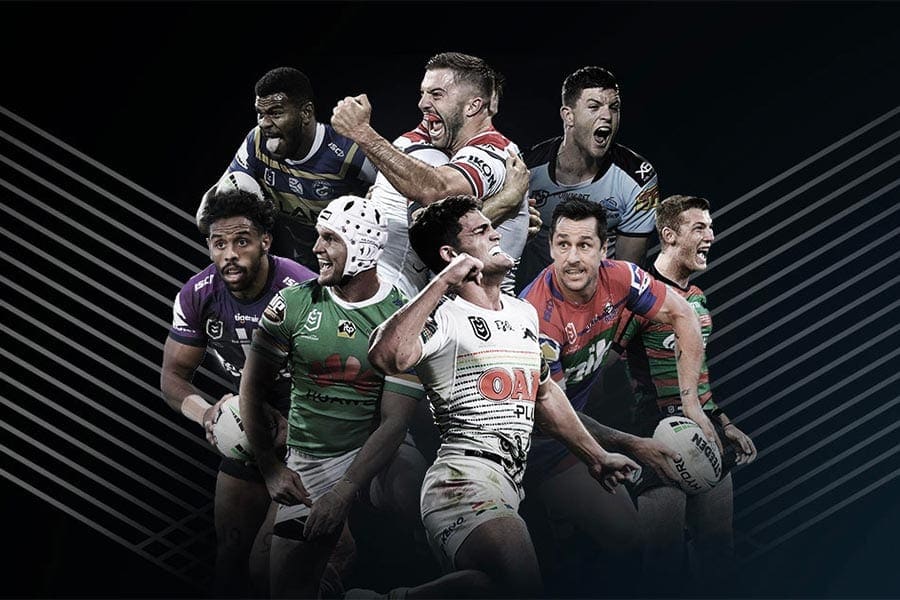 Usually, September is the best time of year for NRL fans, but that's changed this year with a pandemic putting the competition on hold for nine weeks.
October is now the golden month for rugby league, and the best weekend of action for the diehards is always the first week of the NRL finals.
It feels very much as if the competition is down to a three-horse race, although history tells us the Roosters cannot win it.
Let's take a look at the matchups for week one, with odds from Australia's best NRL betting sites.
First Qualifying Final
Penrith Panthers vs Sydney Roosters

NRL Betting Odds and Game Info

NRL betting odds
Panthers $1.77 at BetOnline | Roosters $2.15 at BetOnline
When
Friday, October 2 at 7:50pm AEST
Where
Panthers Stadium – Penrith, New South Wales
Watch live
Nine, Foxtel, Kayo, NRL Live Pass
While no team has every won the NRL Premiership after losing by 50 points during the season, it would be foolish to count out the Sydney Roosters.
Since the McIntyre System was introduced in 2012, the fourth-placed side has beaten the top seed in three out of eight games.
You only have to look back to last season when Canberra defeated Melbourne as the fourth seed with a late try to John Bateman.
In 2014 the Panthers upset the Roosters as a fourth seed with an 80th minute field goal to Jamie Soward, which threw a huge cat amongst the pigeons for the remainder of that series.
In 2015 the Storm won as $3.50 outsiders against the Roosters, so this game is no gimme when it comes to finding a winner.
The average margin in these matchups is four points, with the Roosters' nine-point win in 2018 being the biggest.
If you take the Panthers 1-12 at $2.88 or the Roosters 1-12 at $3.20, you are getting a good price either way.
And if it goes to 13+ points, then it will be the exception and not the rule.
First Elimination Final
Canberra Raiders vs Cronulla Sharks

NRL Betting Odds and Game Info

NRL betting odds
Raiders $1.22 at BetOnline | Sharks $4.70 at BetOnline
When
Saturday, October 3 at 5:40pm AEST
Where
GIO Stadium – Canberra, Australian Capital Territory
Watch live
Nine, Foxtel, Kayo, NRL Live Pass
These two teams last met in a qualifying final in 2016 at the same venue, and it resulted in a famous win to the Cronulla Sharks that propelled them to their maiden premiership in 2016.
The circumstances are much different for both clubs this time around.
Cronulla are the worst finals team in history if you look at one statistic: they've failed to secure a win against any of the other top-eight teams this season.
That embarrassing record includes a 38-28 loss last week to the Canberra Raiders, who rested nine regular starters.
Traditionally, this game has been a fait accompli, with the eighth seed's only win coming in 2017 when the Cowboys knocked out the Sharks in a fairytale run to the NRL Grand Final.
The average margin of victory in these fifth-versus-eighth games is 15.25 points, which was blown out by Parramatta's 58-0 win over Brisbane in 2019.
Before that, this game had alternated between double-digit and single-score margins.
Taking Canberra at -16.5 can get you a better return of $2.30, and all the form suggests the Green Machine will comfortably handle a Cronulla side who= have a weirdly good record in Canberra.
Second Qualifying Final
Melbourne Storm vs Parramatta Eels

NRL Betting Odds and Game Info

NRL betting odds
Storm $1.22 at BetOnline | Eels $4.70 at BetOnline
When
Saturday, October 3 at 7:50pm AEST
Where
Suncorp Stadium – Brisbane, Queensland
Watch live
Nine, Foxtel, Kayo, NRL Live Pass
Now this game is the trickiest margin to pick, but this contest has traditionally favoured the no.2 seed with a 6-2 record.
The average margin is these clashes is 9.25 points, with the latest three resulting in gaps of 24, one and two points, so do your best to try and find any consistency in the margin.
The Melbourne Storm have been the second seed twice. Funnily enough, they won both times before going on to make the NRL Grand Final.
They won the competition in 2012 and lost in the decider to the Roosters in 2018, but a 100% strike rate to make the big dance from second on the ladder is hard to ignore.
Perhaps a few people were aware of this already, as Melbourne are $1.80 just to reach the final two.
Still, their imposing record makes that figure too good to ignore, and people should be leaping all over it.
Second Elimination Final
South Sydney Rabbitohs vs Newcastle Knights

NRL Betting Odds and Game Info

NRL betting odds
Rabbitohs $1.35 at BetOnline | Knights $3.45 at BetOnline
When
Sunday, October 4 at 4:05pm AEST
Where
ANZ Stadium – Sydney, New South Wales
Watch live
Nine, Foxtel, Kayo, NRL Live Pass
The sixth-versus-seventh game is one where the score line tends to get big.
The smallest margin of victory in these clashes in 12 points, occurring twice, so whoever wins is likely to do it in style.
The South Sydney Rabbitohs for a 13+ win will get you a $2.88 price, while the Newcastle Knights are paying $4.50 in that market.
In their last NRL finals appearance in 2013, Newcastle were the seventh seed and won by 16 points over Canterbury at the same ground, so will history repeat itself?
This is also the tightest of the finals matchups head-to-head, with either seed locked on four wins apiece, so it's far from a fait accompli as to who should win this one.
Week one has usually thrown up a result which turns the competition on its head, and a Newcastle win might be what does it this year.