Gilbert 'stunned' by Queensland call-up for Origin III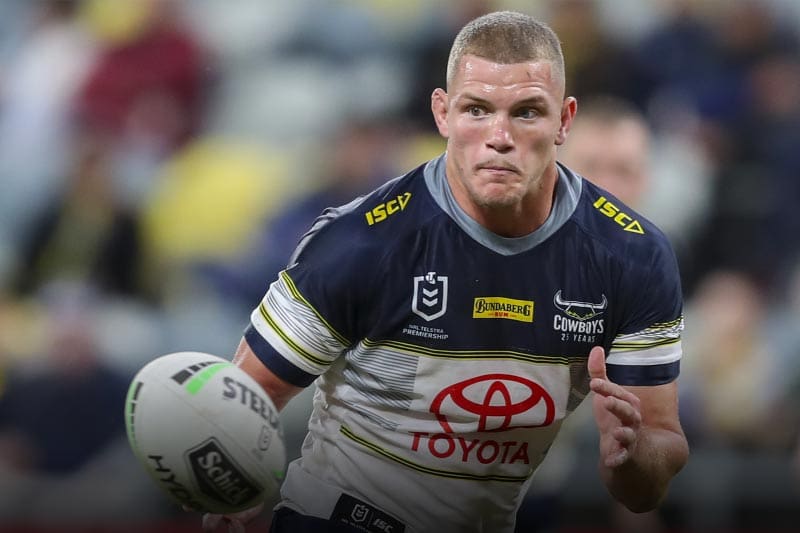 Queensland's newest rookie, Tom Gilbert, began preparing for his State of Origin debut with his twin brother, William, in the lounge room of their Brisbane home several years ago.
But unlike when he pretended to be Darren Lockyer acting out his Origin dream with his bother in front of their parents, next Wednesday night he'll pull on a personalised Maroons No.17 jumper and play in front of a sellout house of 55,000 fans at Suncorp Stadium with millions more watching around the country.
"I am a twin and my brother is my best mate," said Gilbert, recalling his early memories of Origin growing up in Brisbane.
"I just remember Origin nights when we were at school, me and him playing footy in our living room with our Origin jerseys on and getting a bit keen.
"Mum used to always make sure Origin night was a special night for us both.
"For me, Origin was about the long day on Wednesday until the 8pm kickoff, wearing your Maroon jersey to school along with my best mates.
"I'm pretty lucky next week I get to run out onto Suncorp Stadium and play for Queensland and I get the have my brother there for support as always."
The 21-year-old admitted to shedding a few tears when he got the call from Queensland coach Billy Slater breaking the news he had been selected for the series decider.
And the tears continued to flow last night when Slater surprised him by inviting his mum, Julia, and his twin to present him with his first Queensland jumper.
"It's been a huge dream of mine. I wouldn't say it was a goal because, to be honest, I never thought it was quite reachable," he told BettingSite.com.au.
"I always had the desire and dream as a little kid to play for Queensland.
"When I got that call it stunned and shocked me but it was a great moment. I am here now and I am just trying to settle in and get into a routine."
READ: Queensland's most inspirational State of Origin players
Gilbert had a reputation of sometimes allowing aggression to take over his emotions on the field, but he played down any suggestions he would adopt the role of enforcer next week.
"I'm not madman," he laughed when asked about whether he would "rip and tear" in his debut.
"Stepping back from that role this year is probably what has helped me get this role, I think.
"I just do what the team (Cowboys) need from me each week and each week there is a different responsibility for me."
Gilbert said advice from his Queensland hero Johnathan Thurston had helped shape his career and put him on the path to a Queensland jumper.
"JT was a huge hero figure to me growing up," he said.
"JT and my mate Reuben Cotter have helped me get the balance on and off the field."
Thurston led the push for Gilbert's selection for Queensland based on his inside knowledge of his character and passion.
"I was very lucky to get some one-on-one time with Johnathan in the pre-season," the Cowboys forward said.
"I was more on my role in the back-row and things that he and Gavin Cooper would do at the Cowboys to compliment each other."
Gilbert said coming into such a huge game was nerve-wracking but having a few Cowboys teammates helped him settle in quickly.
"Playing such a huge game in front of my family in my home time, it just feels right," he said.
"It was always a dream but I never thought as a kid growing up I'd get the opportunity. Not that I didn't believe in myself, I just thought for me growing up these guys were my heroes and role models.
"If you played rugby league in Queensland you always wanted to wear a Maroons jersey.
"For me, I always aspired to play but it was never a goal I thought was attainable."