BettingSite's All time best cricket team
It's an argument every cricket fan has had at some point in their adult life.
You might be at the pub, or sitting around the dinner table, or catching up with relatives at Christmas. The talk turns to cricket – maybe last night's Twenty20 result, maybe the upcoming Test match.
It starts out as a light, amiable discussion. Everything is swell, you're having fun.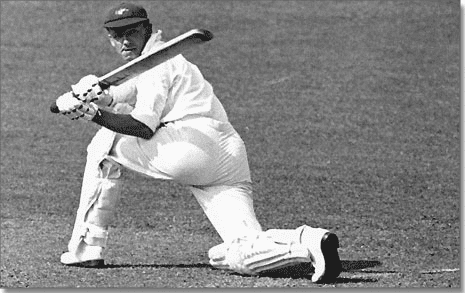 Then someone mentions in passing how so-and-so was one of the best that ever lived. Someone else cites such-and-such's superior record. A third party ventures that you couldn't possibly compare so-and-so with such-and-such, as they played in different eras.
The debate escalates and all hell breaks loose.
Out come the scraps of paper, the betting pencils, the Wikipedia links, the endless reams of statistics and anecdotes, as a bunch of drunk blokes try to answer that age-old question: what is the greatest fantasy cricket team of all time?
One of the major sports publications throws up their 'definitive' best world XI every other year, or a poorly thought-out fan poll where most of India's current ODI squad is voted in.
So, we at BettingSite.com.au thought: why not throw in our two cents?
We've trawled through the archives, compared player against player in every discipline and every position, and come up with what we think is the cream of the crop. Naturally, given the scope of the assignment, there is a predisposition towards Test records, but limited-overs performances certainly count towards the modern-era players in this list.
Here, then, is BS's all-time greatest cricket team. Let us know what you think.
1. Sir Jack Hobbs
Tests: 61
Average: 56.94
100/50: 15/28
High score: 211
With a roll call that includes names like Herbert Sutcliffe, Leonard Hutton, Geoffrey Boycott and Graeme Gooch, it was all but inevitable that one of the opening slots would go to an Englishman. The granddaddy of them all was Jack Hobbs – the one they called 'The Master'.
Renowned as a consummate stylist and a trendsetter in batting technique, Hobbs was one of the first true greats of the game. Who knows what he might have achieved at Test level if World War I hadn't broken out during his prime years? Nevertheless, he was England's main man in an international career spanning some 22 years, and his partnership with Sutcliffe is widely regarded as the greatest there ever was.
But perhaps Hobbs' greatest legacy is his otherworldly longevity in the game. He remains the oldest player to score a Test century (at 46 years of age), played county cricket well into his 50s, and amassed more than 61,000 first-class runs with 199 centuries – a record that will never be bested.
---
2. Sunil Gavaskar
Tests: 125
Average: 51.12
100/50: 34/45
High score: 236*
It is highly appropriate that the career of India's greatest opener was built on firsts. The first man to score 30 Test centuries; the first man to pass 10,000 Test runs; the first Indian outfielder to take 100 Test catches.
For Sunil Gavaskar was a true number one. He faced the first ball of the innings in 186 of his 214 Test knocks and was an absolute rock for India from 1971 to 1987, when that nation had nothing like the depth of talent or the commercial and political influence that it does now.
Sunny's greatest quality was a fierce mindset and all-round technique that allowed him to master foreign conditions in a way very few subcontinental players have ever managed. Nobody played the West Indies' fearsome fast bowling better than Gavaskar, who averaged 70.20 in the Caribbean with seven 100s and four 50s in 13 matches.
---
3. Sir Donald Bradman
Tests: 52
Average: 99.94
100/50: 29/13
High score: 334
Honesty, did you expect anything else? Don Bradman was without doubt the greatest cricketer in the history of the game. Indeed, recent far-reaching statistical analyses suggest 'The Don' may have been the most dominant athlete of the last 100 years in any sport – ahead of names like Pele, Ty Cobb and Michael Jordan.
Bradman's achievements are ingrained in Australian folklore. Everybody knows the story of how the boy from Cootamundra used to practice with a stump and a golf ball; of how England devised the brutal Bodyline tactic specifically to thwart his unparalleled shotmaking skills; and how, needing just four runs to finish with a career batting average of 100, he was out for a duck in his final Test innings.
So while we'd love to consider Ricky Ponting, Viv Richards, Wally Hammond and all the other greats for the number three slot, there is no debate here. As leader of the Invincibles that conquered England in the 1948 Ashes tour, he's also the obvious choice to captain our all-time XI.
---
4. Sachin Tendulkar
Tests: 200
Average: 53.78
100/50: 51/68
High score: 248*
What Jack Hobbs is to first-class cricket, Sachin Tendulkar is to the modern international game. He is the highest all-time runscorer in both Tests (15,921) and One Day Internationals (18,426), and has represented his country a staggering 664 times in all forms of the game.
'The Little Master' is the poster child of India's rise to prominence in the grand scheme of world cricket. He was the best of the best in an era dominated by world-class batsmen, and perhaps the only man who regularly got the better of Australia's almighty bowling duo of Shane Warne and Glenn McGrath.
Nevertheless, it was a tough call between Tendulkar and contemporary greats like Brian Lara and Kumar Sangakkara. We went with Sachin partly because of his superior record in Test matches overseas. He averaged over 46 everywhere except Pakistan and Zimbabwe, with especially impressive figures in Australia (53.20) and England (54.31).
---
5. Jacques Kallis
Tests: 166
Runs: 13,289
100/50: 45/58
Wickets: 292
Jacques Kallis is too often overlooked when people discuss the best batsmen of the 1990s and onwards. Perhaps it's because he is not considered a 'pure' run-maker; perhaps it's because he was often a very patient player, more akin to Rahul Dravid than to the likes of Ponting, Lara and Tendulkar.
Neither of those reasons make any sense to us. Kallis is South Africa's all-time leading runscorer in both the long and short forms, and only one man (Tendulkar) has scored more centuries in Test cricket. He also has over 330 catches to his name and was a fixture in the Proteas' slip cordon for many years.
They say an excellent all-rounder is one who could get a game based on one discipline alone. Kallis starred in both, snaring some 577 international wickets with his accurate medium-fast swing bowling. When he retired from international cricket in 2014, only Shaun Pollock, Makaya Ntini and Allan Donald had taken more overall wickets for the Proteas. If he's not the most complete cricketer of the last 25 years, then who is?
---
6. Sir Garfield Sobers
Tests: 93
Runs: 8032
100/50: 26/30
Wickets: 235
Besides being a phenomenal all-round performer, Garry Sobers was one of the game's great entertainers and set the trend for the crowd-thrilling West Indian sides of the 1970s and '80s. His style and swagger at the crease was like nothing seen before or since, and his ballstriking was second to none – as witnessed in that famous county game at Glamorgan when he hit six consecutive sixes.
With the ball, there was never a player more versatile than Sobers. Having started out for the Windies as a fast opening bowler, the Barbadian also switched between wrist spin and orthodox finger spin on a regular basis throughout his career. His extraordinary athletic ability was evident around the ground as well, where he excelled at close catching and out-fielding alike.
So, in summary: Sir Garfield averaged just under 58 with the bat, held the world-record Test score (365*) for nearly 40 years, took 235 wickets bowling every imaginable style and was a freak in the field. Only Bradman is a surer pick than his guy, and some would even switch the order.
---
7. Adam Gilchrist
Tests: 96
Average: 47.60
100/50: 17/26
Catches/stumpings: 379/37
This is probably the most contentious spot on the list. Do you go with the best specialist wicketkeeper, or with the best all-round player who wore the gloves?
In our eyes, there is no contest. Adam Gilchrist was not only a highly competent glovesman, but one of the most brutal left-hand hitters ever to play the game. Coming in at seven, he was the X-factor in that great Australian Test side around the turn of the millennium, often making Ashes fixtures his own, while his opening partnerships with Mark Waugh and Matthew Hayden in ODIs were integral in the Aussies' three consecutive Cricket World Cup victories.
The likes of Alan Knott and Ian Healy may have been more technically adept behind the stumps, but Gilchrist was never a liability as a wicketkeeper. Indeed, his reach and athleticism made him a wonderful catcher to fast bowling, while his 92 international stumpings are testament to the solid service he provided Shane Warne and Stuart MacGill.
He's the greatest number seven ever to play the game – without exception.
---
8. Malcolm Marshall
Tests: 81
Wickets: 376
Average: 20.94
Strike rate: 46.7
He may not have had the physical presence of Joel Garner, the raw speed of Michael Holding, or the sheer menace of Curtly Ambrose, but the late Malcolm Marshall was probably the best of the great West Indian fast bowlers of yore – if not the very best of all fast bowlers, ever.
Marshall was fairly short, lightly built and bowled with an unconventional front-on action. But what he lacked in physique and classical technique, the Bridgetown native made up for with a quick arm, the ability to move the ball both ways, and one of the sharpest minds going around. His skiddy delivery style set the standard for modern quicks like Dale Steyn and made his bouncer one of the most dangerous in all of cricket.
Most of all, Marshall took wickets at an alarming rate. His strike rate of 46.7 is bettered by only two bowlers who have played more than 50 Test matches (Steyn and Waqar Younis), and at a far tighter economy rate than both.
---
9. Wasim Akram
Tests: 104
Wickets: 414
Average: 23.62
Strike rate: 54.6
Among all the Pakistani quicks of the '80s and '90s, Wasim Akram tormented batsmen more consistently and cruelly than any other. Watch any highlight reel of his performances in Australia over the years, and it's no wonder he is generally considered the best left-arm bowler of all time.
What separated Akram from the pack was his ability to move the ball both ways – and we don't just mean following up an outswinger with an inswinger. The Lahore native was such a master of reverse swing that he could make the ball move through the air one way and then the other, all in a single delivery. His late-swinging yorker was all but unplayable, even by the world's best bats.
Akram amassed more than 900 international wickets (414 in Tests, 502 in ODIs) and was one of Pakistan's most loyal and dedicated servants despite constant political turmoil throughout his 19-year career. He was also a very capable batsman down the order, with three Test centuries and a high score of 257 not out.
---
10. Shane Warne
Tests: 145
Wickets: 708
Average: 25.41
Strike rate: 57.1
Some say he was the best spinner of his generation. A few even say he's the greatest player of all time. Others say he was neither and we should've picked Muttiah Muralithuran instead, and also that he was a bit of a douche. But whatever you think of Shane Warne, you cannot deny that there's never been a player quite like him.
For all his controversies and shenanigans off the pitch, the St Kilda boy was a straight-up match winner when you put the ball in his hand. Watching him bowl was a rare treat that statistics and raw data can't even come close to describing. He made the most difficult of all cricket's crafts look like child's play, toying with batsmen as he dropped flippers, zooters and the odd goggly in amongst his perfectly honed leg breaks.
But the genius of 'Warney' wasn't in his pure skill; it was in his thought process and his execution of a plan. Nobody could outsmart an opponent more completely than Warne could. He was the best player in one of the best teams that has ever existed, and there can be no higher praise than that. Just quietly, Warnie, also filled up our pockets at the top online bookmakers more than once.
---
11. Glenn McGrath
Tests: 124
Wickets: 563
Average: 21.64
Strike rate: 51.9
He didn't have express pace. He didn't swing it much, either, and only got a little bit of movement off the surface. But what Glenn McGrath did was take wickets for Australia – 944 of them, all up.
The fast bowler's mantra of 'line and length' was bread and butter for the lanky New South Welshman. He was metronomic with his accuracy and consistency, so much so that batsmen would get out playing streaky shots just to break the monotony. Subtle changes and natural variation were his biggest weapons, along with a razor-sharp bouncer that always forced a reaction.
Besides being one of only two fast bowlers to pass 500 Test wickets, McGrath is also one of the most accomplished seamers in limited-overs history. He was especially prolific at the ICC Cricket World Cup, where he still holds the tournament record for most total wickets (71).
---
12th man: Imran Khan
Tests: 88
Wickets: 362
Runs: 3807
100/50: 6/18
This is just about the hardest spot to fill on the entire team. There are so many candidates, but only one position available. We've gone with Imran Khan – an all-round gun who led the Pakistani bowling attack for many years and matured into an extremely reliable middle-order batsman, averaging over 50 in the back half of his career.
Best world cricket XI of all time
Sir Jack Hobbs (England)
Sunil Gavaskar (India)
Sir Donald Bradman (Australia)
Sachin Tendulkar (India)
Jacques Kallis (South Africa)
Sir Garfield Sobers (West Indies)
Adam Gilchrist (Australia)
Malcolm Marshall (West Indies)
Wasim Akram (Pakistan)
Shane Warne (Australia)
Glenn McGrath (Australia)

12th man: Imran Khan (Pakistan)