Committee inquiry into online poker opens thanks to Senator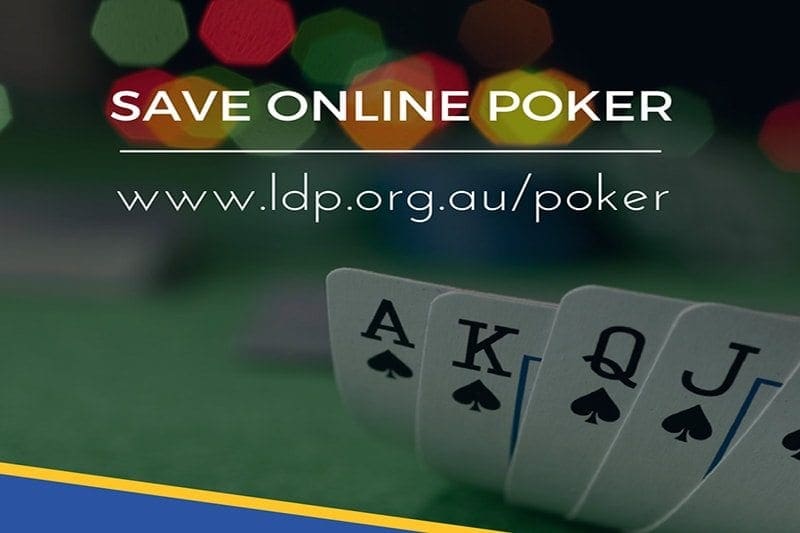 ONLINE poker may have a fighting chance thanks to a new committee inquiry brought forward by a Senator who understands the skill-based nature of the game.
Senator David Leyonhjelm has been fighting for online poker ever since a new bill was introduced in Australian parliament last year which will make it a prohibited activity.
After a failed attempt at getting online poker excluded from the Interactive Gambling Amendment (IGA) bill 2016, Leyonhjelm asked Australian players if there was enough support for a committee inquiry.
In a post on his Facebook wall yesterday, Leyonhjelm revealed he has been successful in gaining an inquiry into online poker.
"This inquiry will help shed light on the stupid restrictions the government has placed on the online poker community," he said on the social media platform.
"I encourage all of you who are concerned about online poker restrictions to make a submission.
"When there is a Senate link for submissions we will post it."
Once there is a link, poker players and interested parties can make a submission in support of online poker.
"We need to hear from Australian poker players," Leyonhjelm told PokerNews in April.
"And, it's useful to hear from poker players in other countries.
"Explain that what Australia is doing is out of step with what other countries are doing.
"It helps for Australian politicians to hear that what they're doing is different from the rest of the world."
Online gambling in Australia has been threatened for some time now with the IGA bill 2016 making its way through parliament.
The bill was first introduced last year by Minister of Human Services, Alan Tudge, who said the Interactive Gambling Act 2001 made online gambling illegal but players had found ways around it.
His opinion was based on the Review of Illegal Offshore Wagering by former NSW premier, Barry O'Farrell. The review revealed Australians could legally gamble at offshore online gaming sites under the current law.
The review also recommended closing the loopholes which allowed online gamblers to access sites located in advanced gambling jurisdictions where the pastime is regulated – such as the UK.
The House of Representatives debated the new bill, with a few MPs noting the ineffectiveness of the amendments. Still, it was approved and sent to the Senate.
While the Senate debate was gearing up, the Senator who represents the Liberal Democratic Party made his position clear. In a short video posted to his Facebook page, Leyonhjlem explained online poker and blackjack would be illegal for Australians to partake in if the bill passed.
He said, "there are many Australians who love nothing better than to play a game they love on their computer after a hard day at work."
"Unfortunately the nanny state thinks it knows better and it wants to apply a near blanket ban on many of the websites that Aussies frequent," he added.
But the best part of his video, which earned him the right to lead the battle to save online poker was to "screw the government, get yourself a VPN."
A VPN (Virtual Private Network) is a tool which disguises your location and allows players from all over the world, who live in jurisdictions where Internet gambling is illegal, to play online poker and other gambling games.
Leyonhjlem gave this advice as an alternative if his secondary amendments to the IGA bill 2016 did not pass. These amendments would have prevented online poker and online blackjack from being banned.
While some may believe the inclusion of online blackjack was the downfall of the secondary amendment, Australia Online Poker Alliance (AOPA) creator Joseph Del Duca revealed many politicians did not even know poker was a skill-based game. He visited a number of MPs before the bill was read by the Senate and it was clear they knew very little about what poker entailed.
What he did find was the legislators in charge of the game's fate did not know about the social aspect which comes with the game – online sites offer a chat box where you can talk to players all around the world.
They also did not know the game was not about the money, but about the skills acquired and the entertainment generated.
Many online poker players from around Australia expressed their disappointment when Leyonhjelm's secondary amendments were thrown out, including Del Duca.
But the Senator prevailed and announced he would continue to fight for its survival.
The bill passed the Senate with other secondary amendments and is now awaiting approval by the House of Representatives.
While it has been delayed many operators have opted to exit the Australian market including a number of popular poker operators such as 888Poker and Full Tilt.
One of the world's biggest poker sites, PokerStars, has continued to accept Australians. The site has a huge following in Australia and has allowed many Aussies to gain a new hobby or polish their skills.
Unfortunately, the online operator has disclosed to its customers Down Under it will be withdrawing from the market when the new legislation is enforced. If it remained it would not only face consequences from the new laws enacted, such as the directors being placed on a movement alert list – preventing them from ever doing business in Australia –, but the operator could even suffer in other jurisdictions and have its local licenses revoked.
While the process will be lengthy – speeches will be made, the government will need to debate, etc. –, the inquiry may just save online poker in Australia.