There are many basketball betting sites legally licensed to operate and willing to accept Australian customers. The best basketball betting sites for Australians are licensed by state governments and cover various leagues — like the NBA, NBL and Euro comps — extensively.
Basketball betting and particularly the NBA has exploded in popularity in Australia in the last 20 years, with Chicago Bull and Aussie Luc Longley leading the way all those years ago alongside Michael Jordan. More recently players like Andrew Bogut, Matthew Dellavedova and Ben Simmons have carried on Australia's presence in the NBA.
This basketball betting guide will give you a run down of the best online bookmakers for Australians and give you an overview of the basketball and wagering landscapes down under.

This is my table
---
Top basketball betting sites 2023
Australians are spoilt for choice when it comes to betting on basketball online, with upwards of 15 online bookmakers licensed to take bets. The best basketball betting sites will depend on what competition you are looking lay your money down on. For instance, all of the bookies in Australia will cover the NBA extensively, but some of the overseas-based betting sites won't have as many markets for our domestic competitions.
Our top online betting sites for basketball are:
---
Top basketball betting apps
Australians are spoilt for choice with most basketball bookmakers having betting apps available, for both Android and iOS smartphones. The top basketball betting apps offer wagering on professional and college basketball from all over the world. Obviously the NBA gets huge prominence on these basketball betting apps. You can use the following links to download the appropriate basketball betting app or access bookmakers mobile website.
---
Basketball betting introduction
One of the more popular sports in the world, basketball has representation in many countries. With the FIBA World Cup, Olympic Games and the ubiquitous NBA, basketball is as far reaching as just about any other sport besides soccer.
Few sporting competitions boast the worldwide appeal of the NBA. North America's premier basketball competition is without peer, drawing the best players from all over the globe. Kobe Bryant, LeBron James, Michael Jordan – these are household names everywhere, and they all made their mark in the NBA.
During the NBA regular season, games often run every day of the week. Because of this, NBA betting is fast becoming one of the most popular gambling options at Australian bookmakers. Punters can bet on as many as 10 NBA games per day, while it is hard to top the range of markets and specials on offer.
Australia's NBL has produced many global stars of basketball, with pioneers like Andrew Gaze and Shane Heal inspiring young talent like Dante Exum, Andrew Bogut and Ben Simmons.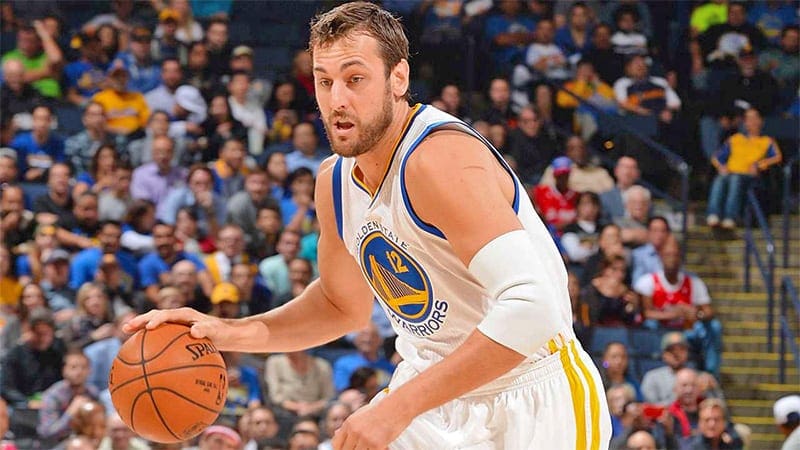 ---
Types of basketball bets
Aside from the typical head-to-head and line betting markets, the NBA and other leagues offer a plethora of options for those punters looking to make exotic investments on basketball.
Title winner, conference champion and MVP betting are some of the long-range bets you can make, but if you are after a short-term, game-time type of bet, online bookmakers offer daily top-scorer bets which pit up to six players against one another from different games to see who ends the day with the highest score.
Some bookies offer daily powerbets, which usually include a player reaching a certain stat milestone coupled with their team winning. The bookie will offer enhanced odds if the outcome of the designated bet is successful.
Various awards and events will also have specific markets with almost every basketball bookmaker. Besides the MVP market, popular futures markets for the NBA include Defensive Player of the Year, Rookie of the Year, Sixth Man of the Year, Finals MVP and many more.
The NBA All-Star Weekend has grown into a popular betting extravaganza in its own right. You can bet on the USA vs World rookie game, Skills Challenge, Three-Point Contest, Slam Dunk Contest and, of course, the NBA All-Star Game, where you may find hundreds of specific bets and markets for every participating player.
Even the offseason brings some interesting basketball betting opportunities. The obvious example is the NBA Draft, where you can place a wager on which upcoming young talent will be drafted to what team and with which pick.
---
List of basketball leagues
Most Australians are familiar with the NBA and the NBL, but we have plenty of other competitions that will have odds provided on them by respected online bookmakers. This means we can wager every day of the year on the various competitions around the world.
| | |
| --- | --- |
| Argentina | Liga Nacional de Basquet (LNB) |
| Australia | National Basketball League (NBL) |
| Austria | Osterreichische Basketball Bundesliga (OBL) |
| Belarus | Belarusian Premier League (BPL) |
| Belgium | Basketball League Belgium or Ethias League |
| Bosnia and Herzegovina | Premijer Liga BiH or Basketball Championship of Bosnia and Herzegovina |
| Brazil | Nova Basquete Brasil  (NBB) |
| Bulgaria | National Basketball League |
| China | Chinese Basketball Association (CBA) |
| Chinese Taipei | Super Basketball League (SBL) |
| Canada | National Basketball League of Canada (NBL Canada) |
| Czech Republic | National Basketball League or Narodni Basketbalova Liga |
| Chile | Division Mayor del Basquetbol de Chileno (DIMAYOR) |
| Chile | Liga Nacional Movistar |
| Croatia | A-1 Liga |
| Cyprus | Cypriot Basketball First Division A |
| Colombia | Baloncesto Profesional Colombiano or Copa Invitacional FCB |
| Denmark | Danish Basketball League or Basketligaen |
| Dominican Republic | Liga Nacional de Baloncesto |
| Estonia | G4S Korvpalli Meistriliiga |
| Finland | Korisliiga |
| France | Ligue Nationale de Basketball Pro A |
| Germany | Basketball Bundesliga (BBL) |
| Greece | Greek Basket League (GBL) |
| Hungary | Nemzeti Bajnoksag I/A |
| Indonesia | National Basketball League |
| Iran | Iranian Basketball Super League |
| Ireland | Superleague |
| Israel | Ligat HaAl |
| Italy | Lega Basket Serie A |
| Japan | bj league, Japan Basketball League (JBL) |
| Kazakhstan | Kazakh National League |
| Lebanon | BANKMED FLB League |
| Latvia | Latvijas Basketbola Liga |
| Lithuania | Lietuvos Krepsinio lyga |
| Malaysia | National Basketball League |
| Montenegro | The Opportunity Liga |
| Mexico | Liga Nacional de Baloncesto Profesional (LNBP) |
| New Zealand | National Basketball League |
| Netherlands | Dutch Basketball League |
| Norway | BLNO |
| Poland | Tauron Basket Liga or Polska Liga Koszykowki |
| Portugal | Liga Portuguesa de Basquetebol |
| Paraguay | Paraguayan Metropolitan Basketball League |
| Puerto Rico | Baloncesto Superior Nacional (BSN) |
| Philippine | Philippine Basketball Association |
| Romania | Divizia A |
| Russia | Professional Basketball League |
| Saudi Arabia | Saudi Premier League |
| South Korea | Korean Basketball League |
| Slovenia | Slovak Extraliga |
| Slovakia | Premier A Slovenian Basketball League or A Slovenska Kosarkarska Liga |
| Serbia | Kosarkaska liga Srbija, Serbian First League |
| Spain | Liga ACB or Liga Endesa |
| Switzerland | Ligue Nationale de Basketball A |
| Sweden | Swedish Basketball League or Ligan |
| Turkey | Turkish Basketball League |
| Ukraine | Ukrainian Basketball Superleague |
| United Kingdom | British Basketball League |
| United States | National Basketball Association (NBA) |
| Uruguay | Liga Uruguaya de Basketball (LUB) |
| Venezuela | Liga Profesional de Baloncesto (LPB) |
---
NBL – Australia's best professional basketball league
The National Basketball League has been Australia's premier professional basketball competition since its inception in 1979.
The competition has experienced its highs and lows in terms of popularity, but certainly reached its peak in the 80's and 90's before a quiet period in the 2000's. A revitalised NBL has made its way back into the national spotlight for all the right reasons since 2014, attracting international talent, nurturing local stars and gaining lucrative television and media deals.
Australia's interest in basketball has coincided with a number of local stars making the grade overseas. Meanwhile, the NBL has benefitted from the arrival of some serious talent from abroad. A number of NBA draft prospects – including Terrance Ferguson and LaMelo Ball – have opted to play pro basketball in Australia instead of taking the typical college route.
The competition runs from October to March and features eight teams spread throughout Australia:
Adelaide 36ers
Brisbane Bullets
Cairns Taipans
Illawarra Hawks
Melbourne United
New Zealand Breakers
Perth Wildcats
South East Melbourne Phoenix
Sydney Kings
The Sydney Kings won the 2022-23 championship against the New Zealand Breakers, with Derrick Walton winning the NBL MVP.
---
WNBL – Australia's premier women's competition
The Australian Opals – our national women's team – put the WNBL on the map with a string of massive performances at events like the World Championships and the Olympics, where we have often been bridesmaids to the USA.
Some of the greatest Australian female players to appear in the WNBL include Lauren Jackson, who recently retired after a decorated international career; Liz Cambage, who was the no.1 draft pick in the WNBA; and Michelle Timms, who is still a prominent figure in the Australian basketball scene.
The WNBL competition runs from October through to March the following year and features eight teams from right across Australia.
Adelaide Lightning
Bendigo Spirit
Melbourne Boomers
Perth Lynx
Southside Flyers
Sydney Uni
Townsville Fire
UC Capitals
The Melbourne Boomers ran away with the 2021-22 WNBL title, defeating the Perth Lynx 2-1 in the finals series. USA star Lindsay Allen was the standout for the Boomers, winning the league MVP award.
Recommended!
---
Funding a basketball betting account
Most basketball betting sites will have multiple options for you to deposit your money, with these including everything from credit and debit cards through to web wallets. Unfortunately Australians have no legal options if they want to bet on basketball with cryptocurrency.
---
Live betting on basketball
Due to restrictions on live betting in Australia, customers are unable to bet on basketball via their PC, tablet or phone once a match has commenced. However, options still exist for those wanting to place a live bet. All major online bookmakers have the option to call in and place a live bet.
A great example of this is Neds which accepts bets over the phone 24/7. Betting on an in-play or underway event via Neds is a simple process. Visit their website and sign up. You can then click on the "live" tab which will display all the markets they have on events that are underway. You pick your markets and call Neds to place your bets, using your account info to identify yourself.
The process we are describing is similar at all of the bigger corporate basketball betting sites.
---
How to watch basketball live in Australia
With Australians mad about the NBA and NBL pay-tv provider Foxtel holds the TV rights, plus one free-to-air game of NBL is shown each week across Australia.
Other options to watch various basketball leagues include league passes and streaming services which you can read about here.
Another great option to watch and bet on NBA in Australia is via Bet365, which has extensive streaming coverage of the USA's biggest basketball competition.
Recommended!