Best Australian starting 5 in basketball of all time
THE green and gold is making a real impact on the world's biggest basketball stage.
Guys like Andrew Bogut, Patrick Mills and Matthew Dellavedova have been making their mark in NBA jerseys, shining a spotlight on Australia.
The mainstream news likes to call Kyrie Irving one of our own and it is a fact that he was born Down Under to American parents, but, in reality, he is American through and through and has pledged allegiance to the stars and stripes, so we are leaving him off this list.
Six Australians played in an NBA game in 2015/16, with Brock Motum and Cameron Bairstow recently spending time on NBA rosters.
With that in mind, we have taken a look at those Aussies who deserve to be recognised as the best and come up with a starting five that would be a match for any Australian team.

This is my table
---
Centre: Andrew Bogut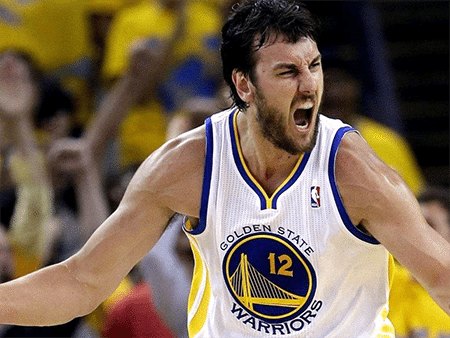 Position:
Centre
Drafted:
Round 1, pick #1, 2005, Milwaukee Bucks
Currently plays with:
Golden State Warriors
NBA accolades:
All-NBA Third Team (2010), NBA All-Rookie First Team (2006), NBA blocks leader (2011)
Still the best player Australia has ever produced, currently playing on the best team in the NBA. The big fella began his career as a high scoring double-double machine as the first Australian to go number one in the NBA draft. A sickening injury cruelled his career but, while it took him some time to get going, a trade to the Golden State Warriors to team up with dual NBA MVP Steph Curry has him on the verge of anchoring the middle in back to back NBA titles.
Other candidates:
Luc Longley, Chris Anstey, Mark Bradtke
It all started with Luc Longley and his remarkable three-peat, riding on the coat tails of Michael Jordan, Scottie Pippen and company during the Chicago Bulls' golden run in the 1990s. He is certainly the trailblazer, but it is impossible to put him ahead of Bogut. Both Bradtke and Anstey spent time in NBA jerseys, but their impact was minimal at best.
---
Power forward: David Andersen
Position:
Power Forward
Drafted:
Round 2, pick #37, 2002, Atlanta Hawks
At times, Andersen has been the best Boomer. While his career is now starting to fade, Andersen was a formidable scorer in the green and gold and spent two years in the NBA with Houston, Toronto and New Orleans. Something of a stretch four with solid range and a deft touch, Andersen has always turned out for the Boomers and been a leader for the Aussies.
Other candidates:
Aaron Baynes, Andrew Vlahoff, Tony Ronaldson
Baynes is the heir apparent to Andersen. An athletic, rebounding defensive beast, he will hold down the starting role in Rio and, with his performances in Detroit, he is set to surpass the big champion. Ronaldson is best known for "That Shot" at the 1996 Olympics where he drained a trey and completed the subsequent four point play that put the Aussies ahead against Croatia, giving them a famous victory. Most of his success came at home, where he is also the winningest player in NBL history. Vlahoff was an immovable object who wasn't quite there at international level, but did great things with the Perth Wildcats in the NBL.
---
Small forward: Joe Ingles
Position:
Swing man
Drafted:
Undrafted
Currently plays with:
Utah Jazz
Kicked off his NBA career by being picked up by the Los Angeles Clippers, without playing a game, but made a name for himself as one of the most popular members of the Utah Jazz. He is a do it all player for the Boomers, but has become an intangibles man for the Jazz, starting 32 games in his first season after they suffered a raft of injuries. Has played 79 and 81 games in his first two seasons in the league and has no doubt become the strongest swingman Australia has produced.
Other candidates:
Ben Simmons, Sam Mackinnon
Ben Simmons, in all honesty, is probably going to turn out to be the best baller Australia has ever produced. He absolutely dominated the college scene and he is projected to be the number one draft pick in the NBA in 2016. But, for the benefit of this list, we're going to reserve judgement until he is balling on the biggest stage. Slammin' Sam Mackinnon was every Aussie kid's poster boy. The kid had serious hops and shot to prominence for his ridiculous dunks for the South East Melbourne Magic. One of the Boomers' leaders, he couldn't quite make the next step to the NBA.
Recommended!
Shooting guard: Andrew Gaze
We won't listen to arguments here. Andrew Gaze might be the best scorer Australia has ever produced. The Larry Bird of Aussie ball possessed limited athleticism, but serious basketball fundamentals and that is what made him a success. An absolute deadeye from down town, his name is synonymous with the Melbourne Tigers in the NBL, but only hardcore basketball fans know that he actually owns an NBA championship ring with the San Antonio Spurs. Australia's most loved basketball figure still has not been topped at the shooting guard position.
Other candidates:
You don't mess with the Down Under GOAT.
---
Point guard: Matthew Dellavedova or Patty Mills
Matthew Dellavedova

Position:
Point Guard
Drafted:
Undrafted
Currently plays with:
Cleveland Cavaliers

Patty Mills

Position:
Point guard
Drafted:
Round 2, pick #55, Portland Trailblazers
Currently plays with:
San Antonio Spurs.
NBA accolades:
NBA Championship (2014)
How do you split these two jets?
Both men have become difference makers for their respective clubs.
Mills, initially criticised by legendary San Antonio Spurs coach Gregg Popovic, has become a spark plug in an NBA champion team and has gradually taken on more and more minutes. He is something of a one trick pony in the NBA, but, for the Boomers, he is where it starts and ends. They need him to fire if they are going to win a medal.
Like Mills, Dellavedova has had to work hard for everything he has achieved. Went within a game of winning a title as a member of the banged up Cleveland Cavaliers, where he would have been a starter if not for Irving. Has the title of the NBA's dirtiest player and that sits well with him. He and Mills will probably start in the Boomers' back court and this pair are the key men in their medal hopes in Rio.
Other candidates: Dante Exum, Shane Heal
One performance propelled Shane Heal into the pantheon of Aussie basketball greats and gave him a pathway to the NBA. The day he made it rain against Team USA will never be forgotten. The Boomers were whacked at the Dream Team III in an exhibition match, but Heal went off, draining eight three pointers on his way to 28 points and a spot on the Minnesota Timberwolves' roster. Exum was meant to be the star that might not be. He struggled as a high draft pick with the Jazz, before blowing out his knee. He is still young and has time, but the jury is out.
Aussie odds and predictions at the Rio Olympics in 2016
Australian Boomers' Rio Olympic 17-man selection squad: David Andersen, Cameron Bairstow, Aron Baynes, Andrew Bogut, Ryan Broekhoff, Matthew Dellavedova, Dante Exum, Adam Gibson, Cameron Gliddon, Chris Goulding, Joe Ingles, Nathan Jawai, Kevin Lisch, Damian Martin, Patrick Mills, Brock Motum, Brad Newley.
Olympic basketball men's gold market
USA ($1.12))
France ($8))
Spain ($9.50))
Brazil ($15))
Argentina ($23))
Lithuania ($26))
Serbia ($36))
Croatia ($51))
Canada ($61))
Greece ($81))
Italy ($81))
Australia ($151))
Turkey ($251))
Latvia ($501))
Venezuela ($501))
Czech Rep ($501))
Mexico ($501))
New Zealand ($501))
Nigeria ($501))
Philippines ($501))
Puerto Rico ($501))
Senegal ($501))
Iran ($501))
China ($501))
Tunisia ($501)
Japan ($501))
Angola ($501)
Odds provided by
Sportsbet.com.au

This is my table
The Boomers are $151 rank outsiders with sportsbet.com.au to win the gold medal.
The Aussies have made the past two Olympic quarter finals, before being knocked out by Team But the USA has been drawn in the same group as the Boomers this time around, meaning they have a legitimate chance at a medal.
The Boomers will play two of the qualifying nations in their first two games then have rest day before facing USA, China and finishing group play against Venezuela.
London Olympian and Boomers guard Adam Gibson said their draw was favourable.
"For the most part it looks good, the USA will be the tough game," Gibson said.
"Venezuela and China are two of the better teams we have had in a while but we don't know what other teams we have.
"At some point you will need to play them (Team USA) if you want to do well and advance but we have always been unlucky and had them in the crossovers."
Really, every team should be a $1000 chance when team USA is involved.
How is any nation meant to beat a site featuring the likes of Lebron James, Stephen Curry and Kevin Durant?
It is just not going to happen.
While there will be no Ben Simmons, Utah Jazz high draft pick Exum is set to take the floor, along with NBA team mate Ingles. NBA big men Bogut and Baynes will suit up, as will little men Mills and Dellavedova, giving the Aussies a serious core of talent that has experience in the best league in the world.
It won't be easy, but it is not beyond the realm of possibility that the Aussies could sneak in and take a bronze medal at the Olympics.
Best bookmakers to punt on basketball
So, you're a baller?
If you think you know your stuff and want to put your money where your mouth is, you need the best bookmakers in the business to punt with.
Fortunately, you need not search far, we have gone through and separated the cherries from the chaff.
Bet with one, or more than one of these online bookmakers and you can be certain that you will be in safe hands.
Recommended!