AFL Grand Final teams, predictions and betting tips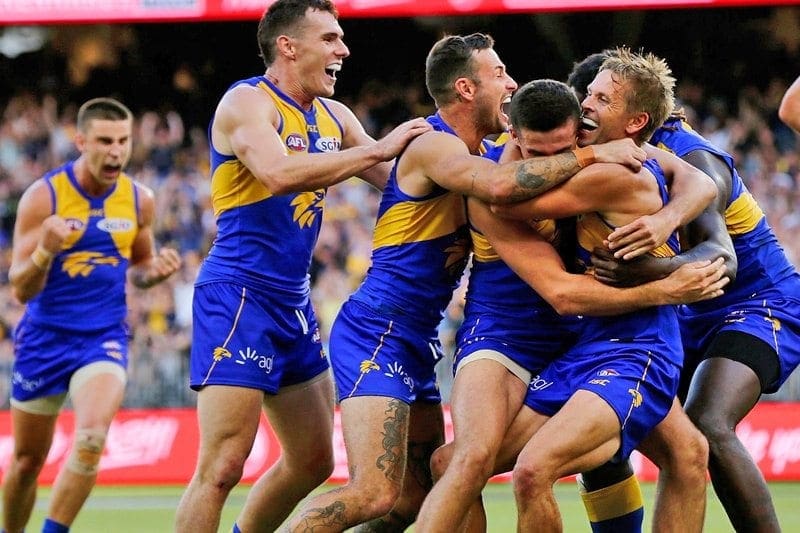 With September less than a week away, footy fans are wondering which of the eight remaining teams will make it to the 2019 AFL Grand Final.
Every team will back themselves to make an impact in their final month of footy, but the path to glory looks easier for some than it does for others.
Starting with the First Qualifying Final and working our way down the matches, we will analyse each pathway and detail it with all the possible situations, including who we think are the best chances to win each game.
2019 AFL finals scenarios
Whoever wins between Geelong and Collingwood will be given a week off and go straight into the Preliminary Final, where they could encounter any of Brisbane, Richmond, GWS, or the Western Bulldogs.
The loser of the Cats and the Pies will take on either West Coast or Essendon in a Semi Final, with the winner of that game advancing to a prelim date with either the Lions or the Tigers.
On the other side of the draw, the loser of the Brisbane vs Richmond clash will face either the Giants or the Dogs in the semis to determine who meets Geelong or Collingwood in the prelims.
AFL Grand Final teams prediction
One week before the 2019 AFL Finals Series begins, our prediction is a rematch of last year's Grand Final between Collingwood and West Coast.
Collingwood and Brisbane will win their first matches, putting them both into the Preliminary Final, leaving Geelong and Richmond to face the Elimination Final winners.
West Coast and the Bulldogs will win, moving on to face the Cats and Tigers respectively. Once the Eagles beat the Cats in their final, they will then have to face the Lions in a Preliminary Final.
SEE ALSO: AFL TOP 4 FINALS ODDS & PREDICTIONS
Richmond and the Bulldogs will play in a close and unpredictable clash, where the winner will face the Magpies in the prelim.
If Collingwood and West Coast both win their Preliminary Finals, they will face off in another Grand Final.
That is just one among many possible scenarios, and there is every chance the likes of Geelong, Richmond, or Brisbane could go the distance instead.
To make the 2019 AFL Grand Final
$1.80 – Richmond Tigers
$2.25 – Geelong Cats
$2.75 – Collingwood Magpies, Brisbane Lions
$5 – West Coast Eagles
$7 – Western Bulldogs
$14 – Greater Western Sydney Giants
$34 – Essendon Bombers