2017 Australian Open Golf free tips and tournament specials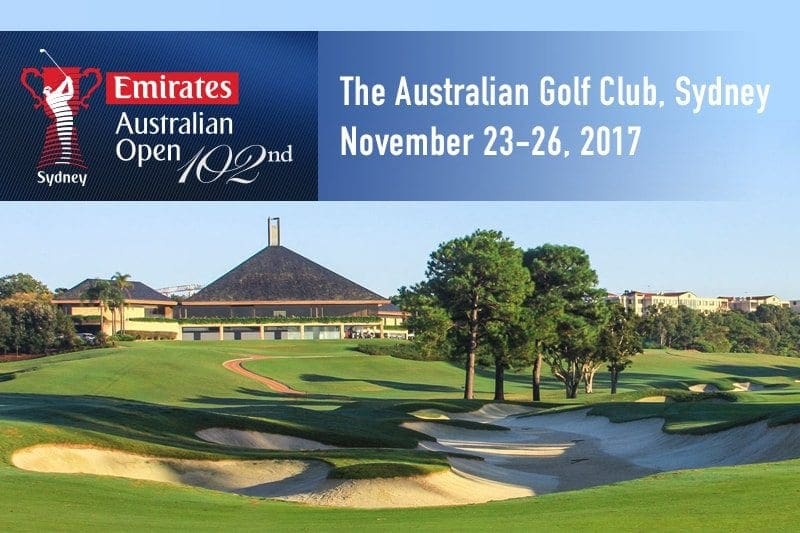 TWO of the biggest names in golf tee up at this week's Australian Golf Open at The Australian Golf Club.
Jordan Spieth and Australia's own Jason Day headline the field for the 2017 edition of Australia's greatest golf tournament and punters are getting good value for both golfers.
There appears to be more confidence with the local hope, who has firmed in significantly in the betting and it sets up what could be a showdown between them both on the final day this Sunday.
The action starts on Thursday, so sign up to CrownBet.com.au now for the latest odds.
Australian Golf Open top pick
Jason Day wants to get back to world No. 1 after slipping down the rankings over the past few seasons.
Injury and personal troubles have set Day back from the top golfers in the world, but the current No. 12 knows a strong performance this week in Sydney will set him up for a good 2017/2018 season.
"I want to do more than just get back to No.1, I want to get back to No.1 and stay there for a long time," Day said.
"You look at Greg Norman for instance. He got back there and re-energised himself, motivated himself to get back to work and he stayed there for 331 weeks. That's what people remember the most of how dominant [he was].
"People know that guy was No.1 for 331 weeks, that's legendary stuff."
Day and Norman had something in common until Day scored a breakthrough major win in the 2016 PGA Championship. Day had finished close in many majors prior to that win and getting back to that level is key for the Australian.
"That's what I want to be able to do. I want to get back there and know at some point in my era or my career that I dominated over time. I'm not so much worried about getting back there, I need to focus on getting back there and dominating," he said.
Jason Day is currently $5 at CrownBet.com.au to win the Australian Open and that's a good play in our opinion.
Can Jordan Spieth win down under again?
Jordan Spieth loves playing in Australia and he's once again the favourite to scoop the cash.
Making the headlines this week was the news that Spieth's appearance fee is more than the Australian Open purse, but golfing fans won't care what the tournament organisers paid to get the current world No.2 on our shores.
The rumoured $1 million appearance fee will want to be backed up with some stellar golf and the American is currently $3 to win the title. That might be seen as unders by some punters, but $3 for the best player in the tournament shouldn't be sniffed at.
For Golf Australia chief executive Stephen Pitt, it was a no brainer to get a multiple major winner in Sydney again.
"From my perspective, Jordan is the biggest man in world golf," Pitt said.
"We've basically sold out of corporate hospitality and Jordan's announcement really helped that. And pre-sales of tickets are much more advanced of last year."
Spieth will certainly want to live up to expectations, but we have no doubts that he will deliver for punters.
2017 Australian Open upset tip – Josh Geary
Josh Geary was a former top amateur for the Mount Maunganui Golf Club in New Zealand and he has since performed well on the supporting tours.
It couldn't have been a better week for Geary, who qualified for full exemption on the European Tour, securing him what could be a lucrative year for the Kiwi.
The turnaround for Geary started with his win in the Western Australian Open in 2013.
"It was probably the biggest victory of my career and I really proved to myself that all the hard work I had put in and the things that I had been experimenting with were working," he said.
"We have played against the guys who are out there and we have beaten many of them. It is just a matter of sticking with it and hanging in there long enough until it clicks for you.
"It is very fickle and some guys have got through to the top 25 and you wonder how they did it, as you swear they are not that good."
We're not sure the likes of Spieth and Day "are not that good" compared to Geary, but his confidence is up and the $151 at CrownBet is worth dipping into.
Australian Open Golf tournament specials
So you think Jordan Spieth or Jason Day won't win the Australian Open? That's fine because CrownBet has a tournament winner market without the two stars.
Australia's own Cameron Smith is the current leader at $8, but there's some value with Geoff Ogilvy at $21 and Michael Hendry at $34.
Hendry is as consistent as they come and he's often overlooked by bookmakers.
As casual golfers, we all love playing handicap golf and bookmakers have given the field handicaps for the 2017 Australian open.
Jordan Spieth has to give one shot away on the field and it $8 to win (by more than one stroke) over Jason Day who gets a one stroke advantage.
The more interesting options are the players further down the list, who don't have to win the tournament for punters to cash. Curtis Luck is getting a 5.5 stroke advantage and that could be worth a play at $11.
We love the excitement of a Hole in One and this year it's paying $1.85. Golfers have a better chance of winning lotto than scoring an ace, but these professionals are better than your average.
We think the $1.85 at Sportsbet is worth getting stuck into.