The best five Australians in the history of golf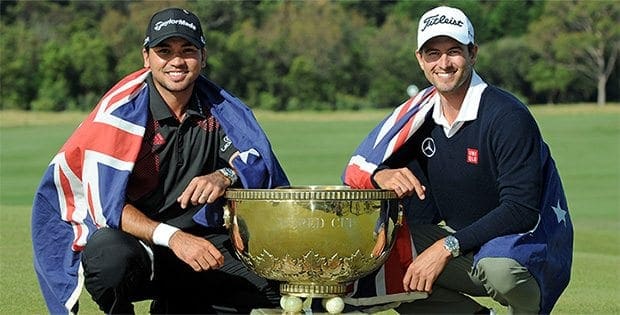 WITH former World Number One Jason Day set to line up in the weekend's US Masters at Augusta, we take a look at the five best golfers Australia has ever produced.
From Day, to Greg Norman to Peter Thompson, the men from Down Under have had a rich history on the fairways.
Here are our picks. Did we get it right? Who would you prefer? Vote in our poll and the give us your thoughts in the comment box below.
Are you having a punt on the 2017 US Masters? Get our full betting preview that features free tips and the best odds for the Australian contenders.
1. Peter Thomson
While he is not quite the household name of the Shark or Adam Scott, in golfing circles Peter Thomson is royalty.
Across an 11-year span, Thomson claimed the British Open tournament an incredible five times, the first in 1954 and the last in 1965. In that span, he claimed a hat trick of wins – something only three other men have achieved.
Thomson never clubbed the ball a long way, but he was known as a cool, calculating character who was able to strip the game back to its simplest form. Everything he did, he did with purpose, intention and ruthless skill. And that's what made him dynamo. He dominated in Europe, winning 26 championships, scored 19 tournament wins in Australia and New Zealand and 11 more across Asia.
The only knock on Thomson's career was his inability to crack it in the USA, where he won just the one tournament and had a best major finish of fourth in the 1956 US Open. But his game was not suited to the longer, lusher courses in America and there were fewer international players who ventured to the US in that era.
Thomson would later become one of the premier course designers on the planet, developing more than 180 courses in over 30 countries, leaving an indelible mark on the game, both on and off the course. He was inducted into the World Golf Hall of Fame in 1988 and is a life member of the PGA. Now 87, he is undoubtedly Australia's greatest golfer and it would take something special to overcome him.
2. Greg Norman
Speaking of something special, meet The Shark.
Charismatic, talented and with a will to win, Greg Norman is Australia's most recognisable golfer.
With more than 90 tournament wins under his belt, including twice scoring at the British Open, Norman's success on the course has only been matched by his dominance off it. Norman was the world's best golfer for a huge stretch of his career, holding the World Number One positions for a remarkable 331 consecutive weeks. That means he had no peer for more than six years.
A member of the World Golf Hall of Fame, the black mark on Norman's career was his inability to hold onto leads in several big tournaments, with his most famous capitulation at the US Masters in 1996 when he squandered a six-shot lead with a brutal final round 78.
He never won a US Major, finishing second three times at the Masters, and twice each at the US Open and PGA Championship.
These days, Norman has his fingers in a number of pies, including golf inspired sportswear, eyewear, Wagyu steak and beef products, his own Aussie-themed restaurant in the USA, wineries, a golf-inspired retirement village, a golf academy and even a wake boarding water park.
Like Thomson, he is among the premier course designers in the world. He has also raised more than $12 million for charities.
3. Adam Scott
Tall, softly spoken and a little mysterious, Adam Scott was always destined for a career in golf after being encouraged by his golf playing parents to pick up the clubs – at age 4.
Coached by his father, Phil, Scott turned pro in the year 2000 and became the first Australian to claim the US Masters in 2013.
Before that he shot to prominence in 2003 when he became the youngest player to ever win the Players' Championship and would go on to finish third on the US PGA Tour money list and rack up win after win in the US, Europe and Australia.
Like Norman, Scott has endured a choke of epic proportions when he blew the Open Championship in 2012 by bogeying the final four holes and losing by a single stroke to Ernie Els – after he had secured a four-stroke buffer.
While he is still among the better players in the game, Scott is setting himself up for life after golf by – you guessed – designing courses. It seems Aussies obviously make good course designers.
4. David Graham
Big Game Graham had all the shots and had ice in his veins when the tournament was on the line.
Sixteen times he finished in the top 10 at major tournaments, claiming two – the US PGA in 1979 and the US Open two years later.
In '79 he scorched home with a final round 65 to force a playoff against the uber talented Ben Crenshaw and then coolly slotted a series of big putts which left the American with no answer.
Graham counts wins all over the world, but it took a long time for the World Golf Hall of Fame to recognise his talent, waiting until 2015 to induct him – 34 years after he won his last major.
5. Jason Day
A man who spends all his time in the spotlight, but has still managed to maintain an enigma.
A raw Day only last month announced he would pull out of a tournament to care for his terminally ill mother in an emotional press conference that was a window into his caring nature. But Day has a gifted edge on the course that helps him sneak into our top five ahead of the likes of Steve Elkington, Kel Nagle and Geoff Ogilvy.
He will go into this week's US Masters among the favourites, given he is ranked No.3 in the world and the Aussie contingent will be rooting for him to knock off the likes of Dustin Johnson and Rory McIlroy.
Day has overcome the odds, losing his father when he was just 12 years old. At just 29, he has been world number one, claimed the 2015 PGA Championship and has finished in the top five at least once at each of the other three majors.
While the pick might be controversial now, it will be comfortable by the time this golf whiz's career is done.