Horse racing betting in Australia
Horse racing betting in Australia is a big business, with millions of dollars wagered annually via both on-course bookmakers and horse betting sites. Horse racing betting sites have got odds available on both Australian and international meetings and generally have some great promotions running on a day-to-day basis. The top online bookmakers for horse racing have also got downloadable apps available for both Android and Apple smartphones, with this the most common way to bet in Australia. The top horse racing betting sites for December, 2023 are:

This is my table
---
Betting on horse racing in 2023
Betting on horse racing is one of the most popular forms of wagering in Australia with events held at the hundreds of tracks almost every day of the year. Finding the best online bookmaker sites with horse betting is no easy task these days. There are more decisions that need to be made and options chosen than ever before when betting on horse racing but that should not deter you.
Our guide will run you through the best betting sites for horse racing, plus guide you through the different bet types you can place and give you an overview of the thoroughbred industry down under and the impact the global racing scene has on Australia.


This is my table
---
Horse racing in Australia
Horse racing is a massive industry in Australia. Horses sell for millions of dollars as yearlings who might not even make the track. There are hundreds of trainers based everywhere from Flemington, the home of the Melbourne Cup, to Corowa, more known for being a border town on the Murray river than for its racing exports.
The three racing codes — gallops, harness racing and greyhounds — from right around Australia are covered around the clock on Sky Racing. Thoroughbred racing's biggest days are covered exclusively by Channel 7 and broadcast nationally with millions of people tuning into the quality group racing held almost every weekend of the year.
You get the picture. Horse racing in Australia is big business. BettingSite.com.au is aiming to present all the information you will need to successfully begin betting on horse racing. You can bet via your computers, on your mobile phones, tablet devices and via your phone accounts.
A couple of the bigger horse betting events in Australia include the Melbourne Racing Carnival and the Championships, with prominent races during these periods including the Cox Plate, Melbourne Cup, Queen Elizabeth Stakes, Crown Oaks and the Caulfield Cup.
Some of the most famous names surrounding horse betting in Australia include the great Bart Cummings, Damien Oliver, Hugh Bowman and Lee Freedman.
---
How to bet on Australian horse racing
Just understanding the lingo surrounding horse racing in Australia can be challenging. Would you know how to answer if someone started talking to you about early quaddies? or whether or not the Melbourne Cup is a stayers race? Or what an exacta is?
This section will walk you through the bet types available at online bookies, what the best bookies are for wagering on the sport of kings and give you tips on how to successfully dip your toe into horse racing betting for the first time.
Horse racing bet types
There are any number of bets available when you want to have a punt on the horses. Here are some of the most popular.
Win: This one speaks for itself. This bet is for you horse to win outright. If it comes second you lose. If it comes third, you lose. Because a win can be more difficult to predict, the odds are often quite lucrative.
Place:
Odds on place betting aren't as generous as "win" bets because you're covering second and third position with your bet. The plus side to this is that your bet has a greater chance of winning as your horse only has to finish in the top three, not first.
Each Way:
An each way bet is a combination of a win and a place. If your horse wins you will receive a winning dividend for both the win and the place, while if they finish second or third you will only receive the place payout.
Quinella and Exacta:
A quinella requires you to pick the first two horses past the post and will pay regardless of which order they place. An exacta, however, requires you to pick the first two horses past the post in the exact order they finish.
Trifecta:
A trifecta is the holy trinity of the punting world. This bet requires you to pick the first three runners past the post in the correct order. Obviously, depending on the win/place odds of the three horses the return on a successful trifecta bet can be mind blowing. There are many variations of the trifecta at online betting sites, including boxed and stand-out bets.

If you aren't confident about of picking the first three runners in the exact places they run, you can also "box" your trifecta. A boxed trifecta means it doesn't matter which order your three picks come as long as they are the first three past the post. Sadly the odds on a boxed trifecta are a little less than your classic trifecta, but a "boxy" can still pay off very handsomely.

First Four:
Much like a trifecta, a first four bet requires you to pick the first four horses across the line. You can either box your first four or have it as a standout, requiring you to pick the first four in their correct finishing order. Odds for first fours are usually even more enticing than a trifecta, but is obviously a lot harder to pick, so keep that in mind.
You can find our more about the horse racing bet types available online in our informative guide.
---
Tips for betting on horse racing
One of the first tips we always give new punters or those looking to improve their horse racing betting skills is to always find the best odds. This might mean holding multiple accounts at online horse betting sites or simply being informed enough to know when you need to open a new account to find the best odds.
Choosing smart staking plans is also essential to turning a profit when wagering on the horses. You don't want to wager all of your bankroll within the first few races — you want to have the funds to keep betting all day — the big win might be just around the corner. There are far too many variables when betting on horse racing not to play it smart with your money.
These are all things you should consider before placing a bet on horse racing:
Who is the trainer of the horse?
Who is the jockey?
What is the horse's history over this races distance?
What is your horse's recent history? Have they won recently? Have they placed recently?
How many runners are in the race?
What is the weather and track like?
As always, a little research can go a long way when you are on the punt. Once you get the skinny on all of these details you are ready to have a well informed wager.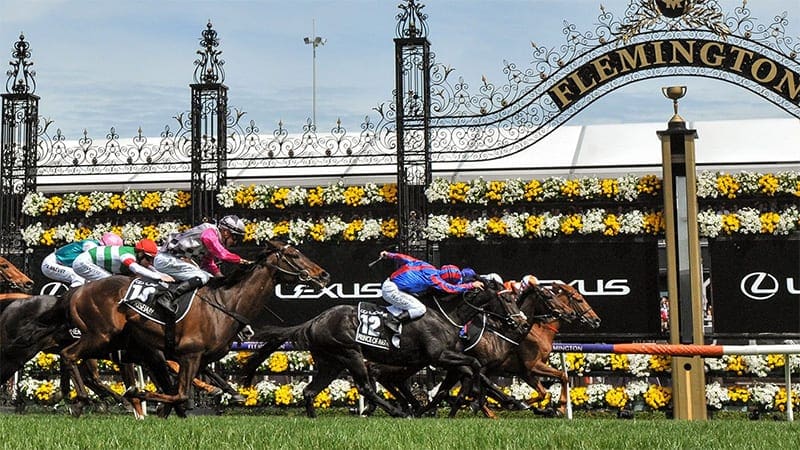 ---
Best 5 AU horse racing betting sites
The best online betting sites for racing, if you are based in Australia, is definitely subjective with many of the options offering very similar products. The biggest of the betting sites in Australia — Ladbrokes, Unibet and Bet365 — all offer a great experience when betting on horse racing but that is not to say newcomer Neds, or locally-owned Palmerbet don't.
Finding the best horse racing bookmaker is nigh on impossible. The answer is something along the lines of: "how long is a piece of string". There could be a different best bookmaker each Saturday for a month. This means we recommend having multiple bookie accounts. This section will run you through what to look for in a bookie and make recommendations based on our experiences.
Bettingsite.com.au has a number of top online bookmakers which can cater to all of your horse racing needs.
These online bookies have built a reputation for integrity and customer protection over the years, with each one a licensed bookmaker in Australia, boasting their own mobile sites and betting apps for wagering on the go.
One important thing to keep in mind is that the majority of sign-up bonuses are not available to residents of Victoria, Western Australia, New South Wales and South Australia due to state legislation.
Below we will give you our thoughts on the best five Australian bookmakers for horse racing.
Sportsbet.com.au

Sportsbet.com.au began in the Northern Territory in 1993 as a small bookmaker specialising in horse racing. In 2005 it was taken over by Matt Trip and expanded rapidly.

Since then it has become one of the most iconic names in online gambling, with sponsorship deals with TV stations to promote their odds on specific sporting events like the NRL.

Sportsbet sits on the fence by offering the middle price on horse racing.

BetEasy.com.au

BetEasy.com.au started life in 2014 as the brainchild of Matt Tripp, former CEO of Sportsbet. It then became CrownBet in partnership with Crown Resorts before reverting to the BetEasy brand in 2018.

BetEasy does a roaring trade in bonus offers, bet specials and loyalty rewards. Things like top tote on races, refunds on specific losing bets and Saturday specials are hard to look past both for new customers looking for a casual flutter as well as the hardcore punters.

Bet365.com.au

Bet365.com.au is one of the most widely known, internationally recognised online betting sites and has exploded on the Australian online betting scene.

Bet365 was founded in 2000 and hasn't looked back, with over 18 million customers worldwide.

For Aussie customers they offer the best tote from the top three Australian TAB's as well as starting price and fixed odds.
Recommended!
---
Bonus bet ban impacts horse racing
Australians can no longer claim sign up offers at horse betting sites, with the new National Gambling Framework officially outlawing new account incentives from May 26, 2019. This means Aussies can no longer claim bonus bets offers when they join horse betting sites. This also effectively bans many other forms of bonus bets. Rest assured though, there are still some horse racing promotions being run at online horse sites, with these including things like cash back offers (as long as you get the money back in real money) and boosted odds.
Deposits at horse bet sites
Australians are truly spoilt for choice when it comes to depositing real money to online horse betting companies, with most having more than five different deposit methods, with these including things like Visa, Mastercard and web wallets.
Some of the common ways you can deposit money into a horse betting account in Australia include:
---
Why online horse betting is better than the TAB
Horse betting is one of Australia's favourite betting past times, while it is also one of the most popular social attractions on the calendar. But for a long time, before the current day glitz and glam, it used to be the domain of the punter at the local TAB outlet.
Online bookmakers have revolutionised how Australians bet on racing and forced the TAB to up their game to remain relative and a player in the saturated industry down under. Basically online bookmakers have far great flexibility with how they spend their money and because their overheads are lower they can afford to give more back to the punter – in cash back and bonus offers.
While the ban on bonus bets (some say it was driven by the TAB) has closed the gap between brick and mortar betting and online wagering, we still firmly believe the corporate bookies have a better product, including better odds and apps.
In conclusion if you are looking to bet on horses online, we strongly recommend joining an Australian horse racing betting site, over visiting your local TAB. You can see all of the best horse racing betting sites in the table above.
---
Best horse racing betting apps Australia
Horse racing betting apps are the most common way that Australians wager on the sport, with all of the top bookies boasting software applications. These betting apps are essentially a small file, that gives you instant access to an online bookmaker via a shortcut on your smartphone's homepage.
The benefit of horse racing apps include quicker loading, with the framework of the website already loaded and just the odds needing your data connection. Horse racing betting apps usually have some extra perks, that you will not find on the desktop website. This is not to mention the added security that comes with storing your banking details locally, rather than in a browser cache.
Australian betting sites have got some of the best racing bookie apps in the world, with this market worth a lot of money annually, meaning brand put plenty of money into their resources. This includes getting their horse racing betting apps approved in both Google Play and the App Store.
Betting via a horse racing app is an easy process, with it just a matter of downloading the app either directly from the horse betting site, or from the store that supplies your devices apps. Downloading a horse betting app follows the exact same process as downloading any other mobile application.